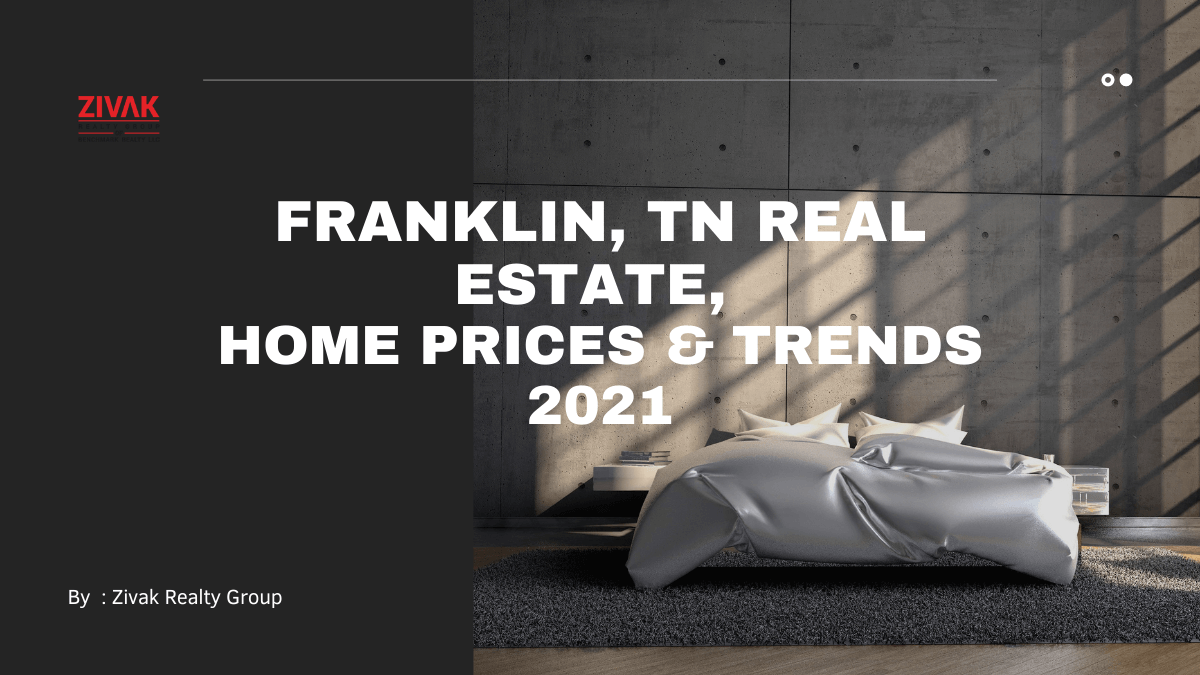 Franklin, Tennessee is located south of the music city Nashville, Tn within Williamson County. Approximately 78,000 people live in the city. In the year 2017, Franklin is the 8th fastest growing city by the U.S Census. The area is known as the shopping hub with several Fortune 500 companies based here
According to Business Week Magazine, Franklin is one of the top 50 cities to begin a small-scale business.
If you are looking out to invest in Franklin Real Estate, look no further than Franklin, TN. At Zivak Realty Group, we are a team of expert real estate agents in Franklin, Nashville, and the surrounding suburbs.
With a population of around 80, 914 Franklin offers residents the city offers a suburban feel with lots of restaurants, coffee shops, parks, well-reputed public schools as well.
If you are finding a property in Franklin, Tn, call Zivak Realty Group today to get a closer look at the current real estate market.
Real Estate Market in franklin, TN
Franklin – the city in Tennessee consists of 5 neighborhoods. Currently, there are 200+ Franklin, TN homes for sale listed on Zivak Realty Group. The homes for sale range from $100,000 to $10,00,000. Get started by browsing the properties in Franklin according to your budget and needs. When you are ready to know more about the property or have any queries, do connect to our realtors.
Franklin Housing Market Overview – March 2021
| | | |
| --- | --- | --- |
| Median sales price | Price per sq. Ft. | Compete score |
| $670,000 (+28.8% since last year) | $240/sq. Ft. (+23.7% since last year) | 76/100 |
Top Ten Home Improvements in Franklin, Tennessee
Following home upgrades had the highest sale-to-list ratio in Franklin in May 2021.
| | | | |
| --- | --- | --- | --- |
| Features | % of Homes for Sale | Sale-to-list ratio | Median home listing price |
| Formal Dining Room | 1.4% | 112.0% | $829,900 |
| New Kitchen | 1.0% | 110.2% | $489,000 |
| Master Bedroom | 1.9% | 108.3% | $600,000 |
| Cathedral Ceiling | 1.6% | 117.5% | $575,000 |
| Formal Dining Room | 1.4% | 112.0% | $829,900 |
| Quartz Counters | 1.4% | 109.6 % | $639,000 |
| Soaker Tub | 1.2% | 108.5% | $549,900 |
| Sunroom | 1.2% | 108.3% | $600,000 |
| Master Bedroom | 1.9% | 108.3% | $600,000 |
| 2.5 Bathrooms | 1.0% | 107.8% | $525,000 |
| Backyard | 8.3% | 106.8% | $715,000 |
Percentage of homes for sale: Percentage of homes for sale having all these features
Sales to list ratio: This is the percentage showing how much above or below the seller's asking price buyers are paying with these features. If the ratio is above 100%, homes are sold at the price more than the seller's listed price.
Median home listing price: These are the average listing price with the mentioned features
Note: The above data has been updated from the site: Top 10 Home Features in Franklin, TN
Franklin Area Home Prices Overview
Well, home prices in Franklin real estate have increased in the Williamson County area, and are expected to surge in the future.
The covid -19 pandemic has pushed the Franklin real estate market price to go higher. Apart from this, another factor responsible is the Franklin homes for sale listed are at a historic low. Meanwhile, the demand has increased due to the low mortgage rates, which has attracted a large contingent of millennials to look for property in Franklin, Tn.
According to the CoreLogic Case-Shiller Index, the home prices in Nashville-Davidson-Murfreesboro-Franklin Tennessee were up 11.6 percent in January 2021.
In addition, the prices in the bottom third (which is less than $288,000) of the Franklin including the Nashville-Davidson-Murfreesboro metropolitan statistical area market often labeled as a starter home – have increased 15 percent year over year. The top third of the market saw an increase of 12 percent (homes over $440, 000.)
Historically, the low mortgage rates in Franklin have pushed up the demand to invest in Franklin, TN real estate market. However, the rates are not expected to surge above 4 percent in the next two years. This shows that home-buying will remain affordable.
Summing Up
If you still have queries related to how to invest in the Franklin real estate market with the best deal. You need an expert team of realtors. Zivak Realty Group is a one-stop real estate agency to assist you to get a successful real estate deal. Whether looking to purchase homes or sell, our local experts in the Franklin and Nashville area are ready to help you.