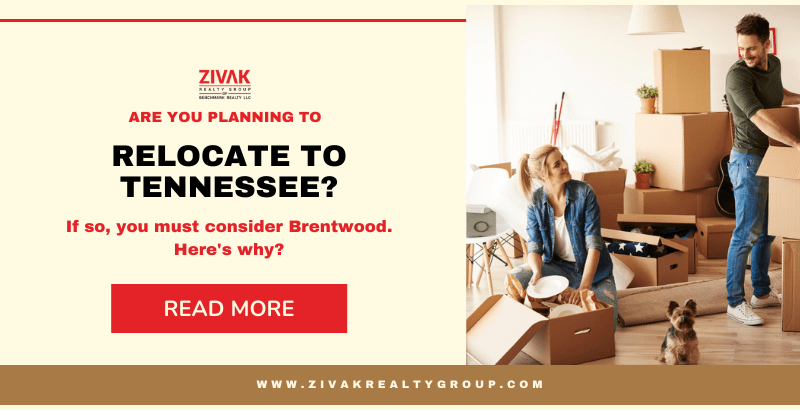 People often get confused while deciding whether the place they are considering for living is a good pick for them or not. And why not be? After all, everyone wants just the best for themselves and their family. Before making any decision one must consider all the aspects.So, if you happen to relocate to Tennessee, consider Brentwood for a living. Brentwood is a beautiful city located in Tennessee – Living in Brentwood comes with various windfall gains. 
Brentwood is a small city with multiple benefits like availability of best utility, reliable healthcare system, best educational system, surrounded with amazing parks, near to Nashville, and many other things. Brentwood Real Estate market has also witnessed a positive surge as the population of the city has increased remarkably over the past few years. Houses to buy in Brentwood depend on the buyer's preference, budget, locations, etc. However, buyers and sellers still have a lot of questions as to why this place is fit for living, so to answer them we have listed a few windfall reasons to live in Brentwood, TN and they are: 
1. Best Quality Of Life
The population who are residing in the region of Brentwood have a promising experience of occupancy there, like an impressive aspect of the nation, houses are wonderful, universities are nice, and one of the biggest advantages is that the shopping adventure of Brentwood is incredible. The city of Brentwood evolved with the prosperous integrity of life. The experience of community living here is adequately nicer as compared to other areas. Here you can discover all kinds of recreational activities, from shopping to dining to living concerts and many more. The region of Brentwood offers a lot more than just ordinary life, one can never be bored here because of the abundance of things to do. Life here is much more fun and happening than ever before. People from all walks of life can afford a decent life as the region has a place for everyone.
2. Top Educational Institution
Brentwood, TN is recognized for holding some of the best academies in the city and even the nation! The region's academy is one of the greatest pulls for households searching to build a house in Brentwood. Brentwood has both the best public and private schools in the region and has an ever-growing tradition of academic superiority. Some of the high schools of Brentwood were recently ranked among the top comprehensive high schools in Tennessee. The education system here is inclusive and inspirational. The infrastructures of the school along with the staff and teaching faculty are best known in the entire country. Families with children find this region very suitable for living because they don't have to commute every day to provide the best educational facility to their children.
3. Great Employment Opportunities
Looking for ways and opportunities to give a kickstart to your career? If you are planning to live in the region of Brentwood and you have an employment opportunity lined up … PLUS POINT! Yet, if you're searching for a job, a quick Internet surf will notify you of different companies and their vacancies. Freshers and people wanting to grow career-wise and have been loitering to get something substantial to support themselves and live a good life can find Brentwood best for themselves. Brentwood has become the most wanted region for its availability and utility, many big brands and firms have been locating their quarters in the region leaving space for more job opportunities.
4. Promising human services
In Brentwood, good human services are delivered like reliable healthcare assistance. sources imply that maximum grown-ups have health insurance who are residing there. Health care assistance is extremely good and they fall within your allowance. The rate of literacy is high in this place; almost 70% of the population is educated and well-settled. People here are friendly and help each other in times of urgent needs and emergencies. The arrival of the ambulance along with the additional emergency crew and appliances are on time.
5. Great place for Shopping and Dining
Brentwood, TN is known as the best place to shop and dine. People who are fond of shopping for exclusive and vintage collections are sure to love this place. The catch is that the premium products are easily accessible and within the budget. There are shops, malls, marts, and well-known restaurants to check. People from different countries and places come to visit this place and shop here for great experiences. 
6. Plenty of Beautiful Parks
Citizens of Brentwood have been preserving the greenery and parks from commercial exploitation for ages and have been successful in doing that. Brentwood is full of amazing parks where people gather to witness picturesque views and also experience peaceful nature. The parks located in Brentwood have sublime beauty, the landscapes are the epitome of amusement and serenity. There are many properties for sale in Brentwood, to know about them contact the real estate agent.
7. Amazing Homes
Permitted, the average price $600,000 to $700,000 of homes in Brentwood, TN is around thrice the national standard. Yet, there are many wonderful homes in ample tons that are very significantly priced. Also, other expenses are similar, some just lower than the national standard. People here decide to live because the houses are great and are available within the budget.
To wrap up,
The listed reasons are enough for one to decide whether or not Brentwood is the ideal place to relocate to Tennessee. There are other reasons also like the chance to live with the stars because of its proximity to the Nashville region. There is an opening for freshers in the real estate market as well, as the Brentwood Real Estate Market has been growing unexpectedly in recent years.
So if you decide to relocate to Tennessee contact our experienced Realtors of Zivak Realty Group for securing help and proper guidance at the time relocate to Tennessee or find the best suitable home for yourself. We have earned people's trust in us after years of hard work and dedication, we will be more than happy to help you.