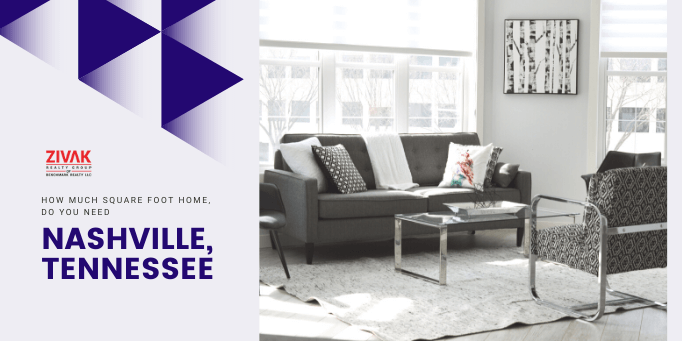 Owning a house is everyone's dream. But when it comes to deciding about Square Foot Home area and location, both become important? Apart from that, space also becomes an important factor that may or not matter according to the need. However, there is no doubt that more space, fantastic it sounds.
But, what if your family size is small? Then there is no sense in getting a huge space to live.
Deciding what you want in your house is one of the important things you should plan while purchasing your new home. You need to think about several aspects while buying a house: kitchen size, the number of bedrooms, including extra space to have a flexible living. Viewing home listings will also help you get an idea of the square footage of the house.
So, how much square foot you fit into while searching Nashville homes for sale? Let's discuss related points that will help you get a clearer picture of how much square footage fits for you.
What is Square Foot and How to Calculate?
Square foot is each side measuring a single foot in length. Standard floor tiles are generally measured as 1 square foot in size. You can calculate the square footage of a room or entire apartment by measuring the length and width of the room. Multiplying the length and width can get you the area, square footage, of the space.
If you are performing a detailed property search, and in case, you haven't brought a tape measure, you can measure by using stride to get an approximate idea.
How Much Square Footage You Require?
The minimum necessary area for a code-compliant tiny house is about 88 square feet in the United States. But this is too small even for a single person to occupy the space to eat, sleep and wash. However, how much square foot one requires completely depends on a person's need, budget, purchasing a house, and the amount of stuff you have.
How Much Square Footage Does Your Family Need?
The most used spaces in a house are the living room, family room, and kitchen. If you looking for Townhomes for Sale in Nashville TN, it's a good idea to limit your property buying to no more than 4X -6X of your household income. If you find a home wherein each person has 900-1000 square feet for themselves, much of the space can be unused. Because hardly you feel you occupy the space wholly. So, figuring about 500-600 square feet per person would also work well, if you have a small family of four.
What Exactly the Right Amount of Square Footage?
One thing that may be important to you to decide the right amount of square footage is how much access you need to indoor and outdoor as well. Maybe a slightly smaller space makes you feel good to live with less interior square footage area. You may also want a space where you can get natural light and nature's view from your apartment.
Finding a Home Area According to Your Condition 
Many times, while searching for a property, you may be confused between a space that is too big or too small. Both can allure you to make an investment, but which size is right for you? There are some important considerations, such as:
Lifestyle: Do you need office space in the home itself?
Family: Home many children you have? Or are you planning to have one in the future?
Hobbies: Sometimes to spend time on your hobbies you require an extra room or space
Square Footage You need Feature Wise
You may need an Apartments for Sale in Nashville TN with an area that is specific to home amenities and features in the master bedroom, kitchen, dining room, and bathroom. For instance – if you would like to have your master bedroom to be modern and luxurious, look for the one that fulfills your expectations.
Square Foot Trends
Houses and apartments have changed a lot over time. Today, the apartment's average size is about 1,015 square feet. This is because more studios and single bedrooms are being constructed, and fewer bedroom units.
For some people, smaller units are better. There are fewer upkeeps due to less area, cheaper utility bills due to fewer rooms, and potentially less mess up.
So, apart from square foot trends, how much Square Foot Home you actually need is something that matters. Depending on how a number of people living, the amount of stuff, the amount of furniture, and your personal choice will actually let you make the right decision to purchase a property near Nashville, TN.
Budget Minded Choices
If a buyer is already holding a specific budget in the mind to buy a property in Nashville, TN, they will invest in a space within that budget. On the flip side, some of you may reconfigure their needs to fit into the size of the home they invest within their budget.  
So, these are a few thoughts and information on How Much Square Foot Home Do You Need while purchasing your new home. If you are into the home buying process in Nashville, Tennessee region, do connect with our real experts at Zivak Realty Group. We are a professional team of realtors who help investors get the best deal for home buying and selling.