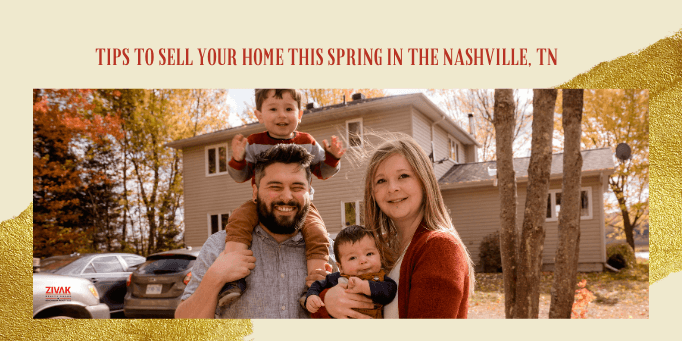 It is said that during the springtime the Nashville real estate business is high and profitable. Sell your Home in Nashville during springtime can result in huge profits for you. But to attract buyers one needs to prepare their home and present it in a condition that it gets picked easily. The very first thing anyone would notice before purchasing a home is its condition, it should be appealing to the eyes, and only then it go to the next stage.
If you are someone willing to sell your home this spring in Nashville, TN, Then you must follow these tips:
1. Try to get rid of your stuff 
Clients can get a better view of the house if it is empty. Also, if you are posting about selling the house online, you have to give a better view with details, your stuff being showcased in the picture is not required. Customers would like to get ideas about the space and interiors of the house as much as they can whether online or offline. So, before posting any details be certain to vacant the place.
2. Wipe out the debris
This however is the most important step, after all, why would any want to look at a dirty place? All the more it doesn't leave a good impression on buyers. So, take the opportunity and make the most of business during the spring season. When the house you are planning to sell appears clean and impressionable it leaves a positive mark on the buyer's head.
3. Click and post some Great Photos
In the existing era, people prefer to shop online because of the conveniences it offers. So If you are planning to sell your house this springtime make sure you post good pictures of your house and post them online. Clicking pictures implies you have to capture their attention instantly. After all, why would anyone spend time on a picture that does not grab attention or with poor quality? You have to showcase the best sides and corners of your house that can make the visitor look more at the deal you are offering. Hiring a professional photographer for posting ads can be a good decision.
4. Make it as appealing as possible
It is rightly said that first impressions decide everything. So take the chance to do everything you can to make your house look appealing. You can opt for any mode of house improvement however curb appeal is not just effective but affordable too. So to sum up, show the clients what they want to see. Few things you consider doing are:
Power wash, clean your garden
Plant a few spring flowers
Fresh paint
Take care exteriors
5. Pricing your house 
Everything after all depends on the price you are asking from your potential clients. You cannot just price any price for your house. Depending upon the interiors, exteriors, and other factors you have to settle for one reasonable price rate. A price that is not too high for the clients, not a price that is too less for you. To decide the price of the house one needs to be very calculative and updated about the current market price. To stand out, you have to consider every factor, from being aware of your competitor's price to what is the price margin you are expecting from the property without neglecting what the buyers want. Your price will decide the match for you, so be very careful with it.
6. Do Not Forget To Highlight About Your Neighborhood
One cannot ignore the role of a neighbor while deciding which property to buy. So while posting or advertising about your property one needs to update about the neighbor too. Because when a buyer is looking for a property they don't just look for a good property but a good location, good neighbors, and every other big to small detail. The buyer has every right to know about the neighborhood that they are likely to live in.
7. Make sure there are no legal issues
When buyers look for a house, they also want a hassle-free life. So, make sure all the legal issues are cleared beforehand and buyers need not worry about things that can cause problems in the coming future. You need to build trust from the second anyone shows interest in your property. You have to be very genuine and honest about the condition and ongoing lawsuits against the property if any.
The above-mentioned points will help you sell your home during springtime. You can also seek help from Nashville Home Seller for better results. However, If you stick to these points that are listed above then also you will be able to sell homes. Try to give your home the desired look, these are the small investments that you need to make if you want to sell your home at a good price and within a short period of time. Your potential buyer can be anyone, so be nice and friendly to every buyer who comes to inquire about your property, give them a good tour of your house, and make them feel like this is the best available property for sale in Nashville.
Why Zivak?
We, at Zivak Realty Group, help people to find the desirable properties and homes that they are longing to buy for a long time. We realize and acknowledge the needs of every customer and present them with what they want! We are the most trusted and licensed real estate agents, operating in Nashville. We have adequate knowledge about the market. Our team consists of professionals and experienced agents who are working to make your journey of finding a suitable home hassle-free – This is why Zivak Realty Group is called a Real Estate Expert in Nashville.