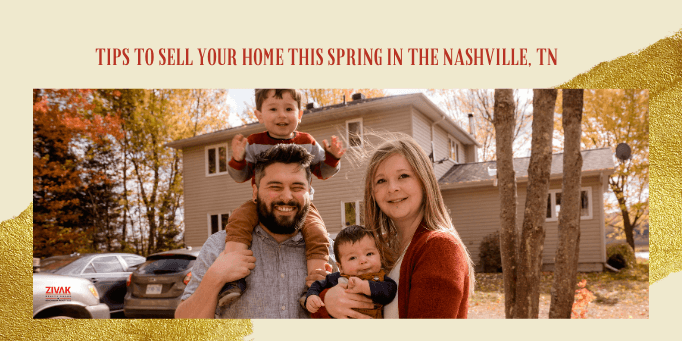 It's springtime again, and Tips to Sell your Home in Nashville. So, are you contemplating putting your home in the Nashville real estate market this spring? If yes, then selling a home in Nashville with all the cleaning and repair work, you can make your Nashville property look attractive inside and out.
If you need a little help in how to keep your home maintained and clean throughout the home selling process, we have some great tips to sell your home at a good price. Here's what you need to follow.
Power Wash
The outdoor appeal of a property is something that makes buyers think to take a closer look. So, making efforts to power wash outdoor surfaces gives your house a fresh look. Moreover, make sure to wash all the siding pressure washed, so that any dirt or mildew if appearing will be removed, giving your home's siding a clean view.
Another area to be power washed is the roof. Black streaks can develop on the roof due to the deposition of algae. This feeds off the roofing material resulting in bad roof condition. Before you list your property in Nashville real estate, treating your roof will create a clean ambiance.
Modify the Front Door
A front door is the main entrance of your home. And when it comes to selling a home, the front door becomes an important element to make visitors appeal. If your front door condition is not so good, spending few dollars on putting in a new door or modifying it will add value to your home.
Deep Clean your House
Every home buyer wants to see a clean house during their visit. Selling a home in Nashville in spring is a perfect time to perform deep cleaning and present your property neat and clean.
As a Nashville home seller, you must wash everything from curtains, upholstery, fan blades, and other washable items. Washing all such things makes the house look fresh and enhances curb appeal.
Take help from Real Estate Expert
To stage your home in the springtime, a local real estate expert in Nashville can be helpful in guiding you about structural flaws or any repair that exists in the property. To get the best deal to sell your property, you can connect with one of the professional yet licensed real estate agents in Nashville – Zivak Realty Group.
Remove the Outdated Décor and Fixtures
Home décor trends are ever-changing that keeps you fond of everything right from wall designs, to glass designs to home furnishing to wall art to anything that makes your home shine. If are in the Nashville real estate market to sell your home in 2021, you need to work on fixing that dated décor that may buyer may not appreciate. Therefore, it's recommended to fix the décor work to make your home reflect according to the current trend.
Depersonalize your Home to Sell
Depersonalizing your home is one of the important steps in home staging. Depersonalizing is all about removing items that have added value to your home décor. It may seem that removing personal things is like eliminating your taste or presence from the home. But, when it comes to selling a home, it becomes important to showcase your home with no personal items, so that the buyers can view the property from their own perspective. A buyer when taking a tour of the vacant property is easily able to take a decision on whether or not to make a deal.
Eliminate the Bad Odors
With our busy lives and hectic work schedules in such modern living, it's no wonder that we end up with strange odors in our house. But, when it comes to selling a home in Nashville, having odors inside your home can turn off potential buyers to prefer your home to purchase. There are strange odors such as bathroom odor, pet smell, fishy smell, smell due to decomposition, musty or dusty smell that may give buyers a chance to avoid your property. To get the best deal for your home, it's really important to sweep out unpleasant odors and keep the home atmosphere pure and fresh.
Some tips to eliminate bad odors from your house
Make sure you scrub bare floors and walls thoroughly with antiseptic floor cleaner, or odor neutralizing products.
Wash, steam clean, or dry clean fabric window coverings and upholstery
Wash the carpets with shampoo and deodorize it
If there is eradicated smells in walls or wooden items, you may have to spend few dollars to paint your walls
If you own a pet, consider sending your pet to another place during the period of selling your home.
Final Words
There are several other things you can do to stage your home in the springtime. Above are some easy Tips to Sell your Home that can help you stage your
Property for Sale in Nashville
real estate market.
To know more about how you can stage your property this spring, connect with a licensed yet professional real estate agent in Nashville, Visit – www.zivakrealtygroup.com