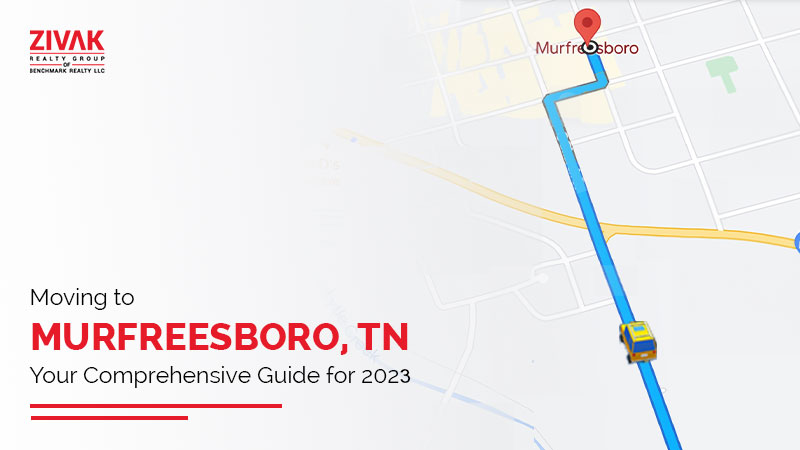 Moving to Murfreesboro, Tennessee? Situated in Rutherford County, Murfreesboro is an aging city that has experienced continuous growth over the past two centuries. It boasts a population of approximately 160,000 individuals, reflecting a notable increase of over 35% in the past ten years. 
As the 188th most populous town in the nation, Murfreesboro's proximity to the renowned city of Nashville, a mere 34 miles away, contributes to its distinctiveness compared to other rural areas.
Recognized as one of Nashville's premier suburbs, Murfreesboro is also recognized as one of the nation's rapidly expanding cities. It houses Middle Tennessee State University and various historical landmarks like the Stones River National Battlefield. Being situated in the southern region of the United States, the area enjoys a generally warm climate with distinct seasons.
Given the influx of newcomers to the area, if you are considering moving to Murfreesboro, TN, you can easily locate newly constructed houses and condos in Murfreesboro's finest neighborhoods. 
It is essential to familiarize yourself with the following information before making the move:
Choose Your Neighborhood Wisely
When planning a move to a new city like Murfreesboro, the Nashville neighborhood you choose can greatly impact your satisfaction with your new home and hometown. It's crucial to invest time in researching and understanding the neighborhood before making a decision.
Consider Safety
Crime rates vary in different areas, so it's essential to learn about the crime statistics in Murfreesboro. Prioritize the safety of your family and belongings by checking out the safest and most dangerous places in the city and selecting a residential area accordingly.
Connect with the Community
Talking to neighbors is a great way to gauge the comfort and convenience of an area. Approach people you come across during your visits to the neighborhood and ask about their experiences. Remember that people have different preferences, so keep your questions general to better understand the location.
Test Your Commute
To ensure a smooth daily commute, test the different routes and modes of transportation you'll be using. While digital maps are helpful, physically experiencing the commute will give you a more accurate sense of the travel time and conditions.
Evaluate Walkability
Using tools like Walkscore, assess the walkability and convenience of the neighborhood. A high walkability score indicates easy access to amenities and services on foot, while a low score may require the use of a car or bicycle.
Take a Stroll
Explore the neighborhood on foot, especially during morning walks, to observe the community's friendliness, cleanliness of the area, and availability of nearby stores or facilities. These observations will help you determine if the neighborhood aligns with your preferences.
Research Schools
If you have children, understanding the quality and reputation of the schools in the area is crucial. Familiarize yourself with the local school options and seek input from the community to make an informed decision about your child's education.
Looking for the best place to shop in Murfreesboro?
Here is the list of The Best Destinations You Must Visit!
Learn More
Consider Employment Opportunities
For career-oriented individuals, it's essential to research the employment landscape in Murfreesboro. Learn about the local job market, leading industries, and major employers to ensure stability and growth opportunities for yourself and your family.
Build Your Support Network
Moving to a new place can be challenging without a community of like-minded individuals. Take the initiative to connect with people who share your interests and hobbies. Joining Murfreesboro community groups on platforms like Facebook can help you start building your network right away.
Explore Daycare Options
If you have young children and require childcare, explore the available daycare options in Murfreesboro. Consider factors such as your budget, location, and quality of services offered to find a daycare that meets your needs and ensures your child's development and well-being.
Bottom Line
In conclusion, as you embark on your journey to move to Murfreesboro, TN, it is essential to consider various aspects of the city carefully.
By researching neighborhoods, ensuring safety, connecting with the community, evaluating commute options, exploring schools and daycare facilities, and assessing employment opportunities, you can make an informed decision that aligns with your preferences and goals.
The Murfreesboro real estate market offers a range of options, and you can search all Murfreesboro area homes to find the perfect fit for you. Consider enlisting the expertise of a reliable real estate agent in Murfreesboro, TN, who can guide you through the process and help you easily navigate the local market.
With this comprehensive moving guide, you can uncover the hidden gems of Murfreesboro, TN, and smoothly transition to your new home. Embrace the warmth of the community, the rich history, and the opportunities that await you in this vibrant city. 
Your Dream Home Awaits
Connect with the Most Reliable Real Estate Agent in Murfreesboro, TN
Click To Ask