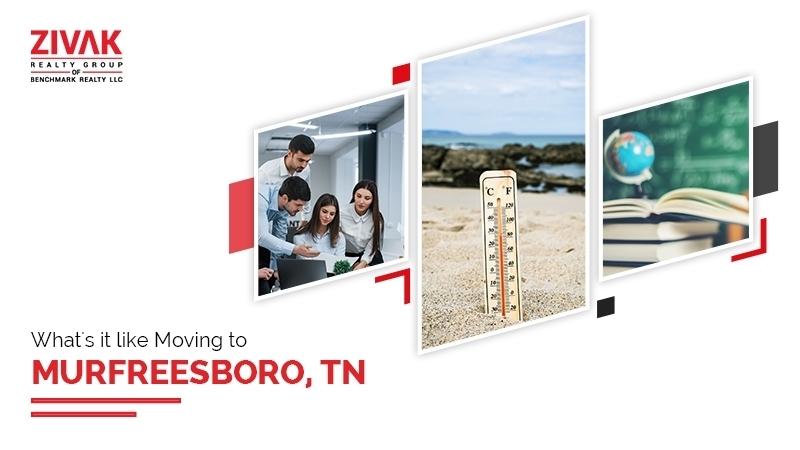 Moving to Murfreesboro or any new place is always filled with lots of questions; after all, no one wants to end up in a place where they don't feel like being home! If you are planning to move to Murfreesboro, it would be advisable to do some pre-research and get to know the place better. Murfreesboro is evaluated as the biggest suburb of Nashville. Murfreesboro is also one of the fastest-growing communities in the country. Being an integral part of the southern U.S., the region moreover benefits from a naturally warm climate with numerous seasons.
There has been a wave of people moving to Murfreesboro in search of a better quality of life for themselves and their families. However, before pondering any relocation, it's reasonable to study the community first. An additional substantial background inquiry regarding the economic structure, homes for sale in Murfreesboro, TN, recreations, Murfreesboro real estate market, and climatic conditions can assist in determining whether or not moving to Murfreesboro is the right decision!
Some of the major aspects of Murfreesboro are listed below for you to consider:
Climatic Condition of Murfreesboro
The community is located in the humid subtropical zone and has four different seasons. During the summer season, it is generally hot and humid, and winters are favorable but chilly. Rain is substantial, around 50 inches a year. Winter and spring have the most rainfall, with autumn being the driest season.
Temperatures during the summer season rise to the 90s and decline as low as the 20s during the winter. In general, the place has very favorable climatic conditions.
Murfreesboro Schools
If you are moving to Murfreesboro with kids, it's essential to research the school networks that will be providing their education in the region. In Murfreesboro, primary schooling is fulfilled by Murfreesboro City Schools. Secondary schooling is fulfilled by Rutherford County Schools, a countywide district regulating 23 primary and secondary schools.
For higher studies, Middle Tennessee College is a public institute in the community with various education programs. It is the biggest undergraduate academy in the country. Other available schools incorporate:
Tennessee State College in Nashville
Cumberland University in Lebanon
Tennessee High School
Davidson High school
Murfreesboro Elementary and High School
Employment Situation in Murfreesboro
As per the reports, Murfreesboro's rate of unemployment was around 6.7% lower than the nationwide standard of 8%. If you will be moving to the community in search of better employment opportunities, you can apply for government roles here or receive job news and assistance at the Tennessee Career Center in Murfreesboro. And if you are the owner of a small business or would like to inaugurate an enterprise in the community, the Rutherford County Chamber of Commerce can provide you with the aid you need to get started.
The region of Murfreesboro can help you give a kick start to your career and offer you many employment opportunities, as many big companies are located in the Murfreesboro real estate market.
Costs of Living in the City
If you are thinking of moving to Murfreesboro, the promising information is that this community is an extremely cheap place to call home. The all-around cost of living is 10% less than the nationwide average, with accommodation being the most reasonable in the country. Transport and utility expenses are also low, including grocery and healthcare costs.
Murfreesboro Moving Resources
There are multiple moving and warehouse firms located in Murfreesboro that are waiting to assist you in moving to your new house. Be certain to do your examination and obtain calculations from multiple services before selecting one for hire. Do your investigation online about the companies and shortlist a few that you think can deliver the service. You can also check out some of the websites for more information about the moving and storage companies:
Movers in Murfreesboro, TN
International Moving Companies Murfreesboro TN
Auto Transport Murfreesboro TN
Transportation in Murfreesboro
Public transport in the community is regulated by the Murfreesboro Public Transportation Department with the Rover service. Rover delivers bus transportation for citizens of the community along eight restricted routes. The place is well connected to other major cities and ports, so commuting won't be a problem. The cost of transportation is also affordable in comparison to other cities and towns in Tennessee. Brokers in Murfreesboro, TN, can help you with relocating and find you the best transportation company to carry out your shifting.
Culture and Contemporary Life
Most important is the culture and the kind of life that Murfreesboro gives to its inhabitants. Music, art, and cinema are among the outstanding recreations available to the citizens of Murfreesboro. The town commemorates various music festivals, such as the Main Street Jazzfest. Other popular occasions include national tournaments for old-time music and dancing.
The Community's Center for the Arts features a diversity of displays, performances, dances, and exhibitions. If you are pursuing a little ancient understanding, stop at one of the municipality's several museums. Culture is important because if you have kids, they will not just be learning from their syllabus but also from the surrounding area they are in!
To sum up,
The above-mentioned are some of the key aspects of Murfreesboro that can help you determine whether or not the place is appropriate for you and your family.
For more information or assistance in knowing the community better and finding the best properties for sale in Murfreesboro, TN, you can connect with the team at Zivak Realty Group.