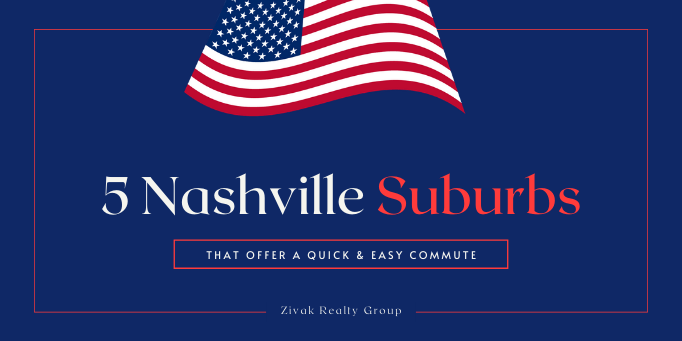 Nashville is a music city, a home to professional football, reputed universities, and pleasant neighborhoods. When it comes to living and working in Nashville, it's one of the priciest cities in Tennessee with the keen interest of people to invest in the Nashville Real Estate market. For many, buying a home in Nashville may not be as practical and affordable as thought.
If searching for a home to buy in Nashville real estate market, Nashville suburbs are the best alternatives where people head to invest. From major malls to restaurants to schools to colleges; one can find affordable suburbs with all the ease of life that brings a relaxed lifestyle as compared to life in a city.
In addition, here are the 5 best Nashville suburb options to get you started on your home search in the Nashville region.
Lebanon
Lebanon is located east of Nashville, which is the top suburb for homebuyers who are searching in Middle Tennessee. Lebanon's plenty of amenities, high standard of living, low crime rate, and a high standard of living make the county seat the most preferred place for buyers finding homes in the Nashville area. Also, the easy commute along interstate 40 is quite a good convenience for the people.
Nolensville
Nolensville located in Williamson County is among the preferred choices to buy a home in Nashville, Tennessee. If you are looking for Nashville suburbs, Nolensville offers a rural area feel. People own their homes here. Plus, public schools are quite reputed ones here.
For the people seeking career opportunities, Nolensville offers high employment opportunities with easy commutation options as well. With Interstate 65, Highway 41, and Interstate 24, one can easily drive to Nashville.
Lockeland Springs
If finding a home in Nashville, Tn, Lockeland Springs is the next best streetcar suburb two miles northeast of downtown Nashville. Lockeland Springs is a few miles away located in east Nashville. The suburb is home to a reputed schooling system along with a range of single-family homes for a living. Many of the residential areas can be seen with cottage-style homes with quality craftsmanship which will meet the expectations of homebuyers in Nashville. If you are investing in Lockeland springs, your investment is worth it. You must check out Shelby park and Idea Hatchery – a fantastic space to shop for clothing, art, and more.
Goodlettsville
Another best city in Davidson and Summer counties, which is easy to commute, plus offers affordable home buying options under $200,000. Chef's market, Rivergate mall, Centre point Barbecue, Antique mall are some of the best places to visit for eateries and shopping.
Mt. Juliet
Mt. Juliet, a suburb of Nashville is located in western Wilson County, Tennessee. The place is 17 miles east of downtown Nashville. For the people looking to buy a home in Nashville, the place is a family-friendly Neighborhoods with an average home price under $200,00.  You can easily explore big-box stores and dine at a variety of restaurants.