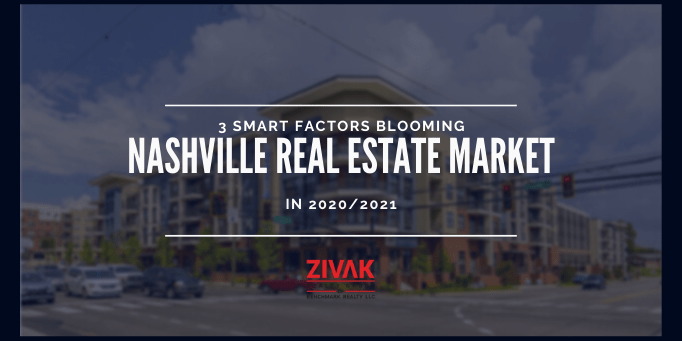 Whether you are planning to buy or sell a home in Nashville, the Nashville Real Estate Market has always been continued to move up in several years. The growing job opportunities, low unemployment rates, institutions for higher learning are the major reasons Nashville Real Estate Market is among the country's leading real estate market attracting investors from different cities.
Another reason why Nashville is the best suit for investing in property is that Tennessee is one of the states that neither consider income tax nor collect tax on earned income. In addition, the interest rates are low while buying a Homes for Sale in Nashville TN making it a great opportunity for investors.
Nashville Real Estate Market Forecast 2020/2021
If we talk about Nashville's real estate trend in the upcoming 2021 – real estate experts predict that the real estate market will continue to grow in 2021.
According to Zillow, "experts across the country forecast the housing market growth will last till 2021"
The median home price of a home in Nashville in current 2020 is $401,900, which was $389,900 in 2019. The average price per square foot has also surged in 2020 which is $239 as compared to 2019 which was $236. Real estate experts predict that his price will continue to grow in upcoming 2021 as well.
Also, the overall inventory has surged by 4% to about 1,104 residential properties, which was 1,034 in 2019.
Apart from this, here are 3 essential factors making an impact on the Nashville real estate market currently and in upcoming 2021. Let's have a look at those factors.
Nashville Housing Market Trend:
| | |
| --- | --- |
| Median Home Price |    $401,900 |
| Median Price Per Square Foot |    $236 |
| Median Rent Per Month |    $1,675 |
| Airbnb Rental Income |    $3,960 |
Thriving Economy
Nashville being a music city and capital of Tennessee, Nashville has a diverse yet strong economy due to which it has sustained the demand for real estate. Some of the major industries that contribute to the city's economy are – music, finance, healthcare, healthcare, technology, higher education, tourism, biotechnology, and plastics. Other industries include banking, transportation, and publishing. With such a fact that these industries are strengthening Nashville's economy, the demand for properties in Nashville will rise in 2021 and beyond.
Low Unemployment
Nashville is one of the cities in the US known for the lowest unemployment rate that makes real estate market growth prediction firmer. According to the Bureau of Labour Statistics, Nashville, TN had the lowest unemployment rate of 2.7% – of any metropolitan area in the US. There is no doubt that Nashville's diverse economy plays a crucial role in strengthening employment growth. Over the past five years, the employment rate has surged at an average rate of 3.1%, which is double the national rate.
The majority of people in Nashville are employed which means there is a low crime rate. This has made people move to the city for better lives. This in turn will increase the prospects of investment in the Real Estate Market in Nashville in 2021 and beyond. Currently, the population in Nashville is about 692,000, and the number keeps rising, which is one of the major factors booming the real estate market.
Rising Tourism
Another major factor that boosted the real estate market in Nashville is the growing tourism sector. When it comes to tourism, Nashville has been a centre of attraction among other cities in the US. In fact, the music industry attracts around 15 million visitors annually. Apart from this, other major attractions that make the city worth are the Grand Ole Opry, Country Music Hall of Fame and Museum, Adventure Science Centre, National parks, Shelby Bottoms Nature Centre & Greenway.
Final Thoughts
If you are planning to invest in the Nashville real estate market in 2020 or 2021, it's the best decision you will ever make. The city's low cost of living and rapid growth in the technology sector including other industries are strengthening the economy day by day, which is the vital reason to invest in Nashville real estate.
Those who are seeking any kind of information regarding Nashville Real Estate Trends, property pricing, Detailed Property Search, property buying, or even home loan affordability and qualification, do connect with our professional realtors at Zivak Realty Group.