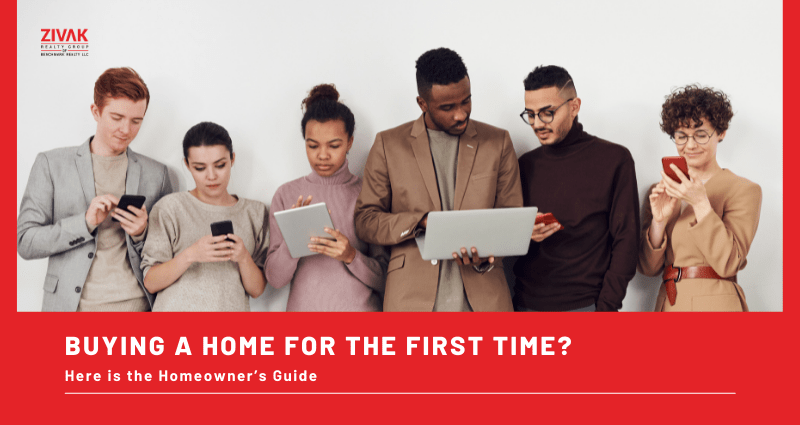 Purchasing your first home ought to be an intriguing time; in any case, many individuals think that it is extremely alarming and don't have a clue where to start! When you know the right advances and have the right Nashville Real Estate Agent directing you, it can turn into a lot simpler yet bother-free experience. The ultimate Buying a Home for the First Time covers a comprehensive look at what to consider when looking at Nashville homes for sale.
Get a Professional Real Estate Agent
The first thing that plays a crucial role for home buyers is whether or not to hire a real estate agent. So, frankly speaking, Nashville real estate agents are significant partners in your home purchasing measure. The best part is that the agent is compensated from the commission paid by the sellers of the home. At Zivak Realty Group, our estate agent helps you in your home buying journey step by step to find the best apartments in Nashville, TN.
Pre-qualification
Before we can begin looking for a property, it's important for you to have a clear idea of how much budget you can bear. If you are seeking a home loan, you need a reliable Mortgage Broker. On the off chance, if you don't have one, we at Zivak Realty Group are glad to recommend professional yet local loan officers who will get you pre-qualified.
However, there are several options when it comes to getting a home loan, but working with someone local will make a huge difference in your Buying a Home for the First Time journey.
What are your Need and Wants
When you're prepared with pre-qualification, it's an ideal opportunity to know your needs and wants. When it comes to looking for Nashville homes for sale, the property you are looking for should fulfill your needs of a number of bedrooms, the desired location along with neighborhood area, features, schools, commuting sources, proximity to recreational activities you need in your lifestyle. If you do not have a limited budget, you can get everything you have dreamt of, otherwise, there is going to be a situation where you get what you pay for. Finding the best property that fits you and your family begins with a clear understanding of what exactly you are seeking. If you are confused between your needs and wants, we as a local Nashville real estate buyer can work with you to narrow down your needs and put the best effort into you.
Stay Organized in your Home Search
Now is the time to view homes. At Zivak Realty Group, our home buying process is made easy and efficient with our expertise in residential and commercial Sales Experience in the Nashville real estate market.
Use the Search by Map option by visiting: zivakrealtygroup.com, where you can navigate and find Nashville homes for sale with our organized map search option. You can search homes by Map, price, property type, size, area, and more.
No wonder your best apartment in Nashville may have hit our real estate listing, and we would love to help to get the deal done with ease.
Negotiate the Offer
Once you find the property that makes you feel yours, it's an ideal opportunity to make an offer. This is while having a licensed real estate agent with you. Negotiating on offer not just includes pricing, it also incorporates the details of the financing, earnest cash, possibilities, home inspections, appraisal, and closing costs. The owners will either acknowledge the offer proposition, reject it, or present a counter deal.
Obtaining Loan
After the Purchase and Sale Agreement is "guaranteed," it's an ideal opportunity to work with your home mortgage banker to close your credit. You previously began the interaction with pre-qualification, so presently you'll be approached to give extra documentation to get supported for the credit.
Escrow Process
Whatever earnest cash was guaranteed in the Purchase and Sale Agreement, presently should be saved and held retained in an escrow account. At Zivak Realty Group, all sincere cash is held by the title organization.
If everything works out positively, and we get to the end table, that cash would be applied as a credit toward the purchaser's price or as a refund check to the purchaser.
Select Title Company
As a home buyer, it's the ideal opportunity for you to choose a title company. You need somebody who is a neighbor, and a decent communicator who picks up the telephone when we call to beware of things. Closings can be postponed when a Title Company isn't on their game.
The title organization will do a title search to ensure there are no liens or appraisals on the title. In case there are issues or deformities, they will tell you. Title issues can affect property value, the worth of the property, yet they're typically ready to determine them and clear the title. When the title is considered "Clear" the Title Company will give a title responsibility letter and set up all the desk work for changing the title.
Final Walkthrough
One final step and we'll be toward the end goal. It's ideal to do the walk within inside 24 hours of shutting to ensure that nothing has changed since the home inspection and that the dealer has finished any necessary fixes. This is the time when you need to cross-check the overall fit and finish of property for example – repairs, door locks, garage, sheds, security systems, windows, appliances, etc…
If you are looking for a great deal
Do Consult with our Nashville Tennessee Real Estate team
Let's talk!