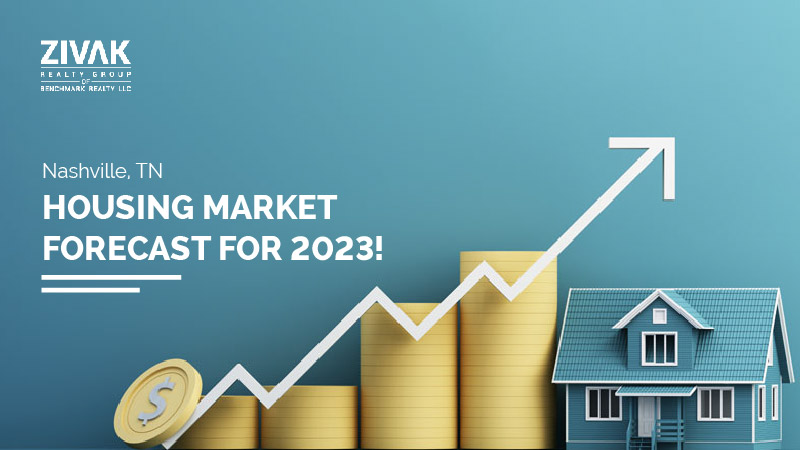 In 2021–2022, the Nashville real estate market was hot, and home buyers as well as homeowners expect to see a distinct market even in 2023. early years of the lockdown with rapidly increasing home prices, even in 2022's drained market due to high-interest rates. While 2023 may see a recession, interest rates are anticipated to stabilize, and Buying a House in Nashville TN is more likely to return to the market.
Thinking about trying your hand at the real estate housing market in 2023? You obviously want to know where you are getting at! So, some aspects to consider before plunging into the home-buying process are as follows:
February 2023 Housing Market Forecast
As we are already in February 2023, housing specialists uphold an attentive sight of the economy, which keeps on being ripped in all directions due to high inflation, a rise in interest rates, existing geopolitical tensions, and a fear of recession. However, there are indicators that the condition of the housing market is going in the right direction. The first is that mortgage rates are showing signs of relief, with interest rates currently less than double.
As per the National Association of Realtors, the standard existing-home sales price was up around 2.33% to $366,900 in December as compared to a year ago. After months of decline, current Buying a House in Nashville TN sales prices have resumed their downward trend and are now approximately 11% lower.
Will the Housing Market Crash?
Many economists anticipated that the housing market was probably going to correct itself. Following a hot market over the previous two years, there will be little change in national home prices in 2023.
Nonetheless, some specialists believe that houses in some regions could witness sales and price transitions, especially in areas where house prices have stayed inexpensive over the past few years relative to median income.
We're counting on a 5% decline in home prices. Some housing markets, however, will presumably see prices increase. Other real estate experts noted that existing homeowners likewise stand on much more secure ground. A housing market crash would typically result in a 20% to 30% drop in home prices and a drop in home sales far greater than what is currently being experienced. Another collision sign that's been missing is a leap in the foreclosure action. And so the chances of the housing market crashing in 2023 are very low. Instead, it shows an upward trend.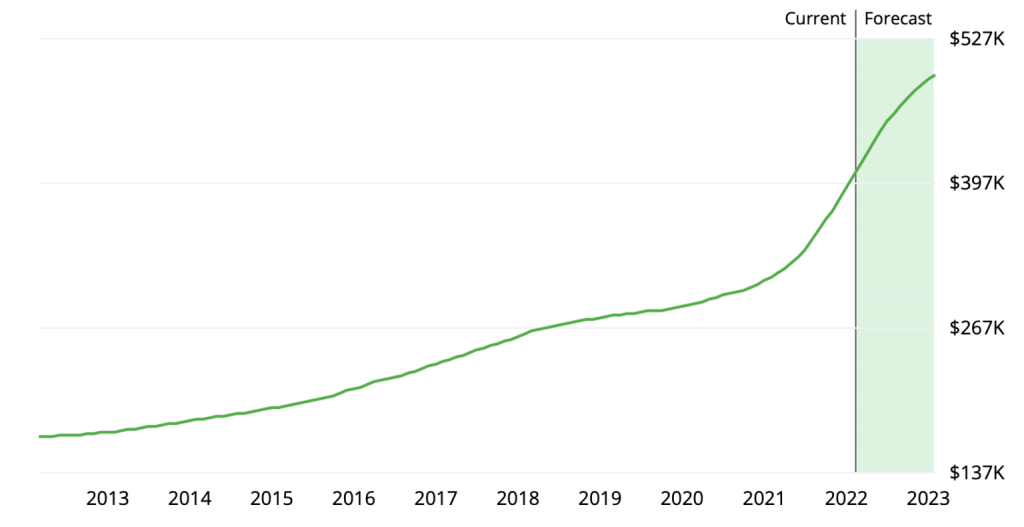 Graph Image Source
When is The Right Time To Buy a Home in 2023?
Purchasing a house in any market type is an extremely subjective decision, but not without strategy! Homes are the single largest investment that most people will make in their lifetime, so it's important to be in a secure financial situation before getting into one.
Firstly, determine the mortgage loan by using a mortgage calculator to calculate your monthly housing expenses, including your down payment and the rate of interest that you'll have to pay.
Instead of postponing home purchases for much lower costs, specialists propose purchasing a home in 2023 based on your affordability. Waiting longer may result in losing a hold on the home you love because the price may soar in the upcoming years.
Summary: Buckle Up, Home Buyers
We've wrapped a lot of trends in this Nashville real estate market prediction for 2023. And the key points to remember are:
Nashville real estate market forecasts indicate a double-digit price increase by next year.
Packed supply situations have increased competition within the regional real estate setting.
The aggregate number of active real estate listings decreased immensely over the past year.
The Nashville housing market scene is one of the fastest-growing real estate scenes in the nation.
To sum up,
The above-mentioned are all the essential details you need to know about the real estate market. Buying a house in 2023 can be the wisest and most calculated investment as predicted by real estate experts. Buy a Home in Nashville Tennessee Real Estate with the help of the experienced and well-aware team of Zivak Realty Group. The real estate agents will help you in your home-buying journey and make it more memorable and hassle-free.