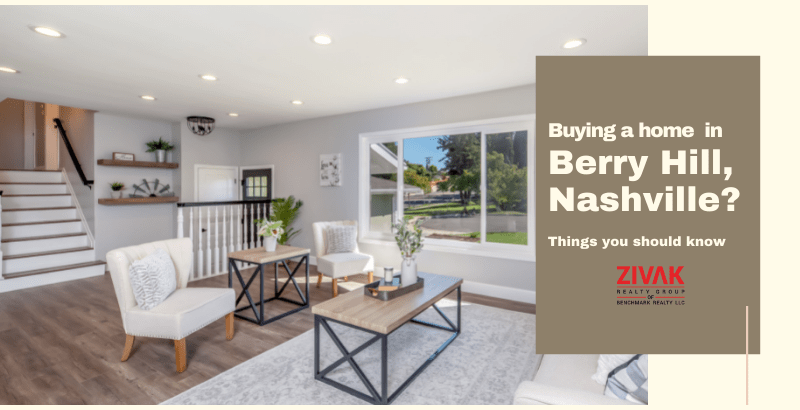 Looking for Buying a home in Berry Hill, Nashville? Well, you have chosen the perfect place to reside. Because of its central location, Berry Hill offers convenience at its best, which makes it easy to reach Green Hills Melrose, Woodbine, and 12 South. It is also only six miles from downtown. So, people planning to move here have made the right decision.
While Berry Hill is one of the smallest neighborhoods in Nashville, it possesses an abundance of offerings that make stopping by worthwhile. 
The resources are limitless, from shopping malls of flooring and tile to warehouses filled with antiques. 
The neighborhood has a lot of restaurants that have been favorites among the locals and visitors. In addition, here are the things you must know about Berry Hill, as knowing the city is important before moving to live there. 
The Berry Hill city
Berry Hill is the ideal neighborhood for the individual to progress.
Nashville's development has prompted more traffic, and there's no neighborhood that is immune to expansion. 
There are fewer enchanting pieces of Berry Hill, but you can't disregard these helpful regions. Frequently, Nashville inhabitants incessantly visit this region for fundamental organizations like Home Depot, T.J. Maxx, Wal-Mart, and Vanderbilt at 100 Oaks.
The last piece of Berry Hill incorporates a modern region that is currently changing to an area with stylish organizations. One of the most outstanding spots in Black Abbey Brewery. 
Buying a home in Berry Hill gives you access to many roadways, such as I65, 440, Nolensville Pike, and Thompson Lange. From living in Nashville's neighborhood, it's so easy to commute to the famous spots that are in Nashville; it's just a six-mile distance.
Food and Nightlife of Berry Hill
There are so many extraordinary spots to eat in Berry Hill. As a result of its location in Nashville, it brings a lot of different eating choices.
There are numerous popular neighborhoods to Berry Hill's west, so you will see the trendier organisations that have floated into Berry Hill. Toward the east, you will track down a dynamic migrant local area in Woodbine, so there are numerous multicultural choices too because of this vicinity. Some of the famous spots to check out are – Hugh baby's, The Yellow Porch, Calypso Café, Sunflower café, Little Gourmand at Berry Hill, and Santa's Pub to name a few. 
Things to Do in Berry Hills
We suggest looking at East Iris Park. It's home to Berry Hill's wall paintings, green space, and jungle gym. There are three different parks: Azalea Park, Columbine Park, and Rosedale Park.
Berry Hill is home to many spots to shop. The shopping setup is really a different setup of out-of-control store spots.
The Beaded Bungalow and ME Jewellery are incredible spots to see as the ideal extra. 
Gaslamp Antiques is the best spot for one-of-a-kind finds. They likewise have a subsequent area called Gaslamp Too.
Homes in Berry Hill
If you are serious about buying a home in Berry Hill, the majority of the single-family homes are bungalows, which were built during the 1940s. Many of them are renovated with modern luxuries, so you can check out the Stunning Contemporary House ones as well. 
Apart from the bungalows, there has been new construction in the city which includes duplexes, condos, and horizontal property regimes. 
Berry Hill TN Homes for Sale can not be found too often. So, if you get a chance to view a property and it matches your budget, you need to act fast. You can also find deals in neighborhoods like Green Hills, TN. 
There have been more high-thickness development occurring nearby. This incorporates lofts, townhouses, duplexes, and level property systems (HPR).
How can you find the perfect home in Berry Hill?
To find the perfect home, you have to research current market trends and home values. But, if you are not very familiar with the Berry Hill TN real estate market, it's better to take assistance from Zivak Realty Group.
Zivak Realty Group is a licensed real estate team of agents committed to delivering excellent customer service and results. Bo Zivak (founder) and his team of real estate experts have been serving Nashville and its suburbs for over 10+ years now.