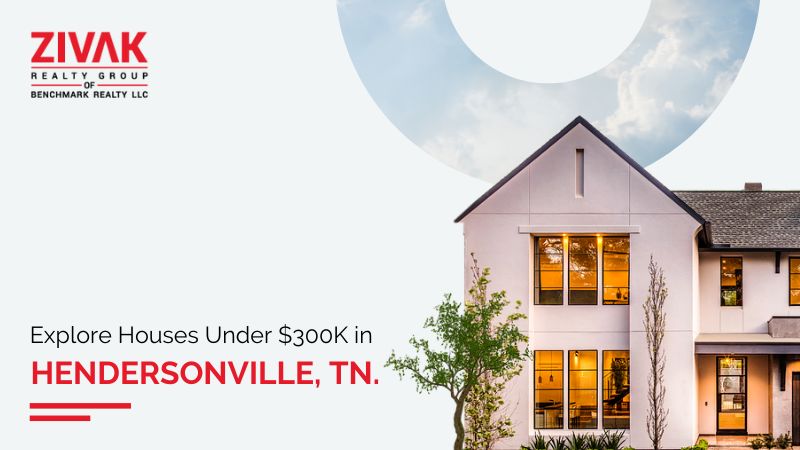 Recently, the real estate market in Tennessee has witnessed a rise in the price of houses for sale. Many of Nashville's best suburbs have experienced all-time high prices but Houses are available for $300K in Hendersonville Tennessee.
However, Hendersonville, being the most beautiful community in Nashville, offers a lot of wonderful new construction homes in Nashville, TN, under 300k. There are some incredible neighborhoods found throughout the region that offer houses with affordable price tags.
Houses available in Hendersonville neighborhoods for under $300K are listed below:
Waterford Village
Looking for a beautiful and peaceful neighborhood to live in? Waterford Village, with its abundance of single-family homes, is an excellent place to begin your search. The house's price starts below $250K. Waterford Village gives its citizens plenty of amenities like a dog park, gym, swimming pool, and many other modern-day amenities for you to enjoy.
Besides the single-family homes, Waterford Village offers incredible townhouses at affordable prices. The townhouses listed in this community are the best option for people who do not want a single-family house. The townhouse available in the community starts at approximately $240K and furnishes 1,200 to around 2,000 square feet of living space.
Mansker Farms
Manager Farms, with its friendly top neighborhood, attracts a lot of buyers who are willing to live among the peaceful neighbors. Mansker Farms offers the most attractive choices for buyers looking for homes under $300K. The community has four-bedroom homes available for sale for under $300K. A few of the more inexpensive houses may come with around 1,300 square feet, three bedrooms, and two bathrooms.
Walton Trace
Walton Trace, a historic neighborhood, has some incredible three-bedroom options in and around $300,000.Multiple homes constructed here comprise a bunch of outdoor living spaces with privacy in mind. Some houses even have swimming pools.
Even though there are houses available for sale in Walton Trace, the quantity is very low. So in this case, houses listed for sale get quickly sold as it's a very desirable neighborhood in Hendersonville, TN.
Berry Hill
An excellent option for buyers looking for a newly constructed house in Hendersonville is searching for homes in Berry Hill. The community offers a tonne of choices under $300K. Many houses found under $300K have 4 Bedroom Homes for sale in Nashville, Tennessee.
In general, the cheapest homes available for sale in this Hendersonville neighborhood will have around 1,650 square feet with 10-foot ceilings. Those nearer the $300K price will feature around 1,700 to 1,850 square feet, along with a two-car garage, granite countertops, and other modern aspects.
To sum up,
Finding homes under $300,000 is not an easy task in today's extremely competitive housing market. However, Hendersonville still has some incredible neighborhoods with Houses available for $300K Hendersonville Tennessee. The above-listed four communities offer great homes for you all to choose from. You can also seek real estate experts' help and connect with an experienced team at Zivak Realty Group, who will help you in your home search, home buying, and home selling journeys.