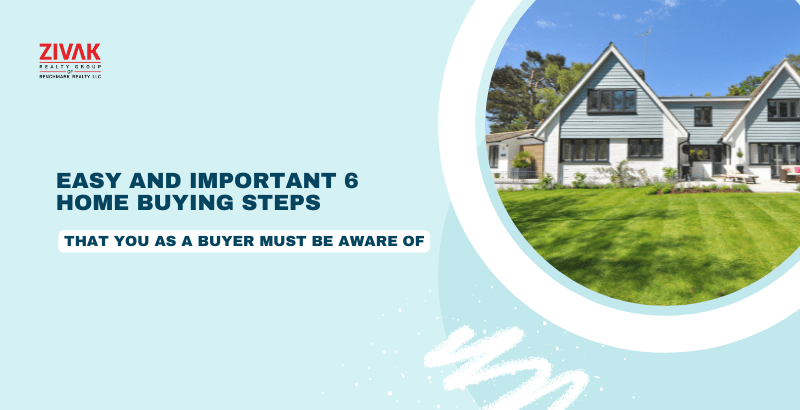 Purchasing a home is very special for everyone, particularly if it is your first-time home buying , it is full of emotion. Nonetheless, it can result in anxiety attempting to plan out how to start the procedure, how to apply for a mortgage loan, how many homes you can pay for, etc. The path to purchasing a home can oversee you down some difficult paths, before intrusive real estate agents, profit-seeking bankers, and not-so-able home inspectors perform your home appraisal. And so here we are to lay out detailed Home Buying Steps to assist you to avert those snags.
Here is a detailed list that will make you Prequalified for a Home Loan and help you in the home buying process, and they are:
1. Search for the suitable home
The very first step has to be looking for the right home for yourself. Home buying process steps are important but all that comes later when you actually know what you want to buy and which property can be suitable for you. And for that, you can do survey listings selected for you by your trusted real estate agent.
2. Specify if the home is within your set budget
You can just shortlist any home right? You have a budget and you need to strictly stick to that no matter what. Setting a budget and acting accordingly is so important. You have to be very particular if you have enough money for a down payment, pay your hired dealers and agents, and many more. Make sure that the property you are willing to give a go sign dies not out a hole in your pocket. And for that hire a Premier Real Estate Broker who can guide you through.
3. Upgrade your Credit Score
Once you are done with the selection you come to the most important step and that is to go through your credit score. One of the important steps to purchasing a house is to be certain you possess a decent credit score. The purpose you require to retain a decent credit score is that you will be able to equip yourself for the promising mortgage rates.
A poor credit score will not advance you to a decent mortgage rate. So it's crucial to learn where you exist before you begin with the other important steps involved in the home buying process. A decent credit score gives the mortgage lender confidence that you will be able to pay back the sum on the stipulated date itself. Even if you don't have a good credit score, what you can do is try to upgrade it before going to the mortgage lender. Having a good credit score will make you Prequalified for a Home Loan.
4. Work out how many houses you can pay for
Once you get the credit score right and you finally know the credit score will be able to fund you a loan the very next step should be to determine how many houses you can afford or how many houses you want to buy. You have to decide that keeping your budget and credit score in mind, you can't just randomly select a number. To determine how many houses you can afford, what you can do is consult your real estate market agent, who will help you understand things better and for good. 
5. Get pre-qualification for a Mortgage Loan
Dealers are generally more inclined to ratify bids from pre-approved customers because it indicates that the customer has the economic aids accessible to make good on their bid.
Get offers from numerous lenders and finally select someone whom you find credible. Analyze online surveys of each lender and evaluate their responsiveness, translucency, and calculated closing timeline. Selecting a good lender is also equally important because after all, they will be the ones working with you all the time. Getting pre-approved for a Mortgage Loan is always a good option.
6. Consider applying for pre-approval
The final Step in the Home Buying Process is getting Pre-approval. Pre-approval too can help you greatly in getting a mortgage loan. So if you don't get pre-qualified for a mortgage loan immediately apply for pre-approval. Both are different in their usage but will help you a great deal. Having something like pre-approval will make you more likable than the rest of the buyers. Pre-Approved home loans help a lot in getting mortgage home loans. Home Mortgage Pre Approval is a must if you want to stand out in the long queue of buyers.
The above-mentioned are some of the important steps that one must follow when buying a home. Having a detailed and worked-out list of what you have to do and what you don't have to do is very important. 
To Sum Up, 
If you are someone who is looking to buy a home in Nashville TN Homes for Sale what you can do is connect with our team Zivak Realty Group who will help you in getting good mortgage loans and guide you in the process of home buying.