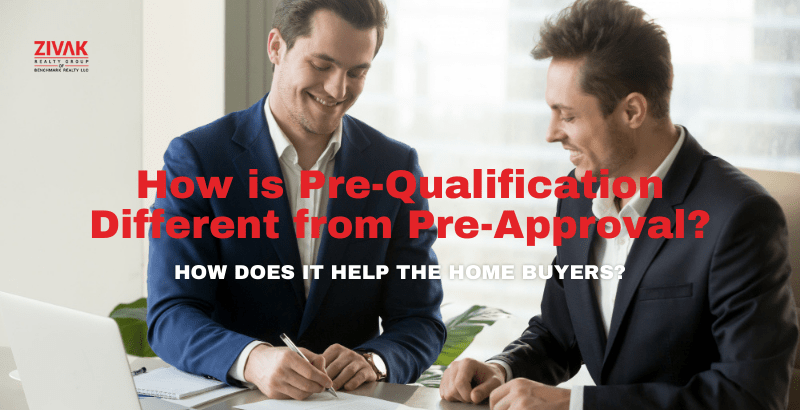 Pre-Qualification and Pre-Approval both help in the time of getting easy loans, however, both are different in their respective nature. Do you understand the distinction between the pre-approval vs. pre-qualification procedure for home loans? If not, continue reading the full article. Solidifying a connection with a lender before you start a house search will assist you to seek agile housing demand. But first, understand the difference between the Pre-Qualification and Pre-Approval for a home loan. The applicants must apply for the application this has to be the initial step in purchasing your dream home.
Pre-approval and Pre-qualification don't appear very different from one another. However, these two home loans may sound the same, there are significant distinctions between the two.
Difference Between Pre-Approval and Pre-Qualification
To begin with, we must know what they are and how they are different from one another, and also why it is important to Get Pre Approved for a Home Loan.
What is Pre-Qualification?
Mortgage pre-qualification comes about when a loan lender assumes what amount of a home loan you are eligible to attain. Crucial aspects to understand about a mortgage pre-qualification comprise the following points:
The loan lender provides you an estimation based on your replies to a few queries asked by the lender

The lender isn't guaranteeing to procure you with a loan in the approximate number.

You will nonetheless have to finish a home loan plea and go through the acceptance procedure
Understand loan pre-qualification as the initial discussion with your mortgage lender. The mortgage expert inquires you with a sequel of revenue issues to learn about how eligible you are for the loan. Remember that the mortgage lender is not promising that you will be entitled to the calculated loan sum. 
You must wonder if this is not guaranteed then why must you at all seek for Pre-Qualification. One explanation to go for a pre-qualification is that it provides you the possibility to talk to many lenders. There is a huge order of lenders, and you must select the one that suits your requirements. You will similarly gain some important basic ideas of what amount you are eligible for.
What is Pre-Approval?
There is a difference between Pre-Qualification and Pre-Approved home loans and how that is, we will discuss it here. Pre-approvals verify precisely the amount of loan that you are ratified for. The examination here is done more strictly, after submitting the mortgage application. Getting Pre Approved for a Home is not that complicated process. The lender will evaluate your:
Job assurance

Bank affidavits

Retirement and brokerage account statements

Proof of assets

Recent real estate deficit or rental declarations

Proof of Tax returns
To sum up, pre-approval is more like an interview that you need to give before securing a job.
Similar to pre-qualification, you will receive a pre-approval note if the lender ratifies your plea. Also, this paper notifies dealers the mortgage expense won't be a problem for you, and this is how you become the suitable prospect for their house. A pre-approval letter can point up to your bid above the others simply because you have received the stubs to verify you're a trustworthy, considerable buyer. Get Pre Approved for a Home Loan by following these easy steps.
How is Pre-Approval and Pre-Qualification Are Crucial
To get easy and convenient access to loans having Pre-qualification or pre-approval are both crucial steps in getting the mortgage procedure for numerous reasons.
#1. Buyers have Ease in Understanding Which Lenders Will give them Loan
To a very essential degree, pre-approval and pre-qualification are crucial because they notify customers whether the lender will finance their house bargain or not.
Beginning with this early phase, buyers will promptly discover if they can seek their mortgage with that lender, or if they have to shift on to the next option. And in this way, you can save a lot of time. Home Mortgage Pre Approval helps you know which lenders are willing to fund you.
#2. Assists Buyers in choosing the favorable Mortgage
These very processes enable the buyers to correlate loan subsidies based on actual amounts.
Customers are provided the data needed to create an experienced ruling about their mortgage loan via pre-qualification and pre-approval process. They can infer which is the promising proposal based on all-around affordability, and other facets.
#3. Buyers Get Realistic Budgets
Pre-qualification and pre-approval can moreover assist in shaping pragmatic and exact funding for your real property bargain.
To Sum UP
Pre-Qualification and Pre-Approval help buyers in securing mortgage loans for their home purchases. This is a sense that makes the Home Buying Process Easier and the buyers then do not have to worry about and keep looking for the mortgage lender.
Zivak Realty Group is a realty agency that helps in the home buying or selling process in the region of Nashville.
For any queries and help you can connect with the team and seek expert help for the same.
Get in Touch!