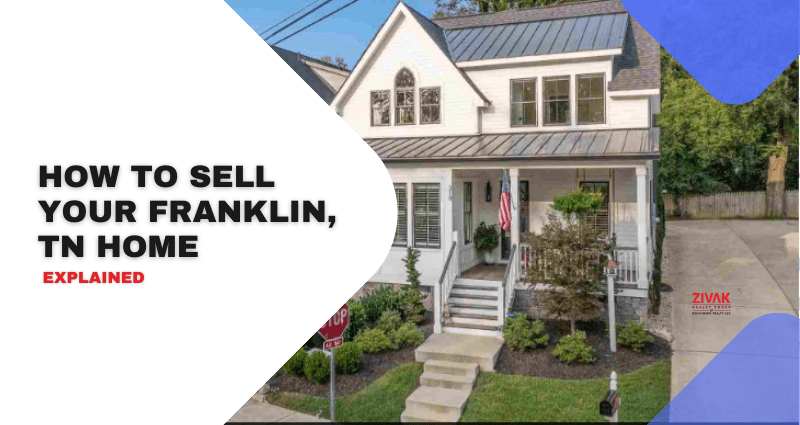 Well, there are several reasons to consider Sell your home Franklin TN. Maybe you are not happy in the current location, switching the city, seeking larger investment options or you just want a brand-new property to buy.
If you have decided to list your Franklin homes for sale, there come a lot of things to manage. For example – deciding the right selling price of your home, talking to multiple buyers and responding to them, negotiating, closing, and several other things you need to be familiar with.
This piece of content will take you to some effective steps you need to sell your home in Franklin real estate market.
Find a Realtor in Franklin, TN
There is no doubt that putting your Franklin homes for sale is not that easy as it seems to be. It requires a considerable amount of time to coordinate with multiple processes to make a successful transaction.
The professional real estate agent knows the seller's market very well in a sense that helps the seller to prepare the house for sale. Moreover, agents help in marketing the property to the buyer's agent and manage the transaction process to get the sale as per the real estate market value.
Right Time to put Home for Sale 
The question – 'when to put home for sale' must come to your mind when you are in the real estate market, as this will decide how much profit you will be making. The time of year you Sell your house Franklin TN is a major factor to get the most of your property.
The best time to list your property across Tennessee is the month of June and July. The homes listed for sale in these two months sold faster with more profitable deals.
Pricing your Home 
Before your list your home for sale in Franklin real estate market, you need to ensure yourself that you will be getting a good deal. You need to know how to evaluate the price of any home so that you can crack a profitable investment deal. To get the best deal on your house, comparative market analysis (CMA) is an important resource to decide how to price your property. It will also allow you to compare your home based on the area, lot size, amenities, and more. A CMA shows you the sold and expired home listings as well, to help you get a transparent picture of the market.
Your real estate agent in Franklin, TN should help you in the overall procedure of pricing your home in an organized and detailed manner.
Preparing for Marketing & Show your Home
Before listing your Franklin, TN home for sale, there are several marketing activities to do that can give you the best offer.
Here are some tips to prepare for marketing your home out there. 
Staging your home will help potential buyers have a positive response about your property.
Make sure you get recommendations for home improvements from a realtor as they are more familiar with what people look for.
Clicking professional photos of your listing will generate more attention for buyers to look into your property.
Mentioning a good home description with highlights will be a clear picture for people who are serious buyers.
Make sure the pricing you're going to put is according to the current market trend. If you are not sure, get help from a real estate agent in Franklin, TN on how to work on a pricing strategy.
At the time of the property, visit make sure you are available on time as per the client's availability.
Negotiation & Accepting offers 
Once you start showing your property, buyers will be making different offers. You may receive offers above or below the listing price Homes For Sale in Franklin TN, $900000 – $1000000. After you get an offer, you need to decide whether or not you want to accept that offer. You will have to respond to buyers within a specific timeframe.
You may want to negotiate things such as closing costs, title insurance, escrow process & its fee, real estate transfer taxes, and earnest money deposit amount.
Once the negotiations are finalized, there comes the process of the purchase agreement which will be signed and notarized at the time of closing.
If you are not confident about how to negotiate and deal with all these processes, you must hire a real estate agent in Franklin, TN.
Closing your House
While closing your house the property ownership is transferred to the buyer. But before closing, there are several things that need to be confirmed. Let's have a look:
Make sure that the contingencies have been removed and are in writing by all the parties.
Make sure that the buyer has met the loan approval process, and funds are transferred to the title company.
Review all closing documents provided by the title company.
Review documents related to property taxes, mortgage, transfer tax, escrow, etc.
Interest rates are subject to change. So, it's better to lock in your interest rate for a loan in advance.
Summing Up
Whether you are looking to list your Franklin home immediately or planning to do it anytime soon, it's important to accomplish the deal successfully and profitably. Zivak Realty Group is here to assist you to sell your home faster and at the right pricing point. 
At Zivak Realty Group, our expert team of real estate agents follows the complete evaluation of your property with real market conditions. To know more about we can help you Sell your home Franklin TN, do connect with the team today.