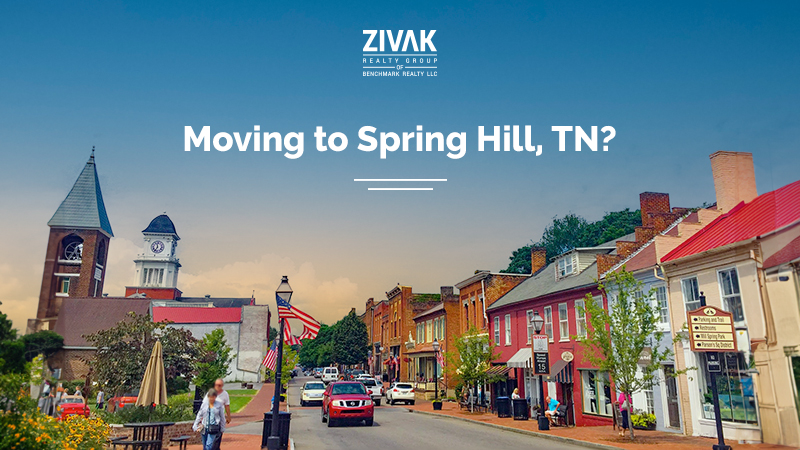 Spring Hill, TN, is one of the rapidly growing cities in the country in terms of population and economy. Living in Spring Hill, TN will significantly enhance your living experience if you are desperate to retreat from city life. The distance between Nashville and Spring Hill state capital is around 36 miles. This paves the path for the city's growth as the Nashville metro continues to grow.
This article elaborates on why many consider Spring Hill, TN, a great place to live.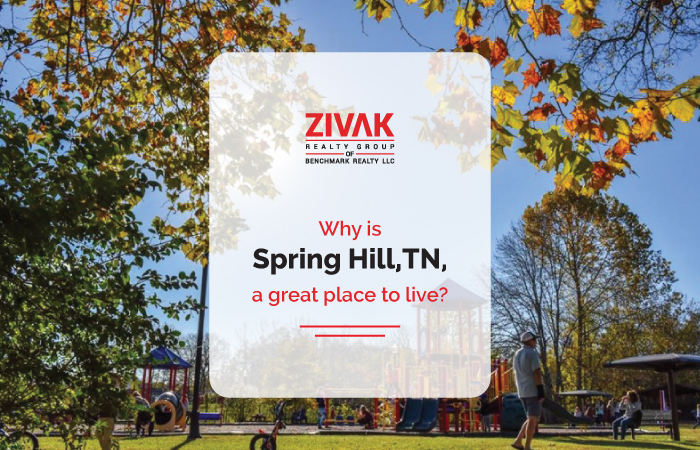 Moving to Spring Hill, TN
Before relocating to a new place, knowing its history is good. Spring Hill, the city, was established in 1809. On November 29, 1864, the city witnessed a Civil War battle on its soil, now known as the Battle of Spring Hill. The city has become a fantastic place to live with these aspects.
Scenic greenery landscape
Strong community involvement
Affordable housing option
Increasing economic and job opportunities
Spring Hill is one of the best cities in Tennessee.
Spring Hill, TN, is a desirable community in Nashville. With a rich history, this small city now continually attracts new residents. You can easily relocate to this enchanted city by hiring a Reliable Moving Company. Apart from being a city blended with hospitality, a scenic environment, and fully-packed modern amenities, Spring Hill has many more attractive reasons that drive new residents across the states.
Let's take a look over those reasons in detail.
Spring Hill, TN: Population and Demographics Breakdown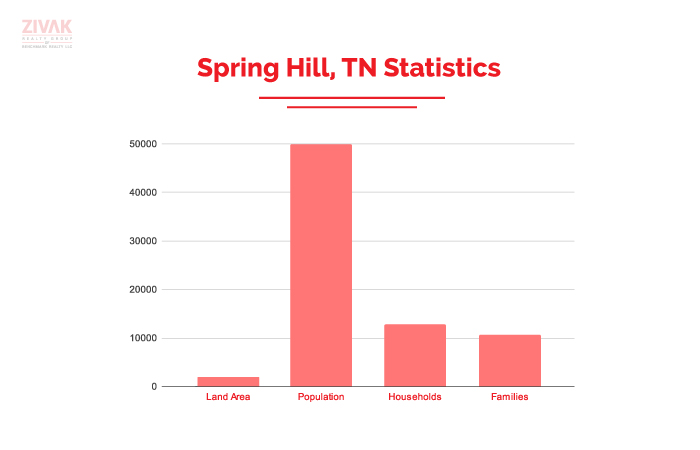 The United States Census Bureau records indicate that the small town of Spring Hill has a land area of 29.14 miles with a population of over 50,000 as of the year 2020. Over 50,582 families live in the city, with around 12,727 households. Spring Hill is one of the best cities in Tennessee, with a crime rate below 63% of the national average. Among the total residents of Spring Hill, TN, 51% of its residents are from Latin America, and 4% are from outside of the US.
Real Estate Dynamics of Spring Hill in Tennessee
When it comes to real Estate, the city offers a wide variety of options in terms of home size and styles. Though the city is fully packed with beautifully crafted separate homes for small nuclear families, people can find enough space-saving townhomes and low-maintenance condominiums.
As people from all the states continually move to Spring Hill, TN, the prices of the Homes for Sale in Spring Hill, TN, and the Commercial Property for Sale in Spring Hill, TN are slightly up for the past few months, and they will increase as the city population continues to grow.
Navigating Living Expenses in Spring Hill, Tennessee
Unlike the other states of the US, the economy is booming in Spring Hill, TN. Real Estate attracts more people across the nation, so more people are moving in. This causes the overall cost of living in Spring Hill to be slightly ahead of the US average rate. However, new residents will find general utility costs the same as nationwide, and they can even save money in some parts of the city. Apart from that, healthcare costs are less than the national average amount.
Spring Hill's Economic Growth and Job Opportunities
As the economy is booming in Spring Hill, new residents will find it easy to find a job. Compared with all other United States states, Spring Hill has a low unemployment rate and better average household income, which is a promising sign for new residents. Being a suburban city, Spring Hills attracts a lot of large-scale automobile companies and healthcare groups to run a successful business.
Additional Advantages of Moving to Spring Hill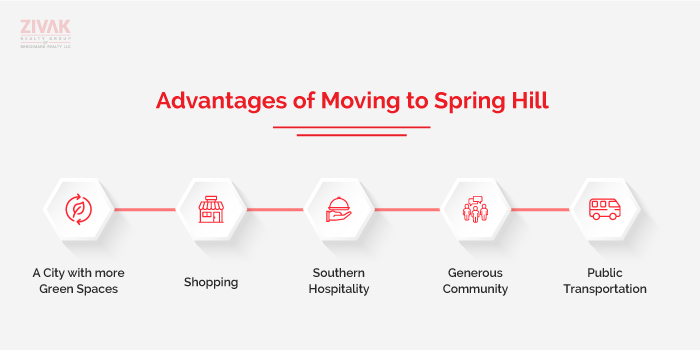 Here are some key aspects and convincing things you should know before moving to Spring Hill. 
A City with more green spaces: Spring Hill will be your favorite if you are a park lover. The city has a lot of parks, and the community offers excellent care to those green spaces. Parks like Harvey Park, Evans Park, Port Royal Park, and McLemore Park allow you to enjoy the fresh air.
Shopping:Spring Hill, TN, has a range of shopping centers, from big box stores like Target to local boutiques where you can do vintage shopping. The city has more than 80 stores and restaurants, including various popular chain restaurants.
Southern Hospitality: People in Spring Hills are very nice, friendly, and seem to be highly optimistic. This is the reason behind such rapid growth of the city over the last decade. New residents of Spring Hills will experience upbeat energy and southern hospitality.
Generous Community:The community of Spring Hills, TN, is generous and never hesitates to engage with the new residents. By nature, they have a helping tendency.
Public Transportation:Being very close to the popular tourist area, residents of Spring Hills enjoy a lot of public transportation like WeGo bus transportation, Muletown Trolley, and so on.
Should You Consider Moving To Spring Hill, TN, On Your Own?
Moving your family will always be difficult, and it requires a lot of attention and cautious steps to proceed smoothly. Moving to Spring Hill, TN is the best choice for families not preferring to relocate to a huge metropolitan area.
Having a peaceful environment and a high family income rate, Spring Hill is a great place to move your family. Apart from the fully packed entertainment and natural landscape, the city has a significant number of private and public schools that keep your child's educational worries away from you.
In simple words, Moving to Spring Hill, TN will put you and your family off from all those hassles of metropolitan life.
Bottom Line
Spring Hill, TN, is the ideal location to move in for people who love to be in a quiet, calm environment with tree-lined streets. For those who want to settle their family near Nashville in a safe and secure environment, preferring Spring Hill is the best and wise option. The economy and opportunities of Spring Hills, TN, will always welcome new residents.