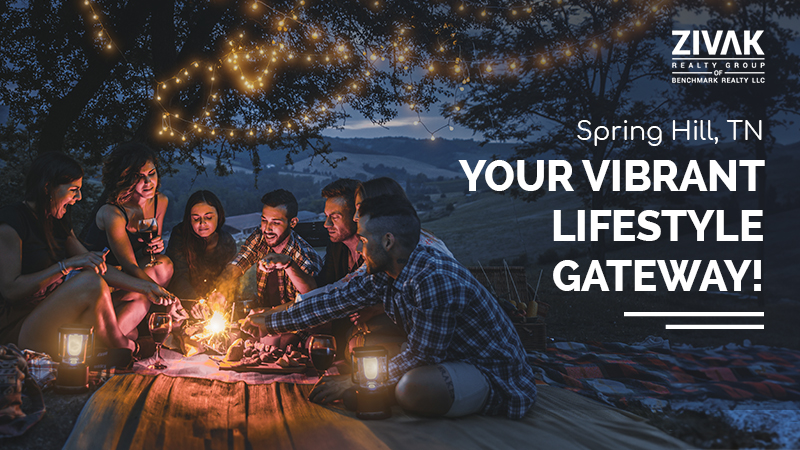 Are you considering a move to Spring Hill, TN? Look no further! Nestled just south of Franklin and a stone's throw away from the bustling city of Nashville, Spring Hill offers a gateway to the vibrant lifestyle that Music City has to offer. 
With its charming atmosphere, top-notch amenities, and convenient location, Spring Hill is the perfect place to call home for those seeking the best of both worlds. 
In this blog, we'll explore why Spring Hill, TN is an ideal destination for anyone who embraces Nashville's exciting and diverse culture while enjoying the tranquility of a suburban haven. Get ready to embark on a journey to Spring Hill, TN, and Unlock the gateway to Nashville's vibrant lifestyle!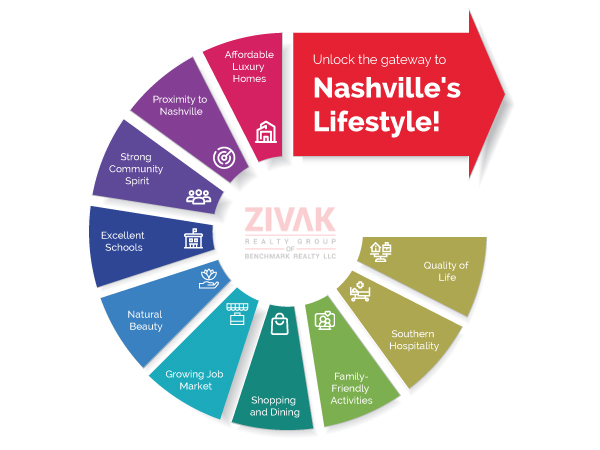 properties in the $600,000 to $700,000 price range. Experience the ultimate in comfort and elegance without breaking the bank.
2. Proximity to Nashville
Located just a short drive south of Franklin, Spring Hill provides convenient access to the vibrant city of Nashville. Enjoy the world-class entertainment, dining, and cultural experiences that Music City offers, all within reach.
3. Strong Community Spirit
Spring Hill is known for its tight-knit and welcoming community. Experience the warmth and friendliness of the residents who take pride in creating a supportive and inclusive environment for all.
4. Excellent Schools
Families moving to Spring Hill can take advantage of the highly regarded school system, with top-rated schools that provide quality education and a nurturing environment for children of all ages.
5. Natural Beauty
Embrace the picturesque landscapes and natural beauty surrounding Spring Hill. The area has scenic parks, hiking trails, and serene countryside, allowing residents to connect with nature and enjoy outdoor activities.
6. Growing Job Market
Spring Hill boasts a growing job market, with various employment opportunities available. Whether you're in healthcare, manufacturing, or technology, there are promising career options to explore in the area.
7. Shopping and Dining
Discover a diverse range of shopping and dining options in Spring Hill. From quaint local boutiques to popular retail centers and delicious restaurants, there's something to cater to every taste and preference.
8. Family-Friendly Activities
Spring Hill offers numerous family-friendly activities and entertainment options. Enjoy community events, sports leagues, recreational facilities, and attractions that cater to the whole family, creating lasting memories.
9. Southern Hospitality
Experience the genuine Southern hospitality that is deeply rooted in the Spring Hill community. Friendly neighbors, welcoming smiles, and a warm atmosphere make this town a delightful place to live.
10. Quality of Life 
Above all, Spring Hill provides an exceptional quality of life. Enjoy the perfect balance of small-town charm, modern conveniences, and a thriving community, making it an idyllic place to settle down and create lifelong memories.
Conclusion
In a nutshell, Spring Hill, TN, is the ideal gateway to Nashville's vibrant lifestyle. With its affordable luxury homes, proximity to Nashville, strong community spirit, excellent schools, and natural beauty, Spring Hill offers a compelling package for those considering a move. 
The growing job market, shopping and dining options, family-friendly activities, and genuine Southern hospitality further contribute to the overall appeal of this charming town. Whether you're searching for a place to call home or looking for a fresh start, Spring Hill provides an exceptional quality of life that combines the best of small-town charm with modern amenities. 
If you're searching for luxury homes for sale in Spring Hill, TN you'll find various options to meet your needs. Embrace the opportunities and possibilities that await in this thriving community, where you can experience the best of both worlds – the tranquility of a close-knit town and the excitement of Nashville's renowned attractions. Begin your journey to a vibrant lifestyle in Spring Hill, TN, today.