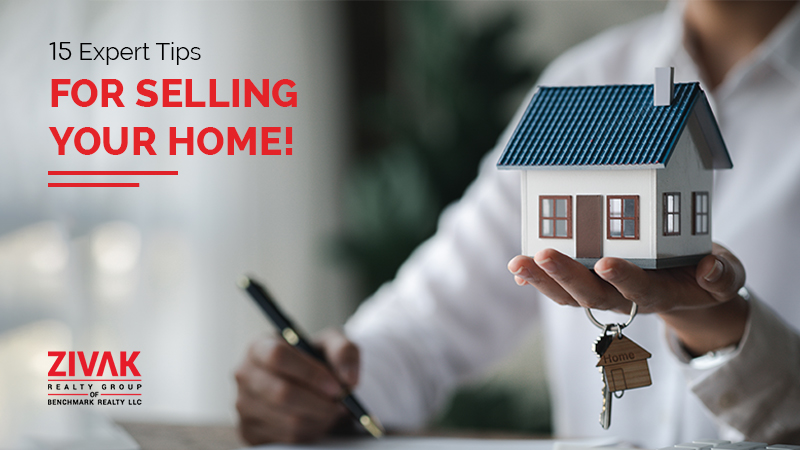 Selling a home in Nashville can be a complex and challenging process, but with the right strategies and guidance, you can maximize your chances of a successful sale. If you're considering selling your property in Nashville, Tennessee, you're in luck! The Nashville real estate market is thriving, attracting buyers from near and far. To help you navigate this competitive market and optimize your selling experience, we've compiled 15 killer tips that will give you an edge. From finding the best real estate agent to effective marketing techniques, we'll cover everything you need to know to sell your home in Nashville.
Here are some Home Selling Tips that you must know: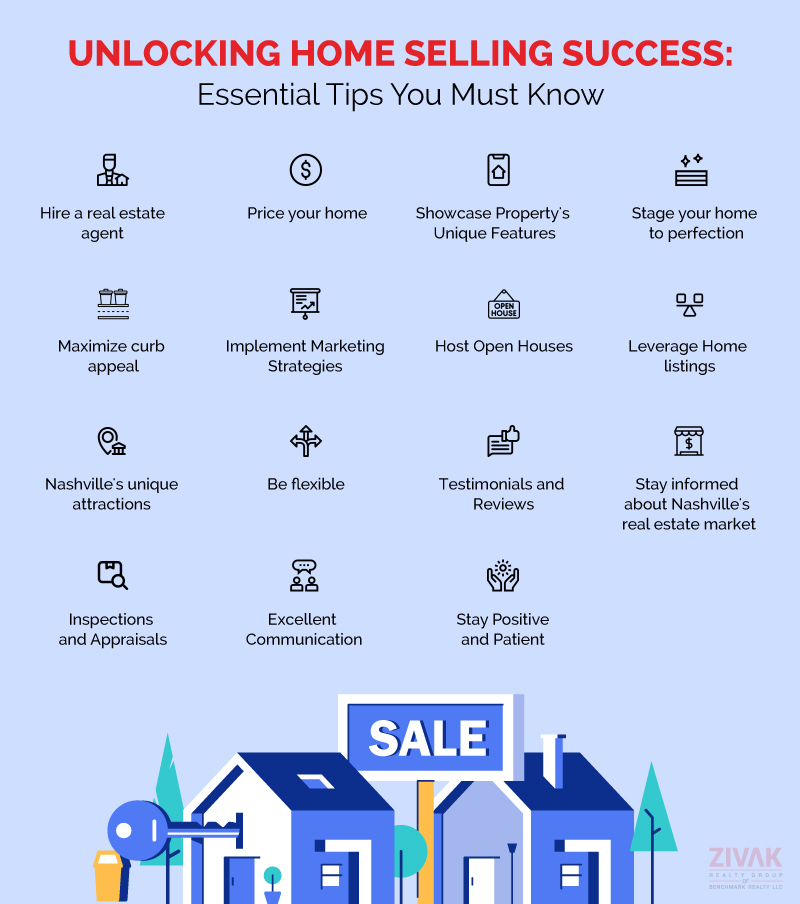 1. Hire a reputable real estate agent in Nashville:
One of the most important steps in selling your home in Nashville is to hire a real estate agent like Zivak Realty Group, who is familiar with the local Nashville, TN market. A knowledgeable agent will have a deep understanding of the Nashville real estate landscape, including current trends, pricing strategies, and buyer preferences. By partnering with an agent who specializes in selling property in Nashville, you can leverage their expertise to navigate the process smoothly and achieve the best possible outcome.
2. Price your home strategically:
Setting the right price for your home is crucial to attracting potential buyers in Nashville's competitive market. Conduct a comprehensive comparative market analysis (CMA) to determine the appropriate price range for your property. A CMA takes into account factors such as recent sales of comparable homes, market trends, and the unique features of your home. By pricing your home strategically, you can generate interest and attract serious buyers who recognize the value of your property.
3. Showcase your property's unique features:
Nashville is known for its diverse range of properties, and highlighting the unique features of your home can set it apart from the competition. Whether it's a breathtaking skyline view, a fully renovated kitchen with high-end appliances, or a spacious backyard perfect for entertaining, make sure to emphasize these selling points in your marketing materials. Use engaging descriptions and high-quality photographs that capture the essence of what makes your home special. By showcasing these unique features, you can pique the interest of potential buyers and make a lasting impression.
4. Stage your home to perfection:
Staging your home is an effective technique that helps buyers visualize themselves living in the space. Start by decluttering and depersonalizing each room, allowing potential buyers to envision their own belongings in the space. Consider hiring a professional stager who can optimize the layout, furniture arrangement, and decor to create an inviting ambiance. This will allow buyers to see the full potential of each room and create an emotional connection with your home.
5. Maximize curb appeal:
First impressions are crucial when selling property in Nashville, and curb appeal plays a significant role in attracting buyers. Enhance your home's exterior by tidying up the landscaping, trimming overgrown bushes or trees, and adding fresh mulch or colorful flowers. Consider repainting the front door or adding a new coat of paint to the exterior if needed. These small investments can have a big impact and make your home more inviting to potential buyers as they approach.
6. Implement effective marketing strategies:
To reach a wide audience of potential buyers, it's important to implement effective marketing strategies. Utilize online platforms such as real estate websites, social media, and listing services to showcase your property. Craft compelling descriptions that highlight the unique features of your home and its prime location in Nashville. Professional photography is a must to capture your home in its best light and create visually appealing listing images. Consider utilizing virtual tours or 3D walkthroughs to provide an immersive experience for remote buyers. By employing a comprehensive marketing strategy, you can attract more potential buyers and increase your chances of a successful sale.
7. Host open houses and private showings:
Open houses and private showings are effective ways to showcase your home to potential buyers in Nashville. Coordinate with your real estate agent to schedule well-organized open houses that allow buyers to explore your property and ask questions. Additionally, accommodate private showings to provide a more personalized experience for serious buyers who may prefer a one-on-one tour of your home.
8. Leverage the power of online listings:
In today's digital age, online listings play a crucial role in attracting buyers. Ensure your property is listed on reputable real estate websites, complete with captivating descriptions and high-quality photographs that highlight its best features. Optimize your listings with relevant keywords such as "selling a home in Nashville" or "Nashville property for sale" to increase visibility and attract potential buyers searching for properties in the area.
9. Highlight Nashville's unique attractions:
Nashville is famous for its vibrant music scene, diverse culinary options, and friendly community. Incorporate these attractions into your marketing efforts to appeal to potential buyers. Highlight the proximity of your home to popular music venues, renowned restaurants, and recreational areas such as parks or hiking trails. Emphasize the Nashville lifestyle and the unique experiences it offers, as this can be a major draw for buyers who want to immerse themselves in the city's cultural fabric.
10. Be flexible with showings and negotiations:
Flexibility is key when selling your home in Nashville. Accommodate potential buyers by being open to showings at different times, including evenings and weekends. Additionally, be prepared for negotiations and consider being flexible on certain terms to facilitate a smoother transaction. Working collaboratively with buyers can help foster a positive relationship and increase the likelihood of a successful sale.
11. Gather positive testimonials and reviews:
Positive testimonials and reviews can significantly enhance your home's appeal. Request feedback from previous buyers or neighbors who can vouch for the quality of your property and the desirability of the neighborhood. Display these testimonials on your online listings or provide them to potential buyers during showings. Positive reviews serve as social proof and can instill confidence in buyers, helping them feel more comfortable and excited about the prospect of purchasing your home.
12. Stay informed about Nashville's real estate market:
To make informed decisions and stay ahead of the competition, it's essential to stay updated on Nashville's real estate market trends. Monitor market reports, attend local real estate events, and engage in conversations with your real estate agent to stay informed about current market conditions, pricing trends, and buyer preferences. This knowledge will enable you to adjust your selling strategy accordingly and position your home competitively.
13. Be prepared for inspections and appraisals:
During the selling process, your home will likely undergo inspections and appraisals. Be prepared by addressing any necessary repairs and ensuring that your home is in good condition. This proactive approach can help prevent potential roadblocks and delays in the closing process.
14. Maintain excellent communication with your real estate agent:
Open and regular communication with your real estate agent is crucial for a successful home sale. Collaborate closely with them, providing any updates, feedback, or changes that may impact the sale of your home. Their expertise and guidance will be invaluable throughout the process.
15. Stay positive and patient:
Selling a home can be a process that requires patience and perseverance. Stay positive, remain flexible, and trust in the expertise of your real estate agent. Remember that the right buyer will come along, and with the right strategies in place, you'll be well on your way to selling your home in Nashville.
To Sum Up,
Selling your home in Nashville requires a strategic approach that encompasses effective marketing, staging, pricing, and leveraging the unique attractions of the city. By hiring a reputable real estate agent, pricing your home strategically, showcasing its unique features, and implementing effective marketing strategies, you can attract potential buyers. However, it is difficult to achieve all this without the help of expert real estate professionals, and so reach out to the team of Zivak Realty Group.