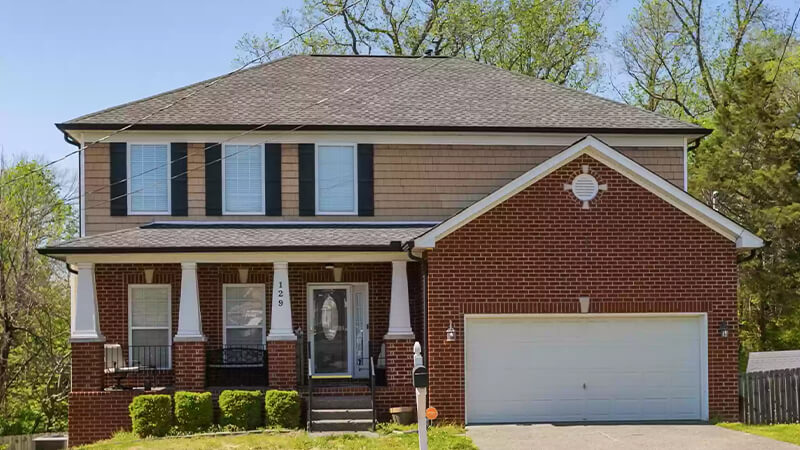 Hendersonville, TN, is a vibrant city located just outside of Nashville. With its rich history, scenic beauty, and diverse community, it has become an attractive place to live for many people. If you're considering relocating to Hendersonville, it's important to weigh the pros and cons of living in this area. In this blog, we will explore the advantages and disadvantages of living in Hendersonville, along with information about homes for sale in Hendersonville Tennessee, including houses under $400,000.
Pros of Living in Hendersonville, Tennessee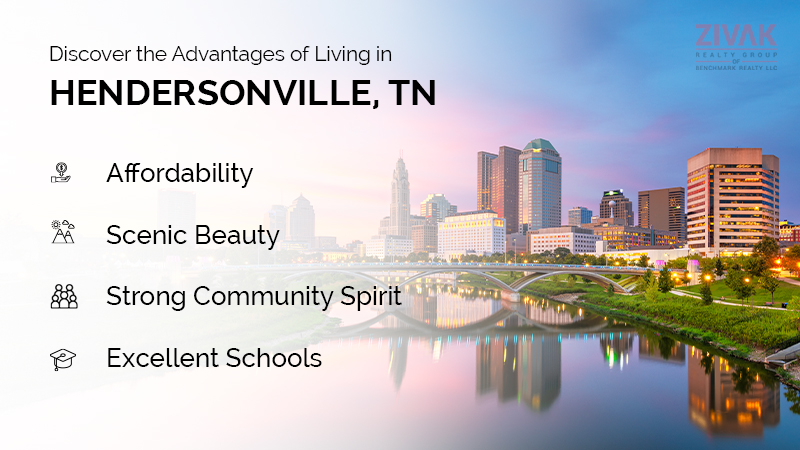 1. Affordability: 
Affordability is a significant factor that sets Hendersonville apart and makes it an attractive choice for many homebuyers. The city offers a range of housing options that cater to various budgets, making it possible for individuals and families to find their dream homes without breaking the bank. One of the key advantages of Hendersonville's real estate market is the availability of homes for sale at affordable price points. Prospective buyers will find a wide selection of houses listed under $400,000, which is considerably more affordable compared to the housing markets of nearby cities like Nashville. This affordability factor opens up opportunities for first-time homebuyers, young families, and individuals who are looking to enter the real estate market or upgrade their current living situation.
2. Scenic Beauty:
Nestled along the shores of Old Hickory Lake and surrounded by rolling hills, Hendersonville offers breathtaking natural beauty. Residents can enjoy picturesque views, access to water activities, and ample green spaces for outdoor recreation. The city also boasts several parks and nature trails, providing opportunities for hiking, biking, and picnicking. Hendersonville boasts an array of well-maintained parks and nature trails that showcase the city's commitment to preserving its natural beauty. Sanders Ferry Park, Rockland Recreation Area, and Drakes Creek Park are just a few of the green spaces available for residents and visitors to explore. These parks offer a wide range of amenities, including walking trails, playgrounds, picnic areas, and sports fields, ensuring that there is something for everyone to enjoy.
3. Strong Community Spirit:
Hendersonville has a strong sense of community, making it an ideal place to raise a family or establish roots. The city organizes numerous community events throughout the year, including festivals, parades, and farmers' markets, fostering a sense of belonging and camaraderie among residents. Throughout the year, Hendersonville hosts a multitude of community events that bring residents together. Festivals such as the Hendersonville Main Street Festival and the Indian Lake Village Summer Concert Series showcase the city's vibrant culture and provide opportunities for residents to socialize and connect with one another. These events feature live music, local vendors, food trucks, and activities for all ages, creating a lively and festive atmosphere that strengthens community bonds.
4. Excellent Schools:
Hendersonville is known for its top-rated public schools, offering quality education for children of all ages. The Sumner County School District, which serves Hendersonville, is recognized for its dedicated teachers, diverse academic programs, and extracurricular activities. Families moving to Hendersonville can rest assured knowing their children will receive a high-quality education.
Some of the top-rated schools in Hendersonville, TN:
Beech High School
Hendersonville High School
Station Camp High School
Knox Doss Middle School at Drakes Creek
Cons of Living in Hendersonville, Tennessee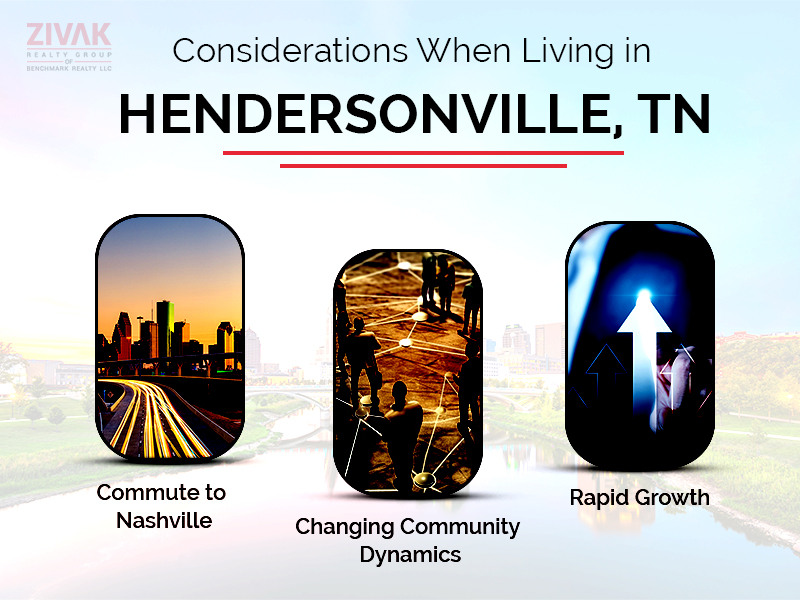 1. Commute to Nashville
While Hendersonville provides a peaceful suburban setting, it is important to consider the commute to Nashville for work or entertainment purposes. Depending on traffic, the commute can be lengthy, especially during peak hours. However, Hendersonville does offer convenient access to major highways, easing the commute to downtown Nashville. Hendersonville's public transportation options are somewhat limited compared to larger cities. While there are some bus routes available, owning a vehicle is typically necessary for daily transportation needs.
2. Rapid Growth: 
Hendersonville has been experiencing rapid growth in recent years, with an increasing number of people choosing to call it home. This growth brings several benefits, such as economic opportunities, improved amenities, and an expanding housing market. However, it also poses some challenges that residents should be aware of. One of the significant impacts of rapid growth is increased traffic congestion. As more people move to Hendersonville and surrounding areas, roadways become busier, especially during peak commuting hours. It's important for residents to plan their daily commute accordingly and be prepared for potential delays. 
3. Changing Community Dynamics: 
Rapid growth can lead to changes in the community dynamics of Hendersonville. As new residents move in, the character and identity of the city may evolve. Some long-time residents may feel a sense of loss as the city changes, and it can take time to adapt to a more diverse and evolving community.
To Sum Up,
Living in Hendersonville, Tennessee, offers numerous advantages, including affordable housing options, scenic beauty, a strong sense of community, and excellent schools. While there are considerations such as commuting to Nashville and the city's growth, many residents find the benefits of living in Hendersonville far outweigh any drawbacks. If you're searching for Hendersonville Homes Under 400k, take advantage of the attractive real estate market and explore the opportunities this charming city has to offer. Connect with Zivak Realty Group and find the best suitable house in Hendersonville, TN.