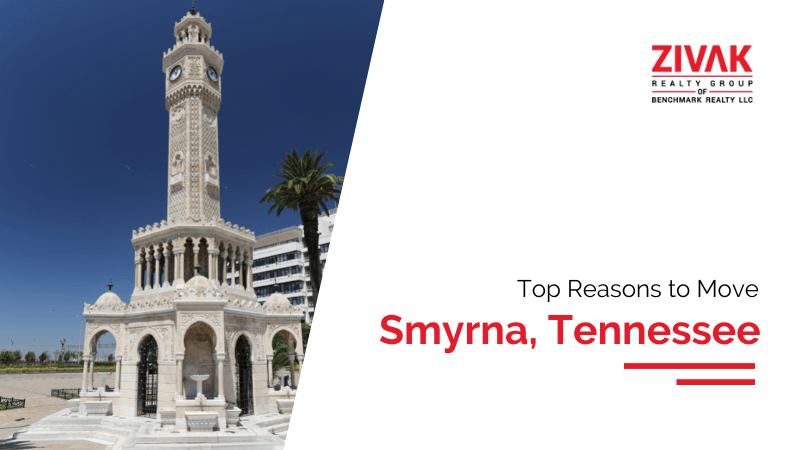 Planning to move to Smyrna Tennessee, and desiring new homes for sale in Smyrna? Well, when it comes to moving to a new city, knowing about the city becomes essential. Factors such as the cost of living, the housing market, climate, and employment opportunities, let you decide whether the place matches the quality of life you are expecting.
Smyrna is a town in Rutherford County, Tennessee, just outside of Nashville. The town was initially a rural focus with many enormous ranches and manors, yet it has since reformed into a first-class metropolitan community popular for the extraordinary conveniences it offers and ready to oblige individuals from varying backgrounds.
Smyrna, Tennessee, is a family-friendly town with plenty of green space, and it was named one of the top ten best American cities to retire in by US News and World Report.
Here are the top reasons you should consider moving to Smyrna, Tennessee
Social Amenities 
If you are a social person, Smyrna's got you covered. You and your family will have a great time in town, from visiting state parks to enjoying long picnics to camping and hiking.
Also, the town is filled with awesome restaurants that offer fantastic meals, bars, and clubs in the town center. All these hangout places ensure fantastic nightlife with your loved ones.
Smyrna is likewise perfect as a tourism center, as it has historic destinations. There are many spots to spend time with your loved ones throughout the end of the week in Smyrna.
Some of the best places to visit in Smyrna, Tennessee, are Sam Davis' home, Lee Victory Recreation Park, Smyrna Public Library, Gregory Mill Park, Sharp Springs Park, Game Galaxy Arcade, Sullivan's Sports Bar, and Skate Center.
Business Opportunity
Whether you are planning to invest in the business or even looking to invest in the Smyrna TN real estate market, Smyrna, TN, is a thriving urban center. So you should rest assured that your business will pick up in no time. 
If we talk about the housing market, the median listing home price was $409.9K in May 2022, trending up 22.4% year-over-year.
The town is a historical hub that houses sightseers from everywhere in America and the past who visit authentic locales. In this manner, you can start a business that targets tourists.
You can likewise join the Smyrna Business Association, which is a stage for Smyrna entrepreneurs to organize and promote their organizations. 
Cultural Diversity 
Smyrna, TN The Nashville neighborhood is a culturally diverse community and an ideal place to live a life. 
The town's cultural values are influenced by the control of five huge ethnic gatherings. 
Smyrna's white population accounts for 67% of the population, with African-Americans accounting for 14%. Hispanics made up 9.31% of the population, Asians made up 4.94%, and mixed-race people made up 2.36%. 
Education Opportunity 
Smyrna, Tennessee, provides an excellent environment for you or your children to receive a high-quality education. There are 34 preschools, eleven primary schools, seven center schools, four secondary schools, fifteen public region schools, and 26 non-public schools.
The ratio of student to teacher in most of the schools is 12:1, with 46 percent of understudies at Smyrna rudimentary scoring at or over the capable level for math and 23 percent scoring over that level. It is also worth noting that minority understudy enrollment is at 73%, with 44% female understudies and 56% male understudies making up the understudy population.
Scientific and research organisations also permit you to provide knowledge in different fields, including the medical niche. The clinical research solution organization, for instance, gives admission to state-of-the-art clinical preliminary studies for significant drug organizations, acquiring the most recent and most effective treatments with different signs.
There are additional colleges in Smyrna, TN, like Fortis Institute, Motlow State Community College, and Middle Tennessee State University. This ensures that your children pursue advanced education while also working on their business opportunities. 
Smyrna, TN is Safe to Live 
Smyrna, Tennessee, is a great place for you and your friends and family to settle and retire.
As per local law enforcement, the number of crimes in Smyrna, TN, is 1.16 times the Tennessee average.
Smyrna's homicide rate is 1.75 times that of Tennessee and 1.01 times that of the national average.
What's more, in regard to the safety of your property, the property crime rate is 1.06 times lower than in Tennessee.
Generally speaking, it is 37% more secure than other Tennessee urban communities and 27% more secure than different urban areas across America.
Going by these statistics, it is more right than wrong to say that Smyrna, TN, is a protected spot to move to. The probability of being a survivor of brutal wrongdoing in Smyrna is 1 in 260, and a casualty of property-related misconduct is 1 in every 43.
Infrastructure, and Transportation in Smyrna, Tennessee
Smyrna, Tennessee, is a medium-sized suburb in a metro region in the Central Time Zone. The remote web speeds in Smyrna are roughly 60 Mbps, while wired web associations have a speed of 214 Mbps.
The closest air terminal to Smyrna is 3 miles away. The closest shoreline is 391 miles away. Contrasted with public midpoints, traffic on parkways and streets in Smyrna is low. The street network is high.
Final Words 
Smyrna is an excellent place that offers various amenities for people of all age groups. If you need any assistance regarding property for sale in Smyrna, Tennessee, talk to our expert real estate agent at Zivak Realty Group.
Zivak Realty Group is a licensed real estate team of agents committed to delivering excellent customer service and results. Bo Zivak (founder) and his team of real estate experts have been serving Nashville and its suburbs for over 8 years now.Visit us at: www.zivakrealtygroup.com