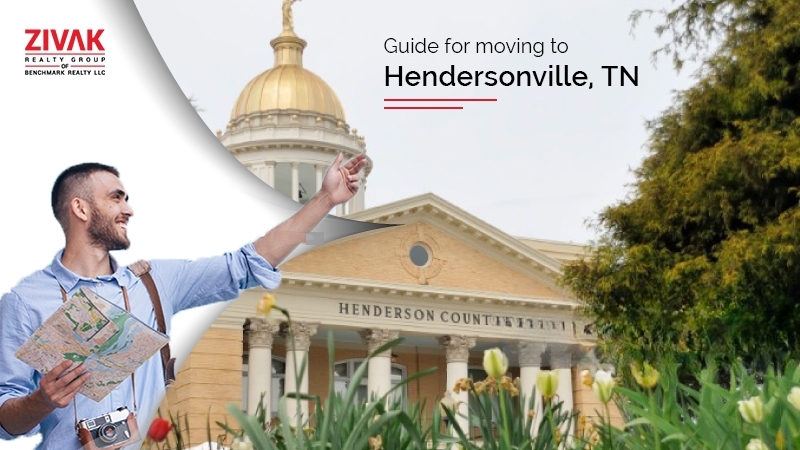 Are you moving to Hendersonville, Tennessee? Hendersonville offers residents an urban or suburban feel. In Hendersonville, there are a lot of parks and public schools that are highly rated. Moreover, Hendersonville has been considered as the 16th best place to live in the U.S. in 2021–2022.
The city of Hendersonville is situated in Middle Tennessee, only 18 miles east of Nashville in Sumner County. The city has a complete area of 8.4 square miles, which is all land.
Hendersonville is known for its ripe apple plantations, wineries, and its astounding and memorable midtown.
The city of Hendersonville, Tennessee has been home to numerous well-known occupants. The absolute most prominent are John Rogan, the second-tallest personality; Roy Orbison Jr., actor Robby Novak, who played Kid President; musician Eddy Arnold; and Sue Shelton White, the national feminist leader.
Finding a home in Hendersonville, TN is like living in a place with famous residents.
Cost of Living in Hendersonville, Tennessee
As per the Council for Community and Economic Research's "Cost of Living Index," Hendersonville ranked as the 146th most costly city in the nation out of 276 urban areas studied, which implies that Hendersonville is a reasonable place to live.
Hendersonville's typical home cost is around $440K, while Hendersonville's typical loft lease is $1,457 for 958 sq. ft. Hendersonville, Tennessee's cost of living index for housing estimates the cost of housing to be 81.1% of the national average, which makes it an average US city.
For a group of 2 grown-ups and 2 kids, the assessed month-to-month spending plan for the family comes to around $6,874.
The closest to Hendersonville happens to be Nashville, which is the largest city in Tennessee. Traveling by car, Nashville is just 19.1 miles or 21 minutes away through I-65 S. Through US-31E S, it would require 18.4 miles or 22 minutes to arrive. This architecturally significant area is known for its delightful Victorian homes and tree-lined roads.
Inglewood is likewise home to various organizations, including eateries, shops, and handicraft exhibitions. The White House is a local area known for its huge homes on extensive parcels of land. Numerous families decide to reside in the White House on account of the great schools and wealth of conveniences.
Foxland Harbor is a local area that offers various conveniences, including a fairway, tennis courts, and a clubhouse. Occupants of Foxland Harbor can also experience beautiful views of Old Hickory Lake, which makes it perfect for retirement.
Hendersonville, TN Weather 
The mid-year climate in Hendersonville, Tennessee is generally sweltering with high humidity. In July, the typical temperature is 84 degrees F, and the typical humidity is 78%. There is generally an opportunity for evening showers and tempests. The fall weather conditions are mild, with temperatures in the 60s to low 70s. At this colder time of year, weather conditions are generally cool with temperatures in the low 30s to high 40s. The spring weather conditions are mild, with temperatures in the 60s to low 70s.
The average rainfall in Hendersonville, TN is 44.5 inches each year. The wettest month is typically May, with a normal of 5.8 inches of rain. October is the driest month with a normal of 3.4 inches of rain. 
Employment in Hendersonville, Tennessee
According to Data USA, the three fields with the highest level of business are Leisure and Hospitality (52.1%), Other Services (14.9%), and Trade, Transportation, and Utilities (12.4%).
The most common opportunities in Hendersonville, Tennessee, are in management occupations, sales, and related occupations, and office and administrative support. Some major employers in Hendersonville, TN are Direct Auction Services, Xtend Healthcare, and Rhoades Car. 
Hendersonville Schools
If you are looking for schools for your children in Hendersonville, there are many public and private schools where you can seek admissions. Some of the more prominent schools are listed below:
Merrol Hyde Magnet School is focused on setting its students up in colleges and in their overall careers. The school offers an assortment of Advanced Placement courses, as well as double enrollment opportunities.
Pope John Paul II Catholic High School is a private, Catholic secondary school established in 2001. The school is essential for the Roman Catholic Diocese of Nashville. It serves students in grades 9-12 and has an enlistment of around 650 understudies.
Hendersonville High School is a public school that serves grades 9–12. The school has an enlistment of around 1,600 understudies. Hendersonville High School offers various intellectual and extracurricular activities for its understudies.
Merrol Hyde Magnet School is one more extraordinary choice as it is positioned first in Tennessee and seventh in the entire country. A state-funded school serves grades K 12. The school has a long tradition of academic excellence. 
Things to Enjoy in Hendersonville, Tennessee
Finding homes for sale in Hendersonville has additional perks too. There are several restaurants and parks here to cool off your day. Some of those places are listed below:
Drakes Creek Park
Historic Rock Castle
Moby Dickys Restaurant
Cafe Rakka
The Lost Cajun – Hendersonville
Safari's Brick and Oven Grille
Carrabba's Italian Grill
Center Point Bar-B-Que
Final Words
Living in Hendersonville has several pros. It has a safe community, a strong economy, a great quality of life, cultural activities, a good place to raise a family, and many perks.
If you are looking to score a good deal in Hendersonville, Tennessee, connect with our expert team of the best real estate agents at Zivak Realty Group. 
Zivak Realty Group is a licensed real estate team of agents committed to delivering excellent customer service and results. Bo Zivak (founder) and his team of real estate experts have been serving Nashville and its suburbs for over 9+ years now. Call us today at 615-916-9961 or an email: [email protected]