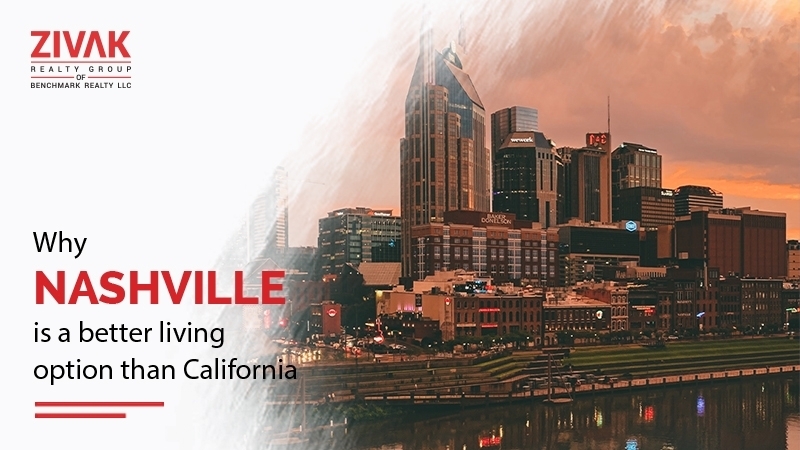 Why are people moving from California to Nashville, TN? Whether you're considering moving to Nashville or you've already agreed to move to Nashville, Tennessee from California, we will cover some of the deciding factors that you certainly want to know. Irrespective of whether you favor the hubbub and sophistication of big city life or the charm of a small town, Nashville, Tennessee, presents more than just innate beauty.
Dive in to know the reason behind the increase in migration from California to Nashville over the years:
Residential Homes and prices
The standard price for a single-family home in California is around $699,000, whereas, in Nashville, Tennessee, the median price for a single-family home is around $345,000. The standard condominium cost in California is approximately $412,000, and the standard condominium cost in Nashville is around $248,000. The average rent in Nashville, Tennessee, is around $1200. Therefore, you are more likely to get reasonable prices for Nashville, TN homes for sale than in California. Moreover, you can find $100,000 to $200,000 worth of homes for sale in Nashville, TN, search for homes for sale under $14,000.00 around Nashville and get the best Nashville property for sale.
Educational Opportunities
The survey indicates that if your kids go to the top primary school in Nashville, they have around a 6% better chance of later getting a degree from one of the best universities than other students across the United States. Nashville is home to about 25 different top schools and universities for higher education.
Nashville, TN, has a better rate of graduating students than California.
Top Schools and Universities like:
Vanderbilt Blair School of Music
The Nashville School of Law
Vanderbilt University
Lipscomb University
Aquinas College
University of Nashville School
Employment rate
Nashville has been witnessing a surge in population from California, too, because of the employment opportunities in Nashville. California presently has around a 9% unemployment rate, while Nashville, TN, has around a 6.4% unemployment rate. One of the noteworthy reasons for the increase in the employment rate in Nashville is that big companies like Hercules Holding LLC, Bridgestone, HCA Healthcare, and many others have their headquarters in Nashville, which provides better employment opportunities to the citizens.
Cost of living in Nashville, TN
Nashville is fairly affordable in comparison to California and other major cities. Though the real estate market has become very competitive over the years, Nashville homes for sale are available at much more affordable prices than those in California. The housing market makes the cost of living in Nashville very affordable for people from different walks of life. Tennessee is a state that doesn't charge tax on wages, so citizens are able to save more money too.
| | | |
| --- | --- | --- |
| Expense | Nashville | California |
| House | $440K | $720K |
| Gasoline (1 liter) | $1.11 | $1.55 |
| Groceries | $550 | $830 |
| Private School (1 child, monthly) | $761.92 | $1,229.11 |
| Other (transportation, material goods) | $250 | $170 |
| The average cost of utilities | $275 | $330 |
| Basic meal | $14.15 | $16.89 |
Recreational facilities
Undoubtedly, Nashville is known for its music, and the music of the city is a massive draw in Nashville. The Country Music Hall of Fame, located downtown, attracts more than 1 million visitors each year. Also, numerous prolific performers regularly book the stage at platforms that include the Ryman Auditorium and the famous Ascend Amphitheater. Nashville, Tennessee, is glorious! Every day and night, places like Lower Broadway and Robert's Western World are honky-tonk major hubs for night owls. The food available here is also really delicious. There are also many famous parks and trails where you can go and enjoy time with friends and family. Parks like Centennial Park, Edwin and Percy Warner Park, Bicentennial Capitol Mall State Park, and many others are the best attractions in Nashville.
Theaters and Entertainment
Theaters and entertainment are also going to cost less in Nashville, Tennessee, than in California. For example, the cost of one movie ticket in California is going to be around $16.10, whereas it is just $10.73 in Nashville. Another example will be the price of a yoga class; on average, yoga classes in California are about $20.33, whereas they are $17.75 in Nashville.
With a moderately humid climate, summers in Nashville are hot and sunny. The temperature starts to drop only at the end of September. In the winter, Nashvillians get to see more ice each year. In Nashville, the winters are much more tolerable and not very harsh.
Although the temperatures still get to minus, it is not to the extent that it causes discomfort or is unbearable.
Shopping
If you enjoy shopping and bargaining, Nashville has some of the best flea markets in the country. There are around 2000 shops to explore, with around 500,000 visitors visiting every year.
In many thrift shops, you will discover exciting deals on clothes and other stuff. You can also find fantastic deals at small boutiques and Goodwill stores that sell one-of-a-kind and exceptional items. The Nashville Flea Market and The Marketplace in East Market are two well-known flea markets.
Healthcare
The healthcare industry drives the city's economy. Nashville is home to the Vanderbilt University Medical Center, which is rated as the #1 healthcare provider in Nashville. In order to examine the affordability of healthcare facilities in Nashville and California, let's look at their costs. For example, a visit to the doctor will cost you approximately $126.00 in California and around $104.00 in Tennessee. When going for a dental checkup, the cost will be around $109.40 in California and $101.67 in Nashville, Tennessee.
To sum up,
The factors listed above are some of the striking reasons why Californians are finding Nashville, TN, more suitable for living. The affordability and availability of homes for sale are better in Nashville than in California. The above-given reasons must have provided you with a clear picture of Nashville, TN, and its best features. Now connect with the real estate experts at Zivak Realty Group and find the best Nashville homes for sale.