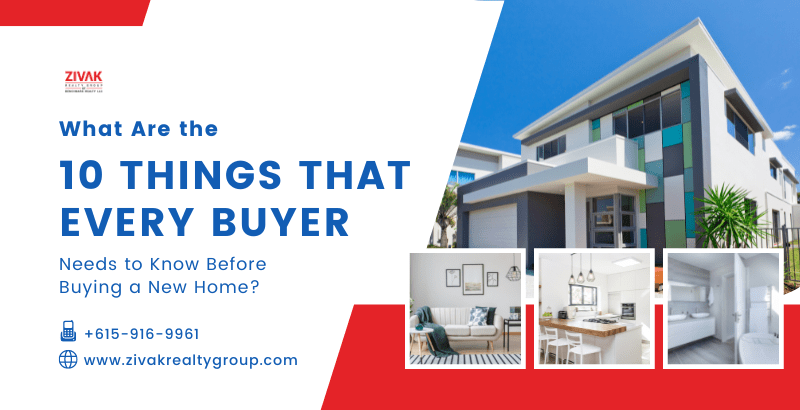 Thinking of buying a home for yourself? Buying a house is a very overwhelming process, and no one can deny that, right? However, you can sort things out for yourself by following some of the steps while moving to a new house. Buying a new home in Nashville can be a good decision for you because there are plenty of modern amenities that can meet your expectations. 
Continue reading to know what the crucial 10 steps are that you must not avoid while buying a new home in Nashville. And they are:
1. Make sure that you make no big financial changes before purchasing a home:
You must try to avoid situations in which you may need to change your financial investments. Try to stick to the financial terms you agreed to use for buying a house and, if possible, keep a certain extra amount saved so that while buying a house you don't fall short of the amount. We all know that proper financial planning is the first important step that every buyer should take. Before buying a house, make sure you have proper monetary backup and purchasing power.
2. Check in on the neighborhood:
People usually buy a house in a hurry and almost forget to check on their neighbors! If you want to have a house with friendly neighbors and peaceful surroundings, take time to get to know your neighbors properly. Friendly neighbours can make adjusting to the new neighborhood easy and fun. Do not miss this point at any cost, because the neighborhood plays an important role in your kid's development and growth.
3. Get your property surveyed:
Getting your property is the next important thing that you must do before buying a home. You surely do not want to get your house involved in legal trials, right? And so the best way to avoid that is to get your property surveyed. It helps in inspecting the house, its damages, the market value of the house, and any legal case against the property all of this is taken care of while your property is being surveyed. If you think it's too much, hire a real estate expert who can take care of all this.
4. Shortlist houses based on your affordability:
As mentioned above, proper financial planning is a must before buying a house. When you have proper planning, only then do you know how much you can spend on purchasing a house. It is pointless to buy crazy expensive houses and then regret them later. Because remember, after buying a house, there will be an existing expense that needs to be taken care of. So buy a house that you can afford!
5. Check if the region has good schools:
Even if you don't have kids, you need to make sure that there are good schools. Why? In the future, maybe you'll be married and have kids, right? For that, you need to ensure that your house is in close proximity to schools. Buying a house is not a short-term decision, it is a long-term decision, and so taking care of every aspect of it is equally important! After all, you can't keep buying a house time and again.
6 Negotiation is the Key:
Be a smart buyer and hire a real estate agent before buying a house. Real estate agents are aware of the existing market price and will readily help you in negotiations. As a buyer, you might not be able to negotiate, and more so if you are a first-time homebuyer. Get a real estate expert who can carry out the negotiation process on your behalf and get a budget-friendly deal. 
7. Get a pre-approval for a home:
The next crucial step is getting pre-approved for a home. If you want a home loan, act quickly and get a pre-approval. Getting a pre-approval will help you get a loan faster than the other applicants in the line. With your real estate agent's help, get pre-approval.
8. Understanding all the costs involved in purchasing a house is important:
As a buyer, you must know what the possible expenditures are! And this is where proper planning comes into the picture. Plan ahead if you want your home buying process to be fully-proofed. Get your agent's help and understand the costs involved, and accordingly plan your budget.
9. Make sure that you check on the maintenance issue:
Buying a house is not an easy process. There are many post buying home processes that you also need to take care of. If you are just buying a house, and if you think you are done and dusted with it, then you are probably wrong! Before buying a house, make sure the house needs no extra maintenance. Be sure to check on every corner of the house. This process can be checked if you don't miss doing a house inspection before buying a house. It will be of no use to buy a house and keep spending money on its maintenance.
10. Do not forget to research the local market:
Let your real estate agent perform this for you. Before buying a house, you need to first research the local market with your agent to better understand it. Know the local market, the existing price rate, mortgage rates, property values, possible changes in the market in the coming future, and many other things. You will have to have a proper understanding of almost everything involved in the home buying process. It might seem like too much, but it is necessary!
The above-mentioned are some of the important steps that a buyer should take before buying a home.
To Conclude,
If you are looking for a better lifestyle with attractive career opportunities, consider buying a house in the Nashville area. Nashville is a region that gives its citizens a chance to better their lives. Research the Nashville real estate market to get a better idea of the market and existing market trends. 
Zivak Realty Group is a real estate company that helps buyers and sellers get a desirable deal in the Nashville real estate market. If you too are looking for a reliable company who can guide you through and make you aware of the real estate market, get in touch with the team. You will have a real estate expert's guide to everything you need to know about buying a new home in Nashville.