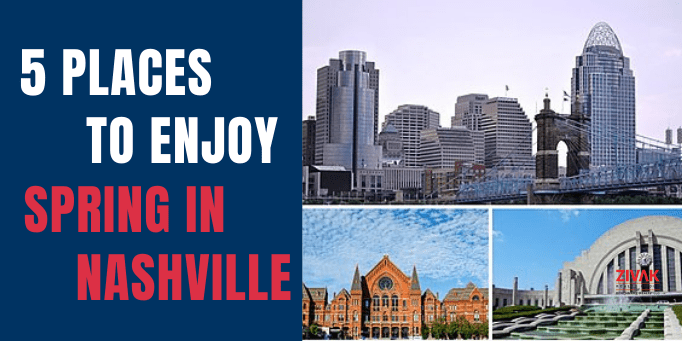 Spring Season in Nashville is the time to get outside and feel the delightful weather all around. Whether you are a Local Resident of Nashville or visiting for the first time to Enjoy Spring in Nashville, you will create the best moments with your loved ones. Certainly, it's an awesome time of the year to experience Nashville close to you.
So, if you are interested in explore the new Nashville, just check out the list of the things you will be inspired by.
Walk across the Pedestrian Bridge
Most people walk around the pedestrian bridge to get to the stadium when there is a game day. But, if there is not a game day, then experiencing strolling across the bridge during the spring season is simply lovable. Some of the common bridges to explore in the spring are – John Seigenthaler Pedestrian Bridge, Cumberland River Pedestrian Bridge, and Cumberland Bypass Bridge.
Stroll around Cheek wood
In the spring season, visit the Cheek wood – a botanical garden and a historic estate in Nashville, featuring art galleries, exhibitions, and a children's garden. If you want to relax in a peaceful environment, especially with your kids, this is the place you must explore in springtime. With over 100,000 tulips, colorful ambiance, fragrances of spring, lots of family activities, and an entertainment zone, Cheek wood cannot be missed in springtime.
Centennial Park
Centennial Park has located four blocks from Loews Vanderbilt – a picturesque 132-acre park. In the spring season, experience an arts activity center, beautiful sunken garden, events shelter, a bandshell, volleyball court, and Lake Watauga. You can also view the city's museum and Athena Parthenos (a full-scale replica of the original Parthenon in Athens).
Warner Parks
The park is known for its eye-catching beauty and ample amount of fun full activities to enjoy the spring season in Nashville. It's 9 miles from downtown Nashville where you can explore Hiking trails, Equestrian center, Golf courses and athletic fields, Scenic roadways, and picnic spots as well. Live music events are another major highlight of this place.
Percy Priest Lake
Want to do paddleboarding? Get set to visit this lake in the springtime. Best known reservoir to have fun and relaxation. You can rent a boat, or also go for a picnic by the water.
All in all, the spring season is the perfect time to explore Nashville. Once the season is about to begin, Planning your trip to Nashville with no excuses, and you will definitely love it.