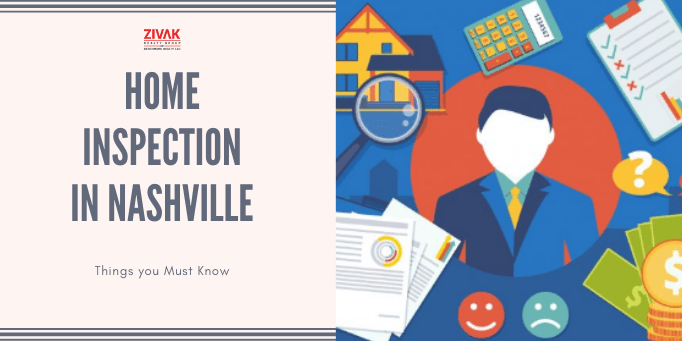 Everyone knows that deciding to buy a home is a big decision. The one who is financially stable can only think to involve in the Home Buying Process. Even most people buy a home only one-time in their lifetime, as there are lots of financial complexities one needs to bear. In this post, we cover all the information on Home Inspection which Help you at the time of buy Property in Nashville
There are a lot of queries while you search Nashville Homes for Sale – whether or not the home is perfect for your family, affordability factor, cost of commuting to work, and more. But before this, one more important thing that most of the time overlooked in about hiring a professional home inspector in Nashville, TN.
Before you close the deal, there are several things you need to cross-check like – the condition of the roof, good structure, whether or not there are plumbing issues, quality of the flooring, HVAC system, electric system, and many more. All such inspections are covered by a professional team of home inspectors.
Whether it's the home buying process or selling, a home is vital, as it ensures that your decision is worth it and your home is safe. From what is a home inspection to what does home inspection cover to how to find a home inspector to Home Inspection Cost in Nashville, TN, let's discuss all the factors one by one.
What is Home Inspection?
A house inspection is basically a thorough visual inspection of your home or a building which is conducted by a certified home inspector while purchasing a home. The Pillar to Post Home Inspection process is carried out for several reasons, and it occurs before a home is sold.
The purpose of a home inspection is to uncover any issue or defect in a property that may become a problem for a buyer for the long or short term.
As a home seller, you may also choose to hire a home inspector prior to property listing to avoid unexpected defects in the property during negotiation.
The main element of inspection is to examine the physical condition of a home, including construction, structure, and mechanical systems.
What Does a Home Inspection Cover?
As mentioned, that home inspection is about visual analysis of the home including exterior and interior. There are a lot of things to a house inspection covers including overall structure, foundation, central cooling, heating, plumbing, electrical systems, drainage, laundry facilities, bathrooms, safety devices, kitchen and appliances, fireplaces, insulation, attic, roof, and ventilation.
Throughout the home inspection, the inspector cannot report the defects that are invisible. For instance – if there are defects hidden behind the walls, beneath the carpet, storage items, or inaccessible; such things cannot be modifiable. In addition, if the systems in a home are not active or unfunctionalized (furnaces or air-condition, heater) will also not be turned on while home inspection.
How Do I Find a Home Inspector?
To hire a professional and certified team of home inspectors, it's good to get assistance from Nashville Tennessee real estate expert. Also, you can get a recommendation from any of your friends or family member purchased a Property Near Nashville TN.
Once you find the professional inspector, make sure to ask about their overall experience, professional training, and any membership they hold in associations. Also, it good to present with the inspectors during inspection. This will let you know about any potential defect, which will mean more to you when you capture it on your own. You may also get some maintenance tips and tricks after inspection.
Home Inspection Costing
The Property Inspection is about identifying defects and inaccuracies in a property. So, consider it as a bit of a time taking process. Expect Property inspection time duration between 3-5 hours. And, if the property is old, then it may take a few more hours. When it comes to cost, you can expect anywhere from $400 – $500 depending on the size of the home.
Final Words
We at Zivak Realty Group, Nashville help you provide the information you need to make your home buying process successful and secure. Whether you need any information on Hiring inspectors in Nashville, TN, we can help you right away.
Other than this, if you are seeking a Detailed Property Search in Nashville, we are a team of expert realtors who can help you get the best deal according to your needs. Just trust us and get it to touch today.