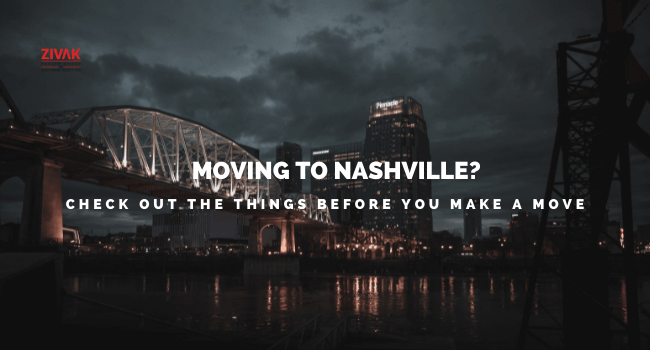 Moving from California to Nashville? Well, Nashville is a fast-growing city with plenty of job opportunities, quality of life and demand for real estate investment. According to the 10th annual top moving destination list by Penske Truck Rentals, the city has been listed as a top 10 fastest growing moving areas.
Known as the city of music, Nashville is one of the best places to live, work and enjoy in the United States. Besides the ample job opportunities, you will be glad to know that the city has seen rapid growth in the restaurant business, shopping destinations, and a lot of activities to keep yourself engaged. For the many newcomers looking for Nashville TN homes for sale, the city has 20 neighbourhoods with each neighbourhood offering a new urban lifestyle. So, once you choose which neighborhood is in sync with your lifestyle.
If you are planning to move to Nashville, Tennessee, here are some good things that will help you make a great move to the city of music.
Nashville is a Hub of Technology
From Oracle to Dell, Nashville draws technology firms of all sizes to offer career-driven opportunities. Whether it's Philips health-technology firm, Asurion Technology, Tokyo-based NTT, or Digital Marketing; music city is a land of technology as well with large offices.
From start-ups to large-scale organizations, the growing city has plenty of tech firms to provide fantastic job opportunities. The good thing is there is less competition for technical jobs in Nashville. The Nashville Technology Council fosters tech opportunities in the city. If you need any mentor related to software technology, Nashville software is one of the best non-profit software development training camps to attend.
Commuting in Nashville
When it comes to commuting unless you plan to live in the most urban neighborhoods such as Nashville, Brentwood, and Franklin; you won't be able to rely on local public transportation. If you are looking for Nashville property for sale, make sure to buy a home that is close to schools, parks, restaurants, clubs and sports that are within walking distance. With everyone in Nashville driving – a lot, it's good to have a car for the needful things and long commutes. For everyone reading this piece of content,  the people in Nashville are known for good driving skills. Driving with frequent lane changing, and without blinkers is something you will see as a common habit here.
Nashville Residents Love Their Parks
Nashville's park space is so delighted. Centennial Park is Nashville's Central Park, yet there are a lot of various parks, as well. Also, in Nashville's spring, summer and fall hit up ranchers' markets for neighbourhood produce. Metropolitan parks are not solitary parks. There are additional parks that let you meander trails and neglect where you are around the city. Radnor Lake, Shelby Bottom, and the Warner Parks are well-known destinations for individuals who need a nature fix.
Live Music Everywhere
Moving to Nashville is like living the music. Unlike the other cities, Nashville leaves you with the vibes of the rock band, pop, jazz, Christian and soul music. Once you are in the city to hang out, you will find a lot of live music venues with iconic food experiences and pool-bar options as well.
You can Afford a Good House
Compared to other cities in the USA, Nashville is still relatively affordable. According to Forbes, the median home pricing in the city is $172,100. So, if you are planning to move permanently to the city and looking for Nashville homes for sale, the city would not disappoint. You can take assistance from a Real Estate Expert in Nashville, TN. One of the professional yet reliable realtors we would like to mention is Zivak Realty Group. They have over 7 years of expertise in buying and selling real estate transactions. Their strong network in Nashville and suburbs will surely help you get the best real estate deal.
Your Friends Will Be Envious of Your Google Fibre
Nashville is getting the absolute quickest web in the country. That is important for the reason Nashville has figured out how to pull in so numerous tech firms. Development is in progress to carry Google Fiber to Music City, and they really amped occupants up for it. It's not simply Nashville appropriate that will be covered. Timberland Hills, Oak Hill, Berry Hill, Belle Meade, all urban cities within greater Nashville, will have Google Fiber as well.
The Riverfront Is Destined to Please
Nashville as of late redeveloped the riverfront region, making the wonderful West Riverfront Park. It's an 11-acre public park recreational area on the site of a former Thermal Transfer Plant. With regards to the Nashville theme, there's the amphitheatre for outside exhibitions in the recreation centre. Alongside a canine park, occasions yard, swings and strolling routes there are locally owned businesses along the riverfront park.
The Weather Is Accurate
Nashville's all-year average temperature is a pleasing 60 degrees. Winter is short and reasonable, while spring and fall are long and sublime. Indeed, even the summers are not awful contrasted for various other Southern urban communities. At the end of the day, there will be a lot of days when you can walk through Nashville's parks, hear an outdoor concert or appreciate some local beer with companions on the terrace of a home or bar.
Get Out of Town
The personal satisfaction in central Nashville is amazingly high, yet there is life outside the city. Visits to the outskirts of Nashville can just intensify it. Outside Nashville, you'll discover lovely open country, wineries and notable small towns. Roaming around the city as far as possible is an absolute necessity for any new Nashville inhabitant. Everything there is to cherish. Why miss the best of the town?
Summing Up
So, these were the things we hope will make you more informed about the music city.  Nashville is a great city to move to. Nestled with music, arts, food, entertainment, and ample job opportunities, the city will always glad you.