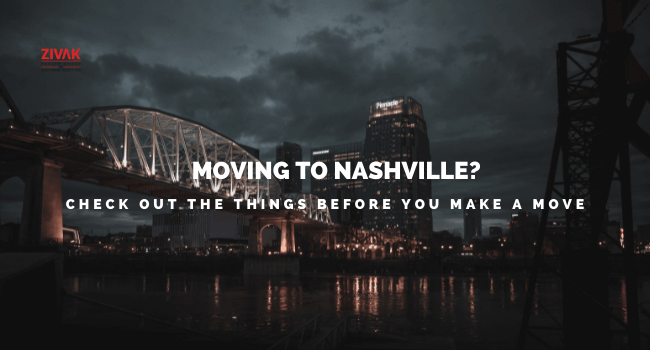 As we all know Nashville is a stable and booming economy, Long recognized as a music city is now famous for different reasons one of which is its real estate market. If you too want to make a better future for yourself and your family then moving to Nashville is the right decision. And don't think you are alone in thinking that there has been a remarkable surge of population in the region of Nashville in the past few decades because of the huge opportunities it provides. Being the heart of Tennessee, it has evolved to be a center of attraction for everything. 
If you are from California and want to make a better future with good opportunities then moving from California to Nashville is a good decision, in fact, if you are from any other region, shifting to Nashville is always a better option. But there few things that you should check before you make a move, and they are:
The Unpredictable weather
One of the major aspects you must know before moving to Nashville is that the weather here is very unpredictable. You CAN'T predict what the weather would be like today when you shift to Nashville. You'll listen to most people in TN warn you about the weather. However, it is not much of a concern because you are absolutely going to love the weather no matter how unpredictable it can be. It's not extraordinary to witness an intense temperature difference from one day to the mellowing. Despite all this, you will love being here and enjoy the cool winter and sunny summers and the springs are strikingly beautiful here. 
Public transport in Tennessee can be a little painful, however, if you reside in an urban area like Nashville, Brentwood, and Franklin the problem will ease down. If you are searching for Nashville property for sale, make certain to purchase a house that is in close proximity to the grocery shops, schools, gardens, cafeterias, clubs, and other means of recreation. Or one can drive it down their location given that Nashville is known for having good drivers. So, commuting daily for common people can be a little stressful, however much is done on this ground too, there are several daily public means of transport running down to serve the people of Nashville.
Whiskey and Beer is are a Severe Business
The whiskey and beer of Tennessee are extremely famous for good. Few iconic brands are being set up to manufacture exotic whiskey and beer for the people of Nashville. So people wanting to start their own whiskey and beer business in Nashville will have a large opportunity and can set a successful business here for good. However, to qualify as a Nashville whiskey and Beer seller one needs to take permission from the Lincoln County filtering procedure, be aged, and be refined in Nashville. As you might want in a city that has enticed millennials, singers, tech employees, and creatives, the beer business is also huge in Nashville. Bars are abundant with backyard gardens where you can relish a brew.
Get endless access to live music
Nashville is known for its music, live music and concerts are held almost every month. Living in Nashville means being a live viewer of concerts of big celebs. People from all over the world come to Nashville to be able to hear their favorite musicians and instrument players almost every month. Nashville has tight bookings, big companies and sponsors book the place in advance to avoid any unforeseen circumstances. Even the audience needs to pre-book tickets.   There are no doubt other means of recreation available too but the music of the city is unbeatable and continues to hold the prime position.
Nashville residents and their love for Parks
Nashville's park area is so beautiful. While the region is known for its music, real estate but very few people know that region also has beautiful parks and the residents of Nashville have a different love for parks. Centennial Park is Nashville's Central Park, however, many other parks are famous for their cleanliness,  picturesque view, peaceful surroundings, and many others. There are more gardens that allow you to roam down the roads. There are water parks for kids with different kinds of amazing rides. And so during the time of summer break families go to the park to spend quality time.
What Affordability means in Nashville
Nashville is known to offer an affordable lifestyle and this has been the reason why people from different parts of the world shift here. But what you need to understand beforehand if you are planning to Moving to Nashville is that affordability is very relative. In Nashville, you'll discover the cost of living to be extremely satisfactory correlated to bigger and rising cities. One can find this city very affordable depending on the kind of lifestyle they choose. 
You can Afford a Good House
Given other cities in the USA, Nashville is still very cheap with quality. As per the Forbes report, the average house pricing in the city is around $172,100. So, if you are intending to shift forever to the city and you are searching for Nashville homes for sale, the region will not dishearten you. Take help from Nashville Premier Real Estate Broker while searching for a home in Nashville. 
To Conclude,
You can consider taking help from a Real Estate Expert in Nashville, TN. One of the experienced yet credible realtors we would prefer to mention is Zivak Realty Group. The company has been successfully working for over 7 years. The company has a strong knowledge of every part of real estate and Nashville, seeking guidance from them can be a profitable decision for anyone looking for an affordable home in Nashville.