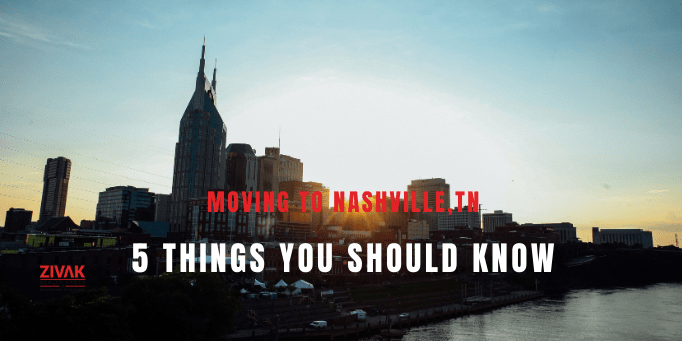 If you are plan to Moving to Nashville, you are on the right decision.  The music city has a lot to offer you. For many people, quality of life and low cost of living have been the major factor to live in Nashville. Whether you are moving for work purposes, seeking a detailed property search to invest in Nashville real, or just moving to explore the places, here are the 5 major highlights of the city you can keep in mind.
Nashville is a City with Economic Diversity
The city serves nearly 2 million people including 50,000+ businesses. Middle Tennessee has a diverse economy, offers a low cost of living, a high literacy rate, employment opportunities, and quality education. The major industries that strengthened the city's economy are – health care, music, entertainment, transportation technology, publishing, higher education, plastics, biotechnology, and tourism and conventions.
Growing Housing Market
Moving and investing in the Nashville Real Estate market has always attracted investors to the city. Nashville's job market has always been hotter than ever before which is the major reason people move to the city every year. The skilled labor in the city attracts business opportunities, including Fortune 500 companies as well. The benefit of government subsidies also allows people here to grow their business. The employment opportunities created by the big businesses here bring residents from different cities and increase demand to Search Homes for Sale.
Nashville has Employment Opportunities
Due to the strong economy in Nashville, you are assured to get multiple job opportunities. One can expect long-term employment growth with opportunities in the biggest industries.
Among the several industries, health care in Nashville is one of the largest and fastest-growing industries with huge opportunities for employees. Healthcare generates an overall economic benefit of more than $46.7 billion along with 270,000 jobs on an annual basis. Being a healthcare professional, job opportunities will be abundant.
Live Music Everywhere
Moving to Nashville is like living the music everywhere. Just like another city, Nashville leaves you with the vibes of the rock band, classical, pop, jazz, contemporary Christian, and soul music. The music city has a lot of live music venues, but finding the best one with good eating and drinking options is something that may take extra time.
Some of the live music spots you can check out are – Losers Bar and Grill, Live on the Green, City Winery, Ryman auditorium, 3rd, and Lindsey Bar and Grill, The Station Inn, Tootsies Orchid Lounge, The Mercy Lounge, Cannery Ballroom, Robert's Western World.
Green Spaces, Parks and Trails
Like music, visiting parks and spending time in open spaces and trailers are mostly preferred where people mostly visit frequently. The city has more than 13, 000 acres of open space, of which, there are 121 parks and 19 greenways where fitness enthusiasts love to spend their time safely.
Among the above-mentioned highlights, if you are especially seeking a home for sale in Nashville, we would like you to connect to our real estate agent in Nashville. Our realtor at Zivak Realty  Group can help you to Find Your Nashville Area Home as per your need.
At Zivak Realty Group, we are the licensed realtor with 5+ years of residential and commercial sales experience in the greater Nashville region. To know more about us, fill out our inquiry form or simply call us at – 615-916-9961