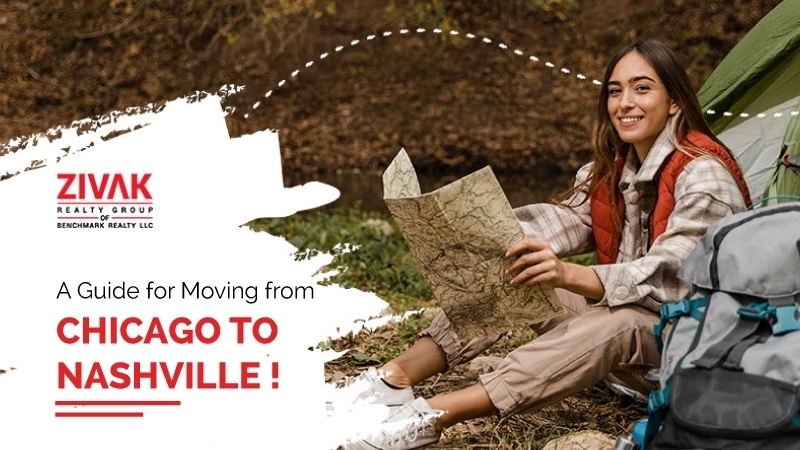 Are you planning on moving to Nashville from Chicago but are confused as to where to start? Determining the uniqueness of Nashville neighborhoods can be difficult. However, moving to Nashville from Chicago Guide can be the perfect change! You can count on plenty of country music, a limitless number of things that you can do, and great weather.
This Moving to Nashville from Chicago guide is written to help you Find Your Nashville Area Home and make your moving journey easier:
Pros of Moving to Nashville Neighborhoods
Nashville city has a lot to offer its inhabitants, from the artistic arena to music, along with a great cost of living and a great opportunity to give a kick start to your career. Living in Nashville, TN, has lists of pros that are mentioned below.
1. Music Scene: 
Nashville, known as a hub for music, is also known as the heart of Tennessee. Nashville holds many carnivals, musical concerts, and other events all year round, so there is always a lot to see and experience in comparison to Chicago. With the Grand Ole Opry, the 4-day CMA Music Festival, and the well-known Country Music Hall of Fame and Museum, you can see your favorite artists performing. Not just country music—there is also the Nashville Symphony Orchestra for classical music lovers.
2. Low unemployment:
In the latest survey, Nashville was classified as the 2nd largest employment market in the U.S. There are so many job options here that even if you are a fresher without a job or source of income, you are most likely to find a suitable job and be able to sustain yourself. The tourism industry is one of the largest industries. In other industries, tech companies like Amazon are also a huge source of employment. As a result, the rate of unemployment stooped to 2.6% in Nashville.
3. Food and Drink: 
Nashville, apart from its music, is also known for its delicacies and food. The culinary superiority of Southern cuisine is elegantly and generously highlighted in the cuisines in Nashville. When you are in Nashville, you will notice no shortage of bars, pubs, and fine dining restaurants with an abundance of combinations on the menus. In comparison to Nashville's food and cuisine, Chicago's platter seems bland. Hot chicken, burgers, and wines are local favorites. Some top restaurants are Etch, Merchants, Jack's Bar-B-Que, Manny's House of Pizza, Brother Z's Wangs, and many others.
4. Cost of Living:
Another significant feature of Nashville that makes it different and more desirable than Chicago is the cost of living there. Nashville, TN's cost of living is around 3% lower than the nationwide average. The housing market's cost is 9% lower, while utilities are around 10% lower than the national average. This makes it an incredible advantage to reside here since your earnings will not be entirely spent on housing and other utility costs. The cost of living in Chicago is around 8% higher than in Nashville.
A statistical presentation of the cost of living in Nashville and Chicago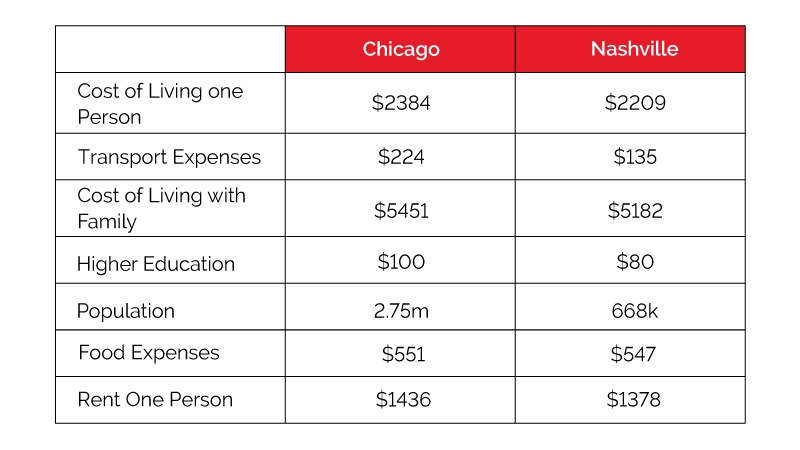 Source Link
5. Cost of Moving to Nashville 
Your cost of moving from Chicago to Nashville, TN, depends on varying aspects like the size of the family you are moving with, the number and weight of household items, and the number of laborers needed to shift your items. Furthermore, moving expenses are specified by the distance traveled from pick-up and drop-off junctures. You can estimate your moving expenses to be between $3,100 and $9,000 USD.
Some key points about Nashville
It has a population of nearly 700,000
It is listed as the 24th most populous city in the U.S
The cost of living for one person is $2209
The unemployment rate is 2.6
The standard home value is $239,000
The median rent is $1,100
To Conclude,
The above are some of the key differences between Chicago and Nashville, Tennessee. The above-listed pros and cost of living indicate that Nashville, with its vast opportunities and better quality of life, is unbeatable when compared to Chicago. Finally, feel free to contact Zivak Realty Group, the best real estate company in Nashville, TN.