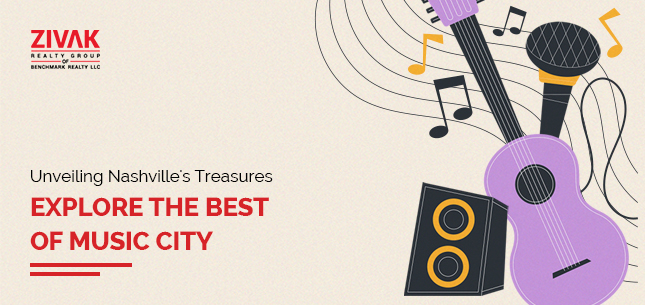 Nashville, also known as Music City, is a vibrant and exciting destination offering visitors diverse experiences. From its legendary music scene and world-class museums to its delicious food and vibrant nightlife, there's something for everyone in this bustling Tennessee city. Whether you're a music lover, a foodie, or just looking for a fun and exciting weekend getaway, Nashville is the perfect destination for a quick escape.
In this guide, we'll take you on a journey through Nashville's best attractions, activities, and experiences, helping you to make the most of your weekend in Music City.
If you're planning to explore or looking for Music City Realtors, we've got you covered. We'll cover places like Bluebird Cafe and the Grand Ole Opry, introducing you to the local food scene, from hot chicken to barbecue.
We'll also show you the best places to shop, play, and relax, from the historic honky-tonks of Broadway to the stunning parks and outdoor spaces that make Nashville such a beautiful and inviting city.
So if you're ready for a weekend of fun and excitement, come along with us as we discover the best of Nashville. Whether you're visiting for the first time or are a professional traveler, there's always something new to discover in this amazing and dynamic city.
How to Organize Your Nashville Itinerary?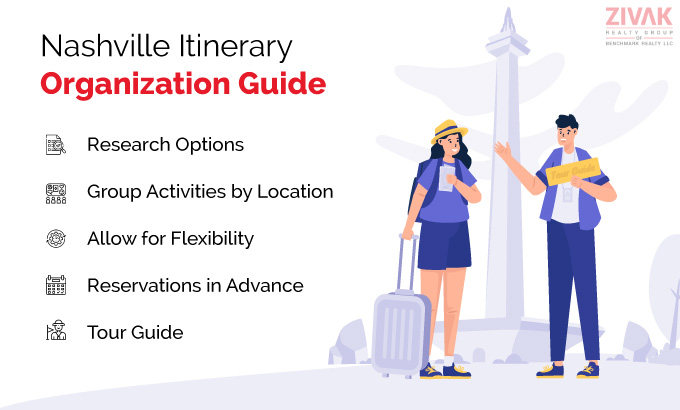 Organizing your itinerary for exploring Nashville can seem daunting at first, but with some careful planning, you can make the most of your time in Music City. Here are some tips to help you organize your itinerary for exploring Nashville:
1. Determine your priorities: 
Before you start planning your itinerary, take some time to think about what you want to see and do in Nashville. Are you primarily interested in the music scene? The food? The outdoor activities? Knowing your priorities will help you plan your itinerary more effectively.
2. Research your options: 
Once you know your priorities, do some research to find out what Nashville has to offer. Look up top attractions, activities, and events in the city, and make a list of the ones that interest you the most.
3. Group activities by location: 
Nashville is a sprawling city, so it's a good idea to group activities by location to minimize travel time. For example, you could plan to spend one day exploring downtown Nashville and another day visiting the city's neighborhoods.
4. Allow for flexibility: 
While having a plan is important, it's also important to allow for flexibility. Leave some free time in your itinerary to explore spontaneously or to take advantage of last-minute opportunities.
5. Make reservations in advance: 
If you plan to visit popular restaurants or attractions, making reservations in advance is a good idea to avoid long lines or disappointment.
6. Consider a guided tour: 
If you want to maximize your time in Nashville and get an insider's perspective on the city, consider taking a guided tour. Many tour operators offer a variety of tours, from food tours to music-themed tours.
By following these tips, you can organize a fun and memorable itinerary for exploring Nashville Real Estate. Just remember to be flexible, allow for spontaneity, and most importantly, have fun!
What to Expect in Nashville as a Visitor
A thriving music scene: Nashville is known worldwide for its music scene, particularly in country and Western music. Visitors can explore the city's many live music venues, attend concerts, and even take a tour of the Country Music Hall of Fame.
Delicious food: Nashville has a rich culinary tradition, with a focus on Southern comfort food like hot chicken and barbecue. Visitors can try out a variety of restaurants, from casual cafes to fine dining establishments, and experience the city's unique food culture. The Catbird Seat, Arnold's Country Kitchen, and Husk are a few places that you must visit.
Cultural attractions: Nashville is home to a number of museums, art galleries, and historic sites, including the Ryman Auditorium, the Parthenon, and the Belle Meade Plantation. These attractions offer visitors a chance to learn about Nashville's history and culture.
Outdoor recreation: Nashville is surrounded by natural beauty, with numerous parks and outdoor spaces for visitors to explore. The city's many greenways, bike trails, and waterways offer ample hiking, biking, boating, and more opportunities.
Festivals and events: Nashville is home to several festivals and events throughout the year, including the CMA Music Festival, the Nashville Film Festival, and the Tennessee State Fair. These events allow visitors to experience Nashville's culture and community spirit.
Pro Tip: We recommend Nashville visitors check out the East Nashville neighborhood. This area is a hub for local artists and musicians, with a laid-back vibe and plenty of independent shops, galleries, and restaurants.
Conclusion
If you want that perfect weekend, Nashville Tennessee is an exciting and vibrant city for visitors. From exploring the city's rich music history to indulging in its delicious Southern cuisine, there's something for everyone in Music City.