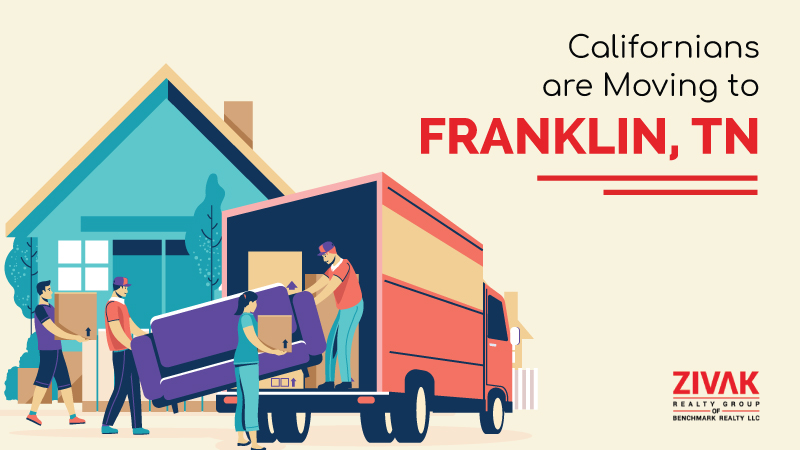 In recent years, an increasing number of Californians have been making the move to Franklin, Tennessee. This may come as a surprise to many, as California is often seen as the land of opportunity and excitement, while Tennessee is often thought of as a more traditional and conservative state. However, there are several compelling reasons why people are moving from California to Franklin, TN
In this blog post, we will explore these reasons in detail and shed some light on why Franklin, TN, is becoming an increasingly popular destination for those seeking a new life and a change of scenery.
Why Californians are moving towards Franklin, TN?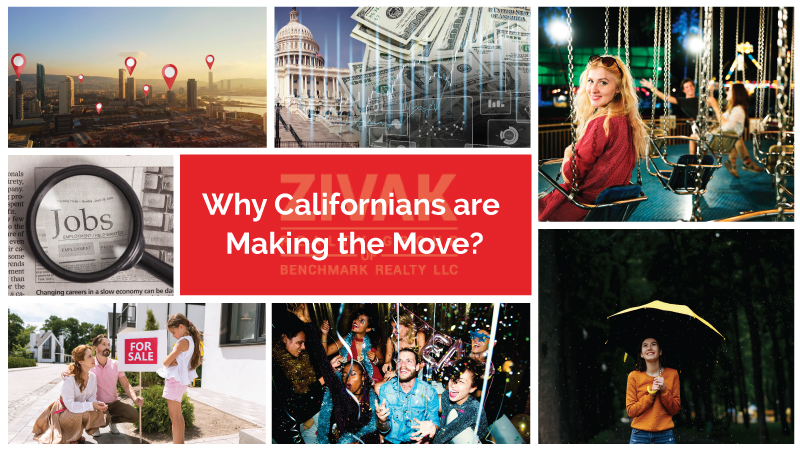 1. An ideal location awaits
Franklin, TN, offers an ideal location, being situated only 21 miles from bustling Nashville while maintaining a population of approximately 78,000. This proximity to the larger city allows for easy access to urban amenities without the high living costs associated with city living. 
Franklin boasts a variety of picturesque neighborhoods, such as Tollgate Village, Westhaven, and Berry Farms, which provide not only a strong sense of community but also convenient access to local amenities within a walkable distance. 
These neighborhoods are perfect for families seeking a family-friendly environment that is both affordable and connected. Take a look here:
2. An amazing expansion
Franklin has a rich history of flourishing economically and is continuously expanding with new residential developments. The city boasts a robust healthcare sector, with leading employers such as Community Health Systems and Fresenius Medical Care.
In addition, several major corporations have established their headquarters in Franklin, including Mitsubishi Motors, Nissan, and Atmos Energy. Over the past year, the city's job market has grown by 2.4%, predicted to increase by an impressive 53.4% over the next decade.
3. Great weather
Franklin, TN, boasts a climate that's sure to please those traveling from the north. The region receives minimal precipitation and boasts above-average temperatures, making it a top destination for individuals who appreciate warmer weather. 
With an average annual snowfall of merely 1.7 inches and just 1.3 snowy days, you can safely bid farewell to your snow shovel. 
Franklin is an ideal location for outdoor enthusiasts and gardeners thanks to its predominantly sunny weather and minimal humidity. During the summer months, the temperature usually averages around 90°F, making it a fantastic location to enjoy the great outdoors.
4. Better entertainment options
Franklin is situated on the outskirts of one of the world's biggest music cities, offering easy access to renowned musicians and emerging talent without the hustle and bustle of city life.
Here are some of the town's best entertainment options:
Housed in a former stove factory, The Factory is a must-visit destination for those seeking artisanal products, delectable cuisine, and top-notch live performances at the Mockingbird Theater. This venue, which debuted in 2007, serves scrumptious food and drinks, making it difficult to leave even after the last song.
Franklin Family Entertainment Center is a bowling alley with open play tournaments, pool tables, and classic American cuisine. The extensive arcade and snack bar cater to children, while adults can watch major sporting events on one of the three giant screens at J's Sports Grill.
A new addition to the town's entertainment offerings is Extreme Escape Games. This immersive escape room game allows families and friends to select from themes such as The Grand Illusion, The Mad Scientist, or The United Escapes of America and work together to solve puzzles and escape the room. It has received rave reviews and is a unique and enjoyable experience for people of all ages.
5.  Community events and celebrations
Franklin is a town that knows how to celebrate each season with its exciting town-wide events. These gatherings are organized and hosted by the community and attract visitors from far and wide.
One such event is the Pilgrimage Music and Cultural Festival, that takes place in late September. With a diverse lineup of renowned musicians and local talent, this family-friendly festival also features the Lil Pilgrims family stage with kid-friendly shows, food trucks, and local artisans.
On the other hand, the Main Street Festival is an annual event held in mid-July that showcases over 200 local artists and vendors, along with live music and great food for the whole family. Now in its 37th year, the festival is expected to draw around 85,000 visitors, making it a fantastic opportunity for vendors.
Pumpkinfest is one of the most anticipated events in the city, taking place on the main and side streets. This autumnal festival is one of three yearly events hosted by the Downtown Franklin Association and is full of kid-friendly activities and seasonal goods from vendors.
As for the holidays, the annual Dickens of a Christmas event brings the community together like no other. Spread over four areas; the event features keg tapping, musical performances, and a theatrical experience at the Franklin Theater that is truly A Dickens of a Christmas.
6. Better Job opportunities
Franklin, TN is a growing city that offers a range of job opportunities across various industries. With a thriving economy and a diverse job market, Franklin presents a compelling option for those seeking job opportunities in a different location from California.
One of the city's primary industries is healthcare, with top employers like Williamson Medical Center and Vanderbilt University Medical Center providing a range of healthcare jobs. 
The technology industry is also growing rapidly in Franklin, with companies like Nissan North America, Schneider Electric, and Healthstream providing employment opportunities in this field.
Franklin's retail and hospitality industries are also growing, with the city's tourism industry generating jobs in hotels, restaurants, and other hospitality-related fields. Top employers in these sectors include Marriott International and Hilton Worldwide.
The city's manufacturing industry is also thriving, with top employers like Mars Petcare, Lee Company, and Nissan North America providing jobs in this field. 
Additionally, Franklin is home to a variety of other businesses, including financial services, education, and government agencies, creating diverse employment opportunities for job seekers.
In contrast to California's competitive job market, Franklin's job market presents ample opportunities for job seekers to find employment in a range of fields. 
With a lower cost of living and a growing economy, Franklin offers job seekers a compelling alternative to the crowded and expensive California job market.
Tips to Move California to Franklin to with Ease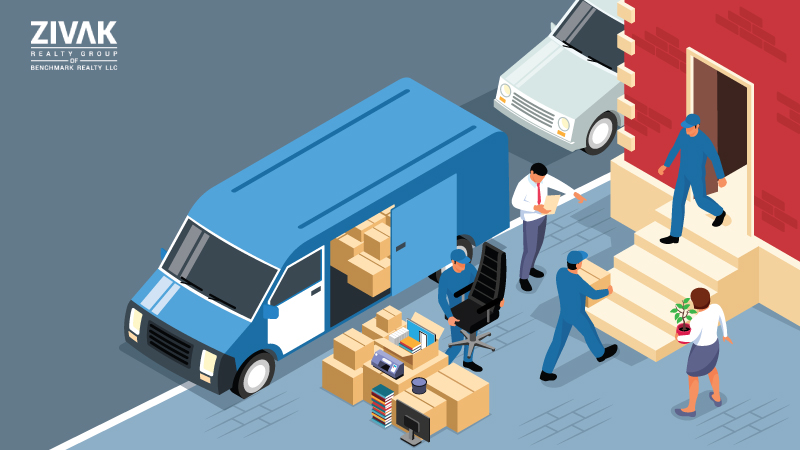 Moving from California to Franklin can be an exciting opportunity, but it can also be overwhelming.
If you're planning to buy a property in Franklin, there are several aspects you need to know to ensure a smooth transition.
Firstly, it's important to understand the real estate market in Franklin. While property prices are lower than in California, the market can still be competitive, especially for desirable properties in prime locations. 
Working with a local real estate agent can be helpful in navigating the market and finding the right property that meets your needs and budget.
Another important consideration is the location of your new property. Franklin has a range of neighborhoods, each with its own unique characteristics and amenities. 
Researching different neighborhoods beforehand can help you find a location that fits your lifestyle and preferences. You can also visit potential neighborhoods and explore the area to get a better sense of what it would be like to live there.
When considering a property, make sure to get a home inspection to identify any potential issues that may need to be addressed. You should also review the property's homeowners association (HOA) rules and fees, as they can vary depending on the neighborhood.
If you're interested in the property listed by Zivak Realty, it's a beautiful 5-bedroom home located in the highly sought-after Westhaven community.
The property features an open floor plan, a gourmet kitchen, and a spacious backyard with a covered porch, perfect for entertaining guests. 
The Westhaven community also offers a range of amenities, including a clubhouse, fitness center, and pool. It is on sale in Franklin, TN, ranging between $900000 – $1000000.
Before making an offer on a property, make sure to review all the details, including the price, terms, and conditions of the sale. Working with a real estate agent and a local attorney can be helpful in reviewing contracts and ensuring a smooth transaction.
Overall, Buying a property in Franklin can be a great investment for those moving from California. 
By doing your research, working with professionals, and carefully considering your options, you can find a property that meets your needs and fits your budget.
Conclusion
Franklin, TN is becoming an increasingly popular destination for people looking to relocate from Silicon Valley and other tech hubs across the country. With a thriving economy, a strong sense of community, and a vibrant music scene, it's easy to see why so many people are drawn to this charming town in the heart of Tennessee.