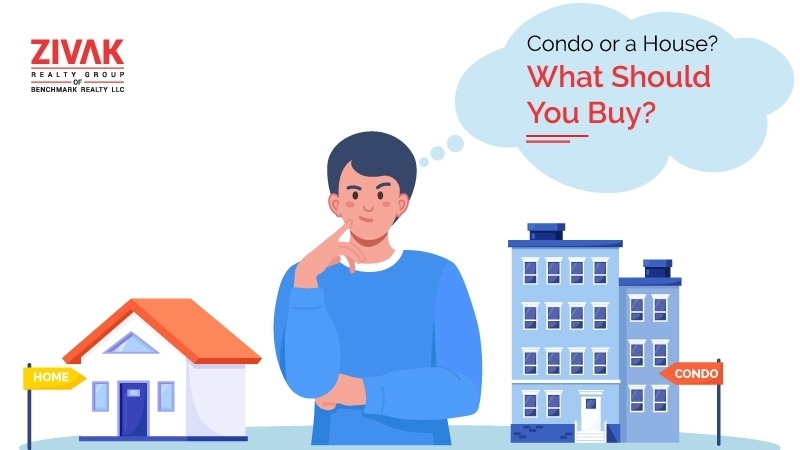 Purchasing a home is special and not like buying a house and a condo, so the buyer needs to make a very conscious decision. The best and not-so-good part of being a buyer is that you get plenty of options. More options mean confusion and require more precision in decision-making. The very first question that hits the majority of buyers is, "What kind of home would he like to buy?" Do you want to buy a condo? Or do you prefer to buy a house in Nashville real estate? Owning a house or a condo in Nashville real estate has its pros and cons, considering various factors like your budget or lifestyle. To provide you with a better idea about owning condos or houses, dive in to take a look at some of their pros and cons.
To start with, let us know what a condo and a house are:
What is a Condo?
A condominium (or condo) is a building structure allotted into various units, and every unit is acquired individually. The land surrounding the condo and other installations is supposed to be a common area and is altogether owned by different condo owners. Acquiring a condo generally requires paying certain association fees for building maintenance and repairs.
What is a House?
A house is a single-unit residential house. Houses are typically purchased along with land. Houses are designed and constructed based on your ideas or preferences, or by hiring your personal interior and exterior designer. Now that we know what a condo and a house are, let us get into the pros and cons of buying a condo or a house:
Pros of buying a condo
1. Maintenance responsibility is Shared
If you happen to be a busy person and your idea of a relaxing time does not include gardening, whitewashing fences, or fixing damaged things outside of your house, then condos can be the best option for you! Maintenance is not your sole responsibility but a shared financial responsibility that is carried out by the community. This can be a benefit of
luxury condos for sale
because you are not solely responsible for the maintenance.
2. Top-tier security system
Another benefit of buying a condo is its enhanced security. Configuration includes an excellent security facility, which is included in your maintenance fees. Be sure to buy a condo that offers security services, which include security guards, a gated community, security cameras installed, and onsite security professionals in your condo.
3. Location
Condo owners tend to be happier with their location than homeowners. The reason for this is that condominiums require far less land than houses, and they are frequently built right downtown and in
neighborhoods encircling the prime cit
y. in comparison to sometimes overpriced houses that are often located in remote locations.
4. Reasonably cheaper than buying a house
Buying a condo is commonly more inexpensive than buying a house, and the procedure of purchasing a condo can be far simpler than that of purchasing a house. Building a house can be a slow, costly, and high-pressure process. where your condo is already built and ready for you. The median price of a
House in Nashville Tennessee Under $500000
whereas the median sold price for a condominium is $347,745.
Find condos for sale in the Gulch of Nashville
that is cheaper than a house.
Cons of buying a Condo
1. Low resale value
A condo can be profitable only if you are looking for a long-term commitment; if you are not looking for a long-term commitment, a condo might be an unsafe investment. As condos are generally available for a cheaper price than houses, they likewise have a far lower resale value. Furthermore, condos appear to be harder to sell.
2. High fees
While condos may at first appear to be cheaper than a house, there are other charges that you will have to deal with. Buying a condo means you may have to spend hundreds of dollars more for your condominium fees every month. The amenities available in a condo may appear to be free, but they aren't. You're actually paying a reasonably high fee to avail of amenities every month. Condo fees for a regular condo tend to be between $100 and $300.
3. More rules
When you buy a condo, you are accountable to the rules set by your condominium community. For example, some organizations may not permit you to rent your unit condominium community. For example, some organizations may not permit you to rent your unit. Other associations may impose pet bans or quantity restrictions. These rules set by your condo community may as well restrict your lifestyle.
Pros of buying a house
1. More space
Purchasing a house rather than a condo provides you with more space to operate with. The regular size of a house in the United States in the year 2020 was 2,261 square feet, including multiple bedrooms and wide bathrooms. Houses, moreover, tend to show up with extra storage thanks to outlet designs like garages, attics, basements, and store rooms. With the extra space, you can actually plan and design your house more freely.
2. More freedom
No matter how luxurious your condo is, it has rules that you have to abide by, plus you cannot change much about the interiors and exteriors of the condo. Sometimes those rules appear to be more restrictive, thereby affecting your lifestyle. However, when you buy a house, you have more control over it because it is solely your property and you make the rules.
3. More Privacy
There's no question that homes come with better privacy than any condo. When you live in a condo, they do give you privacy, but not the kind that owning a house does! Owning a home allows you to play loud music and throw parties whenever you want without worrying about your next-door neighbors because you have a buffer space.
Cons of buying a house
1. The sole responsibility for maintenance
The benefits of owning a home outweigh the drawbacks. Owning a home implies that the upkeep of your home is entirely on your shoulders! You will independently carry out all the expenditures associated with maintaining the house. Big-expenditure sections like roof replacement or renovation, sewer problems, and exterior painting can knock a huge amount off your budget if you're not ready for them.
2. Fewer Amenities
Owning a house also means that you have access to fewer amenities in comparison to a condo. However, maybe a few neighborhoods around your house offer basic conveniences like a neighborhood pool, a local park, and grounds, but still, you will not get access to the high-end amenities that come with luxury condos.
3. More costly
Buying a house means you will have to spend more because the price of a house is higher than a condo. Paying an additional amount for buying a house could suggest that you'll have a smaller amount left to spend on other stuff, such as hiring an exterior and interior designer and buying furniture and other appliances.
To sum up,
Of course, both buying a condo and buying a house have advantages and disadvantages. Depending on a
buyer
and the kind of features he or she is looking for, decisions can be made. To make your decision reliably, connect with the team at
Zivak Realty Group,
who will provide you with enough options for you to explore and decide which house or condo can serve your purpose the best!