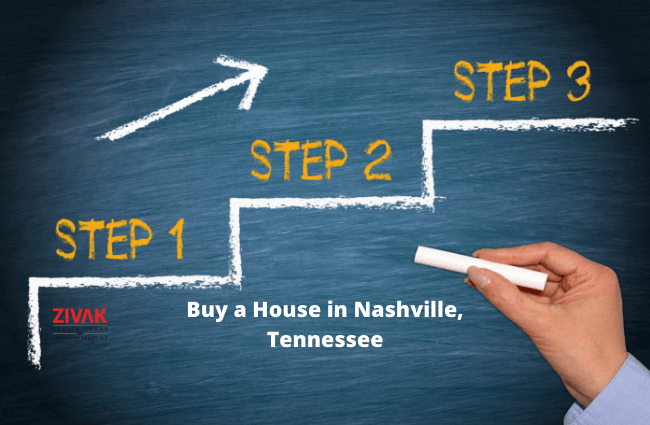 Well, if you are searching to find your Nashville area home, it is as simple as you think. But, of course, you should meet the financial budget and understanding of Nashville, TN real estate market. Read on the below-mentioned steps to get all the information you require Buy a House in Nashville, Tennessee.
Evaluate your Financial Information
If you are planning to Buy a House in Nashville, Tennessee, through a mortgage to pay for your home, you need to understand all the financial factors you need to have before you step in for home buying.
Credit Score – You will at least need a score of 620 for conventional loans. If you don't have a score of 620, you have to raise your credit score.
Debt-to-Income Ratio – You have to spend less than 36% of your income on debt on a monthly basis which will include your future mortgage payment as well.
Down Payment – You will need a down payment of at least 20% for a conventional loan
Closing Costs – As a home buyer, you will have to pay the closing cost of 2-5%
Homeownership Costs – In Tennessee, the typical maintenance cost a homeowner spend annually is $2,496 which can also vary depending on the house
Find a Professional Real Estate Agent in Tennessee
If you are new to Nashville, Tennessee, then a real estate agent in Nashville will be your major supporter in the home buying process. Apart from helping you find and showing your properties, they are strong connections with lenders, lawyers, escrow companies. And once you finalize a house, a real estate agent can make sure you get a great deal based on their negotiating skills.
So, we would suggest you follow the below-mentioned steps to hire the right real estate agent in Nashville, TN.
Get Pre-approved for a Mortgage
There are sellers who do not allow you to visit their properties unless you have a mortgage pre-approval letter. they don't want to waste their time with the Buy a House in Nashville Tennessee who are not looking to purchase a home seriously. Getting Pre Approved for a Home means both buyers and sellers are confident, which means you can get financing and close the deal.
Final Wordings
Buying a house is a time-consuming process, but once you get the right deal, it's like your dream comes true. If you know what steps to be prepared and hire a professional real estate agent, there will be no chance of a wrong deal.
If you are dealing in any home buying and selling process in Nashville, Tennessee, consult our best real estate agent. At Zivak Realty Group our professional team of agents works for you according to your need to get the best deal based on the actual market condition.
Talk to our Agents Today!
–
(615) 916-9961