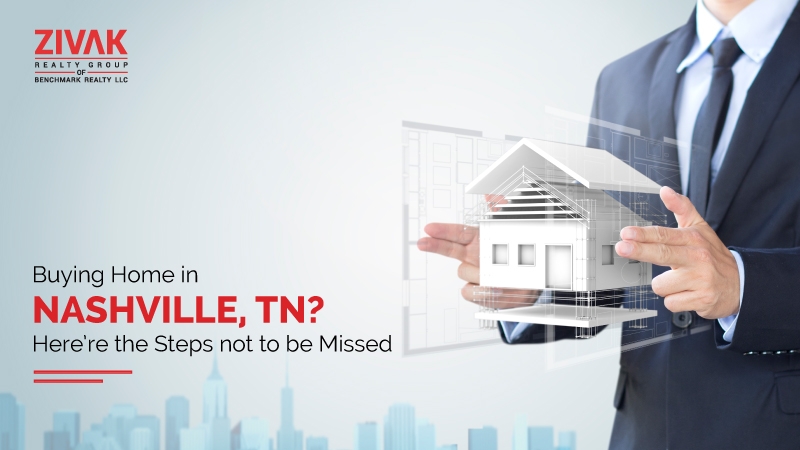 The process of Buying a Home in Nashville TN can be quite daunting. It's a big investment, and there's a lot of paperwork and legal mumbo-jumbo to slog through. 
Buying a home in the Nashville area real estate market is more than just visiting the properties. From knowing the budget to knowing your affordability to find real estate; there are a lot more things to check.
Following are the Steps to consider while buying your dream home:
1. Check Credit Score 
If you are planning to buy a home in Nashville, Tennessee through the loan process, credit score plays an important role in getting pre-approved for a home loan. Therefore, it's essential that you review your own credit report before allowing the lender.
What is a credit report? Your credit report calculates your FICO score. FICO score lets lenders calculate the fee and interest rate you will be paying to get a mortgage. Lenders look at several factors such as property type, income, debt levels, and assets, to determine whether or not to approve your home loan.
If you want to improve your credit score before you apply for a home loan, factors such as payment history, new credit, type of credit, and length of credit history can affect your score.
2. Know your Budget 
It's important to be realistic about how much you can afford. Do not stretch your finances unnecessarily in the excitement of fulfilling your dream home. Make sure you calculate your budget and proceed accordingly. One of the common and easiest ways to calculate your budget is to follow the 28% rule, which signifies that your mortgage should not be more than 28% of your gross income.
3. Get Pre-approved for a home loan 
Getting pre-approved for a home loan is an important step. This gives you the authority to negotiate the terms and conditions related to the loan according to the credibility of your finances. It will also indicate to property sellers that you're a real buyer.
To get pre-approved for a home loan, a lender will assess your financial condition by analysing the following factors:
Income statements (rental income, tax returns)

Debts including monthly expenditures like any other loan type or mortgage

Bank statements 

Records of foreclosures and bankruptcies 
When you will be pre-approved for a home loan in Nashville, you will receive an official approval letter from the lender. A pre-approval letter ensures to the house seller that the home buyer is serious about making a purchase. This is very important in a real estate market when you are competing against multiple home offers.
4. Do your research or Find a Real Estate Agent 
There are a lot of the newest properties for sale to visit, but it's important to find the right townhouse that fits your budget and needs. Spend some time looking at different neighborhoods and styles of homes. Narrow down your list to a few that you absolutely love. Apart from this, if you approach Nashville real estate agent, the following are some areas your agent can help you in:
Offer price

Market insights about property trends and buyer demand 

Negotiations for property price  

Local Neighbourhood expertise 

Recommendations for trusted lenders, vendors, and attorneys

Experience in dealing with property showcasing and overseeing paperwork
5. Make an offer 
Once you've found the perfect home of your dream, it's time to make an offer of a home. This should be done in consultation with your real estate agent. Keep in mind that you may have to pay more than the asking price, depending on the current market.
Additionally, while making an offer there are some elements a home buyer must know. Make sure to check off that you have the cash to afford the down payment and closing costs, get pre-qualified for a mortgage, get a home inspection done, talk to the neighbors just to see whether or not they are welcoming, and assess whether the commute to work is easy or not. This will make you more stress-free and satisfied to proceed to make an offer.
6. Choose to Negotiate 
Almost always, there will be some negotiation involved in buying a home. Don't be afraid to make a counteroffer if you think the seller is asking for too much. A good negotiation can give you the real procure of the property, the cost involved, and discounts. Negotiation is all about approaching effective strategies to get benefits.
Some of the key points on which you can negotiate are getting a home inspection, communicating with your agent, asking for closing costs, find out why the seller is moving. As an agent plays an essential role to communicate with sellers and submit offers, it's good to consult agents to help you in negotiation.
7. Get a Home Inspection 
It's important to get a home inspection done by a team of professional inspectors before you buy it. This will help you avoid any potential problems down the road. Our real estate experts can help you hire a reliable team of home inspectors.
8. Sign the Papers
Once the offer has been accepted, and all the papers have been duly signed, it's time to move into your dream home. You are now a proud homeowner.
Zivak Group can be your Estate Agent in your Home Buying Journey  
Connect with the team of Zivak Realty Group to explore the Nashville, TN Real Estate market. The company is a real estate company with the best and most experienced realtors who will be happy to assist you in finding your dream home in Nashville, Tennessee.
For any queries related to buying or selling properties in Nashville, or any other related information in regards to Real Estate Services in Nashville TN, you are just a phone call at 615-916-9961 away or You can email your query to: [email protected]