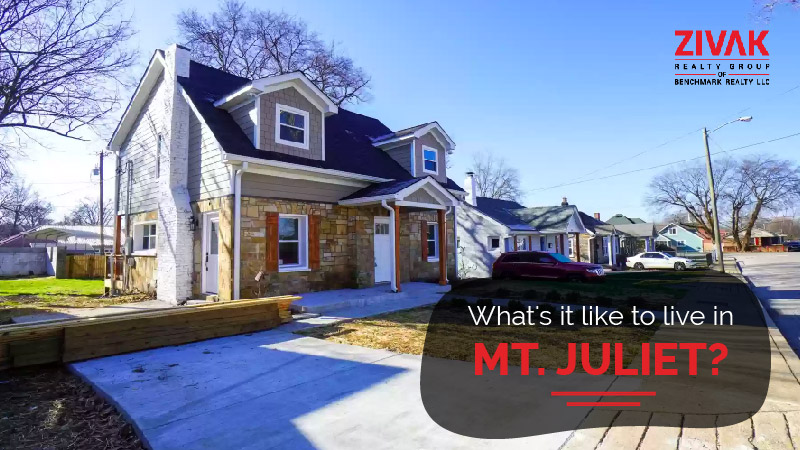 Living in Mt. Juliet, Tennessee, is worth considering because the standard of living here is unmatched in comparison to other suburbs. It is also one of Tennessee's fastest-growing neighborhoods, known for its top-rated schools, wonderful Mt. Juliet TN homes for sale, low cost of living, incredible dining options, and diverse entertainment and artistic offerings. What makes the city unique and favorable is its people. Mt. Juliet residents create welcoming environments, promote local businesses, and do a variety of other things.
Continue reading to find out more details about Mt. Juliet before moving in:
1. Mount Juliet, Tennessee Population and Demographics
My. Juliet has a population of around 35,834. of which 51% are female and 49% are male. The community's average age is around 38.5, whereas the moderate household income is around $93,096. Mt. Juliet's racial demographics are moderately mixed, with Whites accounting for 80% of the total population, African Americans accounting for 7%, Hispanics accounting for 5%, and Asians accounting for 4%. So, the community has a very small population in comparison to overcrowded big cities like Nashville and Franklin.
2. Affordable Cost of Living
When you are considering moving to Mt. Juliet you must also know the cost of living in this city. The cost of living in this community is around 18% lower than the national average. The city's recent median home value is around $274,800, with the lowest property taxes charged to residents in the state at $0.165.
The median cost of living in Mt. Juliet is around $1795.
3. Top-rated Schools 
Mt. Juliet also has some of the best schools in the area. Starting from Kindergarten to higher secondary education, the city offers the best education facilities with top-notch faculties. Some of the best schools located in and around Mt. Juliet are as follows:
Lakeview Elementary School
Rutland Elementary School
Springdale Elementary School
Mt Juliet Christian Academy
Mt Juliet Montessori Academy
4. Climate and Weather
The climate on Mt. Juliet is humid subtropical and temperate. During the summers, the temperature rises to 89 °F and is muggy and sunny. On the other hand, winters are usually chilly and moist with a temperature of 30 °F. Mt. Juliet's best months for favorable climate and weather are May-June, and August-October. January witnesses the most snow. The community gets about 50 inches of rainfall per year.
5. Job Opportunities in Mount Juliet
As already mentioned above, Mount Juliet has a low tax rate. That, coupled with a median household income of over $91,000 (above the national average), makes Mount Juliet a lucrative place to live and work. Most residents are professionals, with 30% of the population between the ages of 35-54. Industries of employment are mainly in healthcare, retail, education, professional, scientific, and technical services.
6. Incredible Restaurants offering delicious cuisines 
Mt. Juliet is home to many incredible restaurants with delicious food, premium quality service, and a wonderful ambiance. Some restaurants, like Big Bad Wolf Smokehouse Grill, The Goat Mt. Juliet, and Hibachi Jr., offer the best flavors. Big Bad Wolf Smokehouse Grill makes the best smoked prime rib sandwich and is a must-try! The Goat at Mt. Juliet has eloquent pub fare, superb cocktails, and live music. And Hibachi Jr. is famous for its Japanese cuisine.
7. Things to do for kids & adults
For families with children, nearby parks, gardens, summer camps, and playgrounds are key. There are several parks and playgrounds in Mount Juliet, TN, like the Firehouse Subs, Legacy Park, and South Mt. Juliet Bark Park. These parks have playgrounds and deliver outstanding recreational facilities for children as well as adults.
To Sum Up,
Mt. Juliet is a small and beautiful place to live; however, before moving in, you must know the place well. The above-listed points will help you decide whether or not the place is suitable for your livelihood. Contact the incredible team at Zivak Realty Group to look for suitable homes for sale in Mt. Juliet. The experienced real estate agents will guide you and help you explore the real estate market in Mount Juliet, making your home-buying journey memorable and hassle-free.