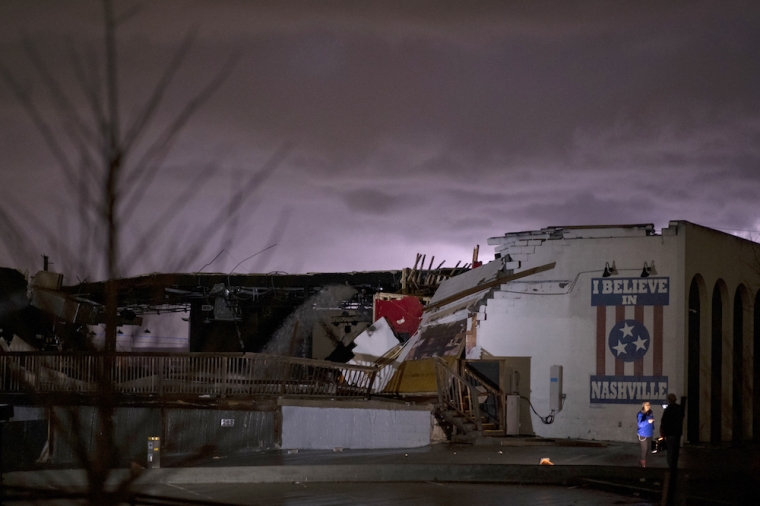 Picture by: Getty Images/Brett Carlsen
Several tornadoes resulting from storms with winds going up to 160mph hit Nashville early Tuesday. The tornadoes measured as EF-3 are considered fourth highest on the six-level Fujita Scale. The storms moved west to east and tornadoes were reported in the Poplar Bluff area, metropolitan Nashville, and Putnam County.
One of the biggest tornadoes tore directly through Nashville. It blew out windows and knocked down power lines from the Germantown neighborhood north of downtown to the Five Points area of East Nashville and more than 20 miles east to Mount Juliet.
Loss of life of at least a dozen people including several children was reported and Nashville Electric Service officials estimated 50,000 people were without power.
While recovery efforts are in full swing, many survivors are wondering on how to rebuild their life after homes, businesses and schools were damaged or destroyed. Communities turned out to help those injured or left homeless or simply to share their grief.
"Tonight is an opportunity to come together as a city," Mount Zion Bishop Joseph Walker said at a Nashville prayer service. "There has been a devastating level of loss, but we've also seen the incredible spirit of Nashville, the resilience, the volunteers, people are doing great things."
There are numerous community organizations available to accept volunteers, donations and other aid for those impacted by the Tornadoes. Residents who are interested in helping with recovery efforts are encouraged to reach out to members of the Disaster Relief Committee, which is comprised of local disaster relief agencies as listed below:
American Red Cross
Phone: 615-250-4300
The American Red Cross is the lead community agency responsible for sheltering and mass care services in Nashville. The Nashville Chapter American Red Cross will help identify and provide damage and needs assessment for disaster victims, and ensure that they have food, clothing, water, medications and other basic essentials.
Salvation Army
Phone: 615-242-0411
The Salvation Army has a long-standing history of ministering to children and families in Nashville, and would provide fixed and mobile feeding sites, clothing, bedding, lodging and other emergency aid to victims, if a disaster strikes. Also, the agency would provide case work and financial counseling services to families.
Second Harvest Food Bank
Phone: 615-329-3491
Second Harvest Food Bank Website
Second Harvest Food Bank of Middle Tennessee fights hunger by providing food, services and education to 46 Middle and West Tennessee counties, including the Nashville Davidson County area. During a community crisis in Nashville, Second Harvest would help in the coordination of basic food items to areas that need it. The organization was formed to provide a central distribution center for companies, groups and individuals who want to help provide food to people in Middle Tennessee who are hungry. Second Harvest is part of a nationwide network of more than 200 food banks and food rescue programs throughout the United States.
Community Foundation of Middle TN
Phone: 888-540-5200
Community Foundation of Middle Tennessee Website
The Community Foundation of Middle Tennessee is the primary charitable repository for cash, and would maintain ultimate authority and control over the Metro Disaster Response Fund, a program designed to meet the needs of our community during disaster. The agency would convene the Metro Disaster Response Fund Advisory Committee to evaluate requests for cash assistance and make distributions from the fund to tax-exempt, nonprofit organizations assisting with efforts to rebuild the lives of individuals and families affected by a local disaster – both immediately and long-term. The committee is comprised of a designated representative from the Mayor's Office, The Office of Emergency Management, Interdenominational Ministerial Fellowship, United Way of Metropolitan Nashville, Middle Tennessee Voluntary Organizations Active in Disaster (MD TN VOAD), business community, and representatives with the Community Foundation of Middle Tennessee.
Crisis Center/2-1-1
Phone: 211
The Crisis Center/2-1-1 has been a critical partner in Nashville's emergency and crisis response efforts for more than 35 years. When a disaster strikes, Nashville will rely on the Crisis Center and its recently created 211 division to connect disaster victims to the services they need. Whether it is food, shelter, counseling, or other social service needs, 211 is specifically designed to connect people with more than 2,800 health and human services agencies. All 211 calls are answered by nationally certified information and referral specialists who are fluent in several different languages. The caller is provided with phone numbers, programs and services, location, hours of operation and other information relevant to what the caller needs.
Hands On Nashville
Phone: 615-298-1108
Often, during a community crisis, people are eager to volunteer their time and energy to help communities recover. During a disaster, the Mayor's Office of Emergency Management would rely on Hands on Nashville to connect volunteers with people and agencies that need help. Hands on Nashville links volunteers with available volunteer opportunities and helps coordinate large-scale volunteer efforts.