Nashville, Tennessee, lovingly dubbed the "Music City," is a place where creativity flows like the melodies of a country song. With its rich culture, friendly locals, and thriving music scene, it's no wonder that Nashville has become a magnet for newcomers from all corners of the country. But, as with any city, there are advantages and challenges to consider when considering living in Nashville TN.
In this blog post, we'll deeply dive into the pros and cons to help you decide about moving to this iconic city.
The Pros of Living in Nashville, TN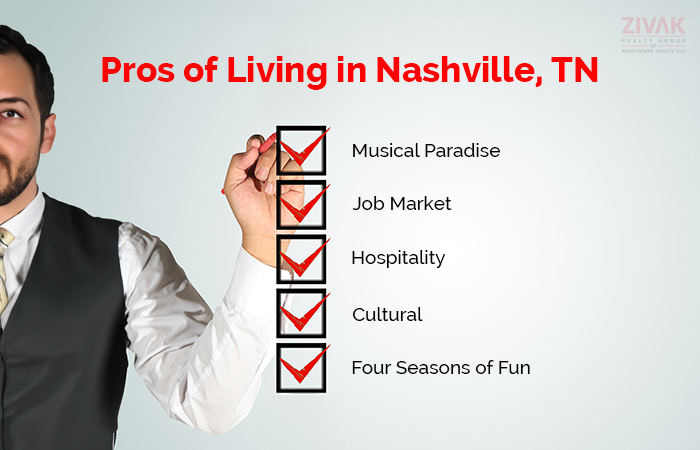 Nashville is not just a city; it's a symphony of music. Home to the Grand Ole Opry, countless live music venues, and the famous Music Row, this city lives and breathes music. If you're a music enthusiast, Nashville is your paradise, offering live performances of various genres any day of the week.
Nashville's economy is in full swing, with abundant job opportunities across multiple sectors, including healthcare, technology, and entertainment. Major companies have set up shop here, making it an ideal destination for professionals for career growth.
Nashvillians are renowned for their warm and welcoming nature. When you move here, you'll experience true Southern hospitality, which can make adapting to a new city much more comfortable and enjoyable.
Nashville is a place for cultures and backgrounds. This diversity shines through in its cuisine, festivals, and cultural events, providing residents ample opportunities to broaden their horizons and savor the world's flavors.
Nashville experiences all four seasons, inviting you to participate in several outdoor activities throughout the year. Whether it's hiking in nearby parks or enjoying riverside picnics, there's always something exciting to do. 
The Cons of Living in Nashville, TN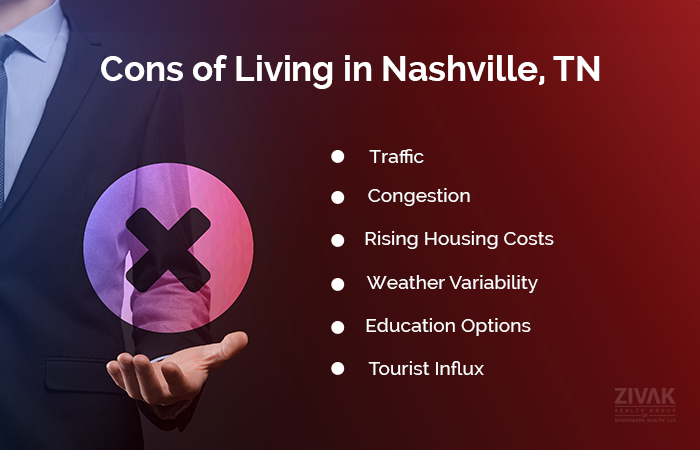 1. Traffic and Congestion
As Nashville's popularity has soared, so has its traffic congestion. Rush hours can be a test of patience, and navigating the city during peak times can be an exercise in resilience.
2. Rising Housing Costs
The city's skyrocketing popularity has driven up housing prices, potentially making it challenging to find affordable housing in desirable neighborhoods, especially for newcomers.
3. Weather Variability
Nashville's climate can be unpredictable, featuring hot and humid summers, occasional severe weather events like tornadoes, and mild winters punctuated by the occasional ice storm.
4. Education Options
While Nashville offers a variety of educational institutions, the quality of public schools can vary. Families with children may need to research schools and districts carefully to ensure the best fit for their needs.
5. Tourist Influx
Nashville's reputation as a tourist hot spot means that certain areas can become crowded with visitors, which might impact residents' daily lives and contribute to congestion during peak seasons.
Conclusion
Nashville, TN, is more than just a city; it's a unique blend of culture, opportunity, and entertainment. Yet, like any city, it presents its own set of challenges. Deciding whether to make Nashville your home should involve consideration of the pros and cons outlined here. 
Ultimately, your experience in the Music City will be shaped by your priorities, adaptability, and readiness to embrace this iconic city's vibrant and ever-evolving atmosphere.