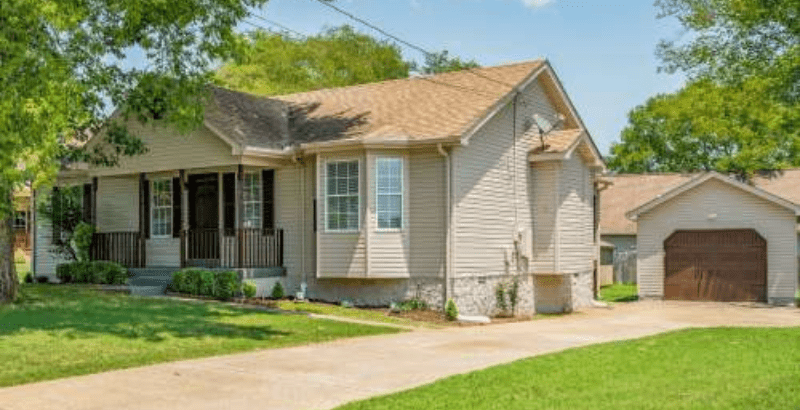 Antioch, Tennessee one of the fastest growing areas of Davidson County, is an accessible commuter city to Nashville with a minimum commute time of 30 minutes. Antioch is an excellent suburban community for home buyers looking for Single Family Homes for Sale Under 350000 in Antioch TN. Nestled between Nashville, Rutherford, and Williamson counties, Antioch also offers affordable apartments and townhomes. This allows residents to commute to these areas and beyond with ease.
If you have a future plan to buy homes for sale in Antioch, TN, Nashville's Top Neighborhood has an average cost of living with good employment opportunities. Even if you are living in the Nashville area and seeking job opportunities within a distance of fewer than 12 miles, Antioch, TN can make your life easy.
Antioch, TN Market Trend
There are currently 295 homes for sale in Antioch. In July 2022, homes were selling at a median price of $409, 800. On average, homes in Antioch sell after 38 days on the market compared to the 108 days in 2021.
| | | | |
| --- | --- | --- | --- |
| | Today  | 1 Month Ago | 1 Year Ago |
| Median List Price | $409,000 | $409,800 | $321,240 |
| Median Home Size | 1,857 Sqft | 1,860 Sqft | 1,885 Sqft |
| Median $/Sqft | $220 | $221 | $188 |
Remark: Data below is last updated on August 13th, 2022
Browse homes for sale in Antioch, TN along with photos, County, Property Type, Interior, and Exterior Features, property area, School Information, and Property  Features.
If you may look out for home loans to buy homes in Antioch, TN in the future, do try out our home mortgage calculator to get an idea of how much you can afford. The mortgage payment calculator calculates based on standard formulas. You can also reach out to the mortgage lender to get more accurate information about the mortgage payments.
Antioch, Tennessee Market Trends for Single Family Homes
The Single Family Homes for Sale in Antioch TN had a median list price of $419,995 in July 2022 compared to the previous year (2021), which was $336, 995.
Antioch, TN Market Trends for Townhomes and Condos
The median list price of townhomes and condos was $309, 899 in July 2022 compared to the previous year (2021), which was 282, 140.
Schools in Antioch, Tennessee
As a homebuyer in Antioch, TN, if you are looking for quality education for your children, there are a variety of schooling options, including elementary, middle, and high schools. Some of the schools are:
Elementary Schools
Cane Ridge Elementary School
Smith Springs Elementary School
J.E. Moss Elementary School
Henry Maxwell Elementary School.
Middle Schools
Antioch Middle School
Thurgood Marshall Middle School
High Schools
Cane Ridge High School
Antioch High School
Lighthouse Christian School
Things to Do in Antioch, TN
Skating at Ford Ice Centre
This state-of-the-art facility is home to the Nashville Predators, a professional ice hockey team. Families can also visit here for public ice skating, including youth and adult hockey leagues.
Cane Ridge Park
Cane Ridge Park is a premier park that features a natural environment with mountain biking trails, bird watching, and hiking trails. Visitors can enjoy basketball courts, tennis courts, and other picnic facilities to enjoy and relax.
Visit the Library
The Southeast Branch of the Nashville Public Library, situated in Antioch, offers a wide collection of books to read. The library has a walking area where you can talk with your friends. Visitors will also find community events like public art exhibits, story hours, and yoga classes. All these activities help Antioch residents enrich themselves.
In the Final Words
Antioch, Tennessee is a good location for those seeking to live close to Nashville. It offers a small town feel with easy access to towns such as Rutherford, Murfreesboro, Franklin, and Williamson, to name a few.
If you are planning to move to Antioch, TN, Zivak Realty Group can be your professional real estate agent in Antioch to help you buy your desired property.
Simply connect to us over a phone call at 615-916-9961 or email your query related to more information on real estate investment – [email protected] | Visit: www.zivakrealtygroup.com