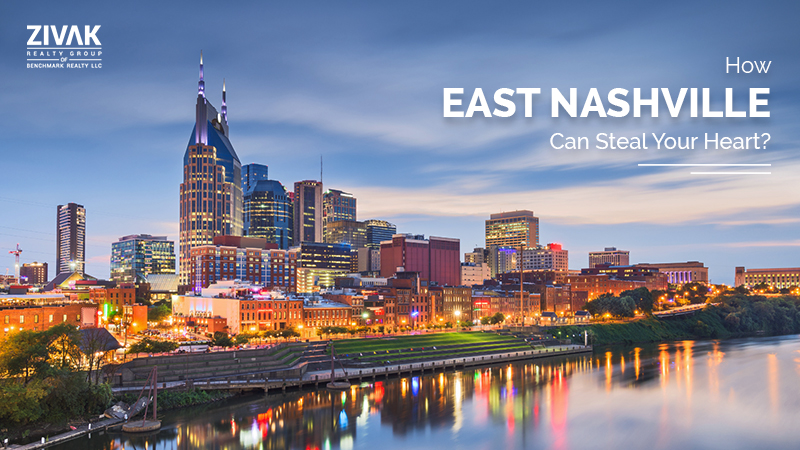 Welcome to Music City's hidden gem – East Nashville! As a local real estate and property services expert, Zivak Property proudly presents this comprehensive guide on East Nashville. This neighborhood effortlessly captures the hearts of visitors and entices them to become permanent residents. 
In this article, we will explore the allure of East Nashville, its unique offerings, and why it is consistently regarded as one of Nashville's top neighborhoods for homeownership. 
Whether you're a tourist or a potential resident, East Nashville has something special in store for you: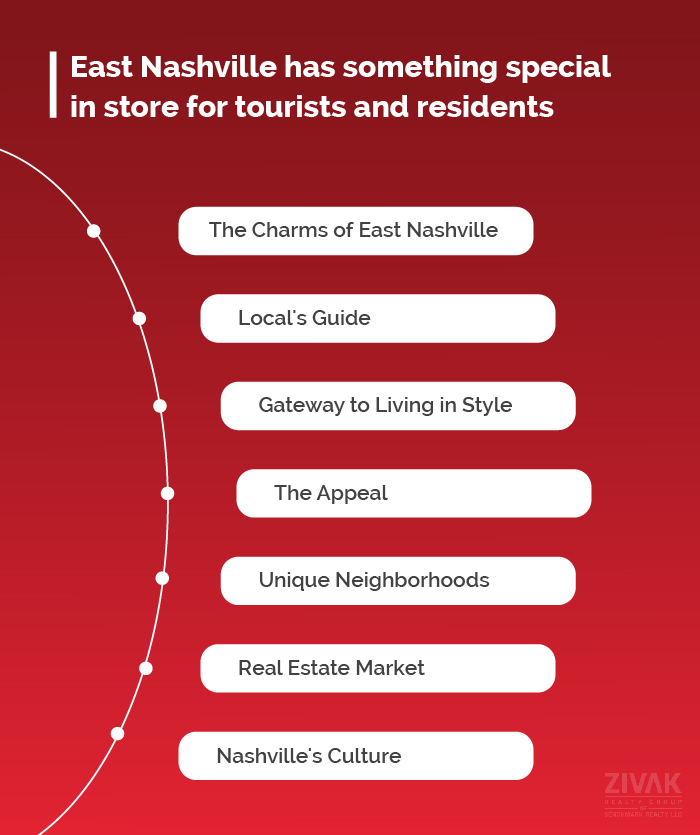 1. The Charms of East Nashville
With its quirky and vibrant atmosphere, East Nashville exudes an irresistible charm that sets it apart from other neighborhoods in the city. A stroll through the streets will lead you to discover many local boutiques, artisanal coffee shops, eclectic restaurants, and live music venues. 
The sense of community is palpable, and residents take pride in supporting local businesses, making it a great place to build lasting connections.
2. A Local's Guide to East Nashville
As East Nashville locals, we have firsthand experience of the neighborhood's hidden gems and cherished spots. From the historic beauty of Shelby Park to the trendy Five Points district, we'll provide a comprehensive guide to the best attractions and activities that make this area a must-visit destination for tourists and a dream location for prospective homeowners.
3. East Nashville Homes for Sale: Your Gateway to Living in Style
If you've ever considered making East Nashville your permanent home, now is the time to consider it seriously. The real estate market here is diverse, offering everything from charming bungalows to modern townhomes. 
Our team at Zivak Property specializes in East Nashville real estate, ensuring you find the perfect home that aligns with your lifestyle and budget.
4. The Appeal of Homes for Sale in East Nashville, TN
East Nashville boasts a thriving real estate market, and there are several reasons why houses for sale in this area are in such high demand. Proximity to downtown Nashville, top-rated schools, and a rich cultural scene all contribute to its appeal.
5. East Nashville's Unique Neighborhoods
Nashville is made up of diverse neighborhoods, each with its distinctive character and amenities. From the historic charm of Lockeland Springs to the artistic vibe of Eastwood Neighbors, we'll take you on a tour of the different neighborhoods, helping you understand what sets each one apart.
6. Exploring East Nashville's Real Estate Market
As a prospective homeowner, understanding the local real estate market is crucial. We'll provide insights into recent trends, property values, and the investment potential of owning a home in East Nashville. 
Whether you're a first-time buyer or an experienced investor, this section will equip you with the knowledge to make informed decisions.
Certainly! Let's add more neighborhood highlights of East Nashville to showcase its diversity and charm further: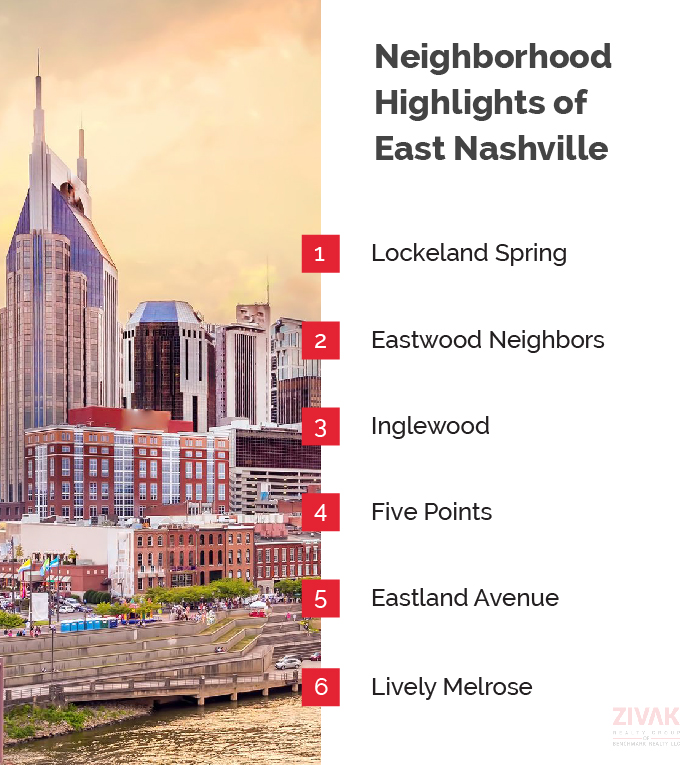 Historic Richness of Lockeland Springs
One of East Nashville's most beloved neighborhoods, Lockeland Springs, captivates residents and visitors with its historic allure. Stroll along the tree-lined streets, and you'll be greeted by a mix of beautifully restored Victorian and Craftsman-style homes exuding timeless elegance.
The community's commitment to preserving its architectural heritage makes Lockeland Springs a picturesque and charming place to call home.
Creative Energy in Eastwood Neighbors
Eastwood Neighbors offers a vibrant and creative atmosphere for those seeking an artistic haven. The neighborhood embraces local artists and musicians, fostering an environment where creativity thrives. 
Attend lively art shows, enjoy open-mic nights, or explore the local galleries—it's easy to see why Eastwood Neighbors is a haven for the arts in Nashville. 
Riverside Tranquility in Inglewood
Nestled along the Cumberland River, Inglewood boasts a serene ambiance that appeals to nature lovers and outdoor enthusiasts. Spend a peaceful afternoon at Shelby Bottoms Park, where you can hike scenic trails, spot wildlife, and enjoy the tranquil beauty of the river. 
Homes in Inglewood offer a serene escape from the hustle and bustle of the city while maintaining easy access to downtown Nashville.
Hip and Happening in Five Points
The heart of East Nashville's trendy scene lies in the Five Points district. This bustling area teems with stylish boutiques, art galleries, and an array of dining options catering to diverse tastes. 
The nightlife is alive with live music venues and unique bars, making it a perfect spot for those seeking entertainment at their doorstep.
Culinary Delights on Eastland Avenue
Food enthusiasts will find a haven in Eastland Avenue, home to a dynamic culinary scene. From quaint cafes and cozy bakeries to innovative restaurants with fusion cuisines, this neighborhood ensures your taste buds are continually delighted. 
Eastland Avenue is a food lover's paradise, providing diverse and delectable options for every palate.
Lively Melrose – A Booming Entertainment Hub
Melrose is a thriving neighborhood with an eclectic mix of entertainment, and shopping options. Immerse yourself in the area's vibrant energy by catching a live show at The Basement East or exploring the vintage shops and quirky boutiques that line the streets. 
Melrose embodies the dynamic spirit of East Nashville, where every day is filled with possibilities for fun and excitement.
Conclusion
East Nashville is more than just a neighborhood; it's a way of life. For tourists, it's a destination that offers an authentic experience of Music City's soulful charm. 
For potential residents, it presents an opportunity to immerse themselves in a vibrant community and make lasting memories. As your trusted partner in real estate, Zivak Realty Group Property invites you to explore the wonders of East Nashville and discover why it's a place that can truly steal your heart. 
Whether you're searching for the perfect home or looking to sell, our team is here to assist you every step of the way. Embrace the magic of East Nashville and embark on a journey you'll never want to end.