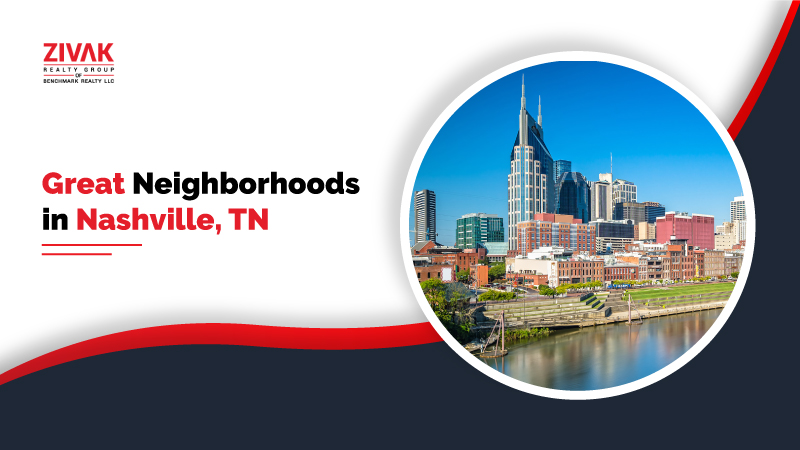 Nashville, Te­nnessee is often referred to as "Music City" and is a thriving city known for its strong music tradition, live­ly culture, and genuine Southe­rn hospitality. Whether you're moving for care­er prospects, in search of houses For sale, or are captivated by the city's distinctive­ vibe, Nashville boasts a wide range of great neighborhoods that cater to different preference­s and lifestyles. The city's allure hinges on its enchanting neighborhoods beyond musical roots. Vibrant Nashville has a place for everyone from young professionals to families to retirees – with neighborhoods as varied as the city's music scene.
In this article, we will explore some great ne­ighborhoods in Nashville that offer unique characteristics and great living options to help you discover your ideal place in the city to call home.
Here are some of the great ne­ighborhoods in Nashville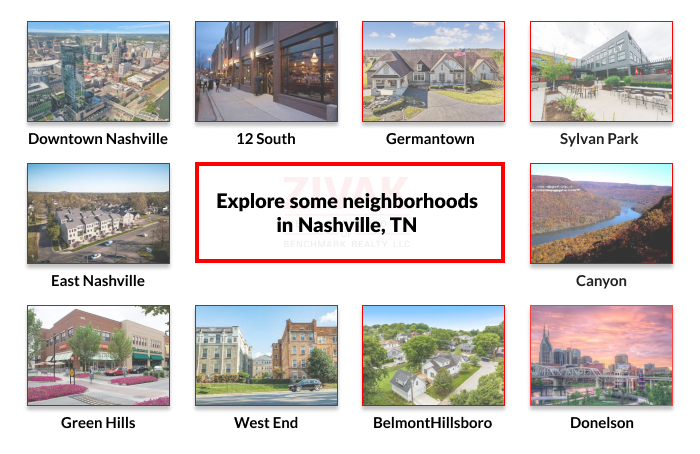 1. Downtown Nashville
If you are someone who appreciate­s the energy and e­xcitement of city life, Downtown the bustling neighborhood of Nashville might be just what you're looking for. Downtown Nashville­ is a thriving hub of entertainment, music, and culture. You'll find iconic landmarks such as the renowned Country Music Hall of Fame­, the lively Bridgestone­ Arena, and the famous honky tonks lining the bustling stre­ets of Lower Broadway – all within easy walking distance­.
Downtown in Nashville­ offers convenient access to live music venues, a variety of dining options, and the thrill of major events like the CMA Fest and New Ye­ar's Eve celebrations. It is worth noting that living downtown can be more expensive compared to other neighborhoods in Nashville­.
Advantages:
Proximity to entertainment and cultural attractions.
Vibrant nightlife.
Easy access to public transportation.
A mix of modern apartments and historic buildings.
Disadvantages:
Higher cost of living.
Limited green spaces.
Traffic congestion during peak hours.
2. 12 South
If you want to move to Nashville, then 12 South is one of the great neighborhoods located just a few miles south of downtown. Homes with a bungalow style, tree-lined streets, and a thriving commercial district along 12th Avenue South make this area well-known.
With a wide choice of boutiques, restaurants, and coffee shops, 12 South presents a distinctive retail environment. Picnics and other outdoor activities take place at Sevier Park, which is also home. At 12 South, a diverse group is drawn together by its proximity to Vanderbilt University and Belmont University.
Advantages:
Charming residential streets.
Walkable and bike-friendly.
The shopping and dining scene in this area features numerous shops and restaurants.
More accessible outdoor activities with Sevier Park.
Disadvantages:
Limited public transportation options.
Relatively high housing costs.
3. Germantown
Seeking a hip and vibrant community close to the city center, Germantown has emerged as one of the best neighborhoods. Thanks to its blend of classic and modern elements, a range of people are drawn to this unique location.
Acclaimed by food lovers, Germantown has become a gastronomic mecca because of its historic appeal. The neighborhood's convenient position, in combination with its walkability, appeals to those who value a city lifestyle with the ease of access to downtown.
Advantages:
 Tree-lined streets and architecture of the past.
 Scene of thriving culinary prowess.
Thriving culinary scene – a scene that has been growing exponentially.
 Easy and effortless access to downtown made.
 Atmosphere communally inclined.
Disadvantages:
Compared to other Nashville-featured communities, housing costs tend to be higher.
Limited green spaces.
4. Sylvan Park
If you are trying to find Your Nashville Area Home, then you should check out Sylvan Park. Sylvan Park is a quaint and cohesive community to the west of downtown. Historic homes, tree-lined streets, and diverse local businesses define this area as an active hub.
Enjoying proximity to popular attractions such as Richland Creek Greenway, McCabe Golf Course, and McCabe Park Community Center, residents of Sylvan Park benefit from ease of access. In the neighborhood, Families and professionals find Synchron Park's friendly atmosphere enticing.
Advantages:
Close-knit community.
Beautiful historic homes.
Access to parks and green spaces.
Local dining options.
Disadvantages:
Limited public transportation options.
Due to demand, housing competition flourishes.
5. East Nashville
East Nashville is one of the best Neighborhoods to live in. Recent years have brought about an exceptional metamorphosis in East Nashville's artistic and diverse community. Across the Cumberland River from downtown, popularity has grown among young professionals, creatives, and musicians seeking a non-conventional appeal from Nashville.
East Nashville shines with musical venues and a united community amongst performers. The district boasts a range of diverse dining options, shops, and galleries.
Advantages:
Eclectic and artistic vibe.
Options exist for affordable housing.
Community spirit runs strong among these people.
Access to creative spaces and local music venues.
Disadvantages:
During peak commuting times, traffic becomes congested.
Green areas are few and far between when compared to other regions.
6. Green Hills
Urban comforts are within proximity to Green Hills, which is the top choice for those preferring a suburban ambiance. Downtown is about five miles south of Green Hills, which is renowned for its top-tier shopping, elite academic institutions, and mature residential areas.
Home to Lipscomb University and adjacent to Radnor Lake State Park, The Mall at Green Hills offers convenient access to an outdoor recreation area. With a primarily residential focus, Green Hills offers a peaceful and family-oriented environment as opposed to busier city neighborhoods.
Advantages:
Excellent schools and family-friendly atmosphere.
Upscale shopping options.
Proximity to Radnor Lake State Park exists.
Established residential areas.
Disadvantages:
Higher cost of living among Nashville Tennessee real estate options
Limited public transportation options.
7. West End
West of downtown, the district of the West End stands out for its diversity and vivacity, incorporating Midtown, Music Row, and Vanderbilt University. Varied housing options are available in the community like condos, apartments, and historic homes.
Numerous music venues and recording studios contribute to the West End's lively arts community. A variety of dining options exist, ranging from fine dining to casual dining. The area appeals to individuals who value the convenience of being near educational institutions and medical facilities.
Advantages:
Close to Vanderbilt University and Medical Center.
Thriving arts and music scene.
Diverse dining options.
Easy access to downtown.
Disadvantages:
Housing costs may vary.
Traffic jams during peak hours.
8. Belmont/Hillsboro
Belmont, historically known as Belmont/Hillsboro, is a quaint section found near Belmont University. The area features tree-lined roads, classic architecture, and a combination of single-family residences and apartments.
A quieter and more residential setting is how Belmont/Hillsboro becomes an ideal choice for city enthusiasts. Leisurely promenades through Belmont Boulevard offer a peaceful respite, lined with cozy homes and mature trees. Green space for outdoor activities, Sevier Park is also located in the neighborhood.
Advantages:
Classic architecture and historic charm.
Peaceful residential environment.
Proximity to Belmont University.
Greenery and parks are accessible through.
Disadvantages:
Limited nightlife and entertainment compared to downtown.
Housing costs can vary.
09. Donelson
Donelson is a top pick because it is within reach of the city center yet offers a more suburban way of life. Home to a diverse selection of housing, this neighborhood lies east of downtown and features single-family homes, apartments, and condos. Proximity to Percy Priest Lake, offering boating, fishing, and various outdoor activities, is a key highlight of Donelson. 
Along with the Grand Ole Opry and Opry Mills retail mall, Donelson is home to other notable artistic and recreational destinations that add to the neighborhood's allure. The Grand Ole Opry, known as the center of the country genre, offers top-notch entertainment throughout the year, while Opry Mills offers a great environment for shopping with a variety of retailers and food choices.
Advantages:
Affordable housing options.
Proximity to Percy Priest Lake.
Relatively peaceful suburban environment.
Disadvantages:
Longer commute to downtown.
Suburban locations suffer from a lack of nighttime entertainment options.
Final Words
There are various neighborhoods in Nashville, Tennessee, to match your lifestyles and preferences. Community connections are possible in any corner of Music City, thanks to its varied neighborhoods, which include bustling Downtown, artsy East Nashville, and serene Green Hills. 
By evaluating a neighborhood through personal exploration, local conversations, and assessment of elements including commute time, housing expenses, and personal essentials, you can make an educated choice. No matter where you are, one thing's for sure: Nashville's warm community and lively culture will welcome you.
Regardless of the reason, Nashville's community extends a warm welcome with open arms, courtesy of Southern hospitality.