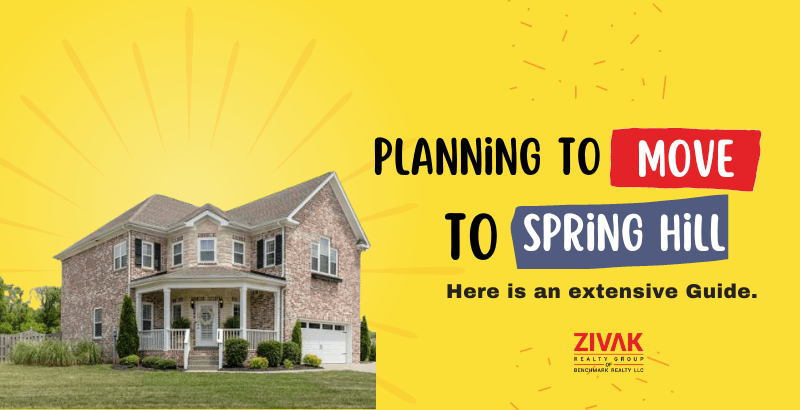 Shifting to a whole other city is no less than a sport, but if the city has benefits like Spring Hill, it is worth giving a shot! Moving to Spring Hill, TN, might as well be one of the most incredible decisions of your life. This is a gorgeous and elegant city with a very small population. Even though the place is home to several people, the prices of houses are relatively cheaper and more affordable than in any city in Tennessee, and you'll get access to the best Spring Hill Homes for Sale. If you purchase a house in Spring Hill now, the odds are that your house value will ascend in the coming years. But deciding whether or not the place is for you is an important part, so let's examine the reasons for considering Move to Spring Hill.
The Flourishing Economy in Spring Hill
The very important reason for the shift in this region is the economy. Spring Hill was one of the most significant hubs of the automotive enterprise. It was the location of the Saturn Corporation production installation, which was present in the city from 1990 to 2007. Later, the community's economy was shifted elsewhere. Several people had to deal with lay-offs, buy-outs, and retirement. However, the city has recovered from its past traumas, and now the economy is flourishing. Knowing about the economy of the place is the wisest decision to prepare yourself for what's coming.
Rich in History
From rustic space to one of the nation's fastest-growing towns, Spring Hill has a prosperous past. An opening to the memorable Battle of Franklin, which took place in Spring Hill on November 29, 1986. The region is well known for several wars that gave the place a unique shape.
After the Civil War, Spring Hill had a vast amount of rebuilding to do, and it took several years to recover from the destruction.
Securing the expansion of its economy, the population of Spring Hill promptly expanded.
Presently, Spring Hill heartedly embraces growth and any individual who decides to call this city their home. With a massive 278% development rate from the years 2000 to 2010, Spring Hill went on to be a highly sought-after community.
Living in Spring Hill
If you have been thinking of Move to Spring Hill, you must also know how it feels to live in this city! At the centre of Spring Hill is its peaceful and cheering neighborhood. Although an extremely small town, Spring Hill proposes a display of outstanding niceties, accommodating top-notch academies, a functional community, and a variety of outdoor recreation. Living in a peaceful country has its own benefits, doesn't it? After all, who wants to live in a city where people are not welcoming? Spring Hill has a record of helping newcomers settle in this region. Search for Spring Hill Homes for Sale and find the best options for yourself.
Climatic Condition of Spring Hill
Being a part of the U.S. South, Tennessee, the city receives a mainly warmer climate than the country's northern parts. Normal high temperatures for June to August every year are commonly between 85 and 90 ºF. January is considered the coldest month, with temperatures falling to 26.4 ºF. Considering all climates and aspects of rain, September and October are commonly the best times to tour the city. People from different places come to this city to enjoy the flavorful weather. Living in this city with these climatic conditions can be an asset.
Traffic in Spring Hill
Another important aspect that you might want to look at is the traffic in Spring Hill. Although the place is beautiful, it is small. With the increase in population, the city sometimes has long traffic jams. Especially during the rainy season, it gets worse. However, in comparison to other cities in Tennessee, it is still in a better place. People here are very obedient to traffic rules, and hence there is a decrease in the rate of road accidents in this city.
Real Estate in Spring Hill
How can anyone decide whether or not to live in Spring Hill without knowing the Spring Hill Real Estate Market? When evaluating shifting to and residing in Spring Hill, TN, or any region, one of the most important elements to study is housing. The cost of housing? Is there a healthy housing market? What is the current condition of homes for sale in Spring Hill, Tennessee? Are there sufficient choices to select from? The answer to all of the questions is yes in Spring Hill! The place has an array of housing options for newcomers. You can either buy a house, take a house on lease, or go for an apartment. It is all your choice in the Spring Hill Real Estate Market.
The best way of knowing the real estate market in Spring Hill is through a real estate agent. Hire a real estate agent who can provide you with updated information about the condition of the real estate market and also help you explore the available options for housing.
Job Market in Spring Hill
If you are moving to a new place, you obviously have to look for job opportunities. In Spring Hill, the job market is comparatively good and accommodating. There are many big firms and companies located in this place that, from time to time, leave several vacancies for newcomers to join. Or if you want to open your own small business, even then, the place can be good for you.
To wrap up
The above-mentioned are some of the key factors that will help you decide whether or not Spring Hill is the right place to live for you. Carefully study all the aspects of the city before deciding on anything.
For more help and information about the city, you can call 615-916-9961 the team at Zivak Realty Group. The Spring Hill Real Estate Agents provide extensive help to their clients.