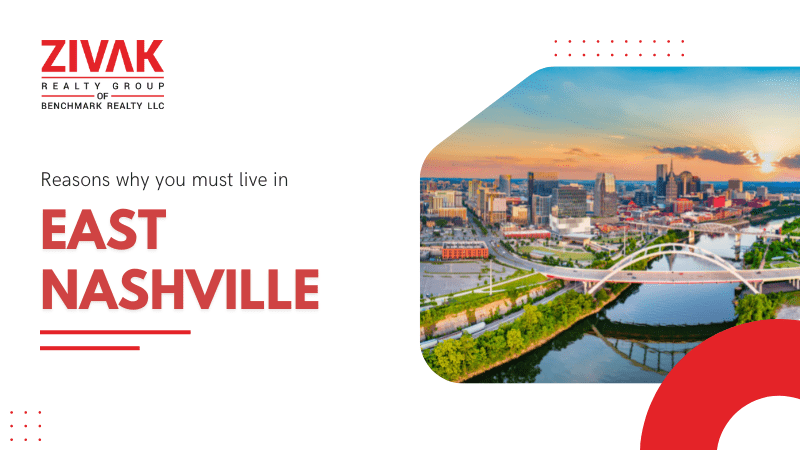 East Nashville is famous for its delicacies, rich vibe, and vibrant nightlife. The city has a wonderful living culture and offers plenty of career opportunities to its inhabitants. For the past few decades, this beautiful city has witnessed significant growth in population because of the resources and standard of life it provides to the inhabitants, which has led to remarkable growth in East Nashville Real Estate. And obviously, the music life is unbeatable there! 
Consider the below-listed reasons before searching for East Nashville Homes for Sale.
1. A Vibrant Music life
When we talk about Nashville, the very first thing that comes to our mind is the music! Living in east Nashville means particularly living in a city that is rich in music. You will have a chance to meet with the big faces of the music industry and get a chance to attend live concerts and performances. The place is a bonus for artists aspiring to build their careers in the music industry.
2. Unity in Diversity
That's right! A lot of mixed cultures and races are found in the city of Nashville, Tennessee. Who does not want to Live in East Nashville, TN where the people live in unity and celebrate their culture and ethnic identity? Historic Edgefield, East End, Eastwood Neighbors, East Hill, and Lockeland Springs are some of the towns in East Nashville where you get to see a diversity of people living in harmony with one another. They admire and value their cultural and ethnic diversity as well as celebrate each other's differences.
3. Access to high-quality education
When in East Nashville, TN, you don't have to worry about the quality of education! There are plenty of good schools nearby and in the city. These schools rank at the top in every academic field. Top schools like Gateway Elementary School, KIPP Academy Nashville, Warner Elementary, Kirkpatrick Elementary School, and the list goes on. These schools have excellent infrastructure and academic design to execute to make the students brighter and sharper.
4. A high rate of job opportunities
Another windfall advantage of living in East Nashville is that there is no scarcity of job availability. The region has the lowest rate of unemployment because many big companies and brands like Vanderbilt University & Medical Center, Nissan North America, HCA Holdings, and many others are established there, making the job market affluent and vibrant. People from different regions migrate to this city in search of job opportunities.
5. Local Restaurants and Food
Isn't it true that good food equals a good life? Of course! Undeniably, good food makes our lives better and worth living. In East Nashville, TN, you will have plenty of cuisines to try and dine in different well-known and cool restaurants. The local food and restaurants make the city more lively! Some of the must-visit restaurants are Margaritaville-Nashville, Taqueria Vallarta, Lockeland Table, Butcher & Bee, and many other such locations. Try different flavourful and mouth-smacking dishes that will make you want more and more. The local food and restaurants in East Nashville are the places you can hang out with your friends or spend some alone time with yourself with a plate full of your favorite cuisine.
6. Exotic Nightlife
Into nightlife? Well, the city has amazing and enchanting nightlife. Away from the hustle and bustle of daily work and life, the city offers a great source of relaxation during the night. The city wakes up for fun and joy in the night with car lights appearing as fairy lights and the wind carrying its charm. The kind of night that will replenish your soul and make you feel lively. You can go to famous bars like Tootsies Orchid Lounge, and Nudie's Honky Tonk or restaurants like Ruby Tuesday, Etch, Lockeland Table, and others to have a good time while enjoying the cuisine and the wonderful ambiance.
7. The outdoors are great.
Another reason to move to East Nashville is the outdoors! You can enjoy plenty of outdoor activities with your friends. Luxury Homes for Sale in East Nashville have all the modern-day amenities and fun for their residents. Outdoor activities like swimming, hiking, and hanging out with friends in local parks like East Nashville Park, Shelby park, and Frederick Douglass Park are best available in East Nashville. Shifting to East Nashville will undoubtedly provide a variety of recreational activities for you and your friends.
8. Festivals
Another big reason to Live in East Nashville TN city is its festivals. People here celebrate festivals together. When you shift here, it also means that you are going to have access to a neighborhood that lives together and celebrates together. Festivals like Music City Freedom Festival, Moonpie festival, Nashville Pride Festival, and many others attract a lot of attention from residents. Children growing up in a city that cherishes every moment with each other would be bliss, isn't it?
9. Sports Enthusiasts, rejoice!
Sounds fun? Yeah, it is! If you are a sports lover, you will find this place exceptionally worth living in and enjoying. There are various sporting events going on and you can watch the games live and cheer for your favorite team. Isn't it a treat? The bonus is that it's a very short distance from Brooklyn to Nashville and NYC to Nashville, where all kinds of sports events take place. Don't wait any longer, search for East Nashville Homes for Sale and explore your unlimited and premium options for the home.
10. The Average Cost of Living in Nashville
The cost of living is quite low, which makes the city all the more likable and worth living in. Who does not want to Live in East Nashville TN a place where the cost of living is low with good standards of living? As you finally decide to move in, seek help from the best East Nashville real estate agents so you get the best house at the right price.
To Sum Up,
The above-mentioned reasons are good insights to encourage you to move to the beautiful city of East Nashville, TN. In case of doubts, you can always talk to East Nashville real estate agents, who will guide you better.
Zivak Realty Group is a Nashville real estate company that has been rendering fruitful and insightful real estate services to its clients. So, connect with us to buy or sell your house in the East Nashville real estate market. Get in touch with us today!