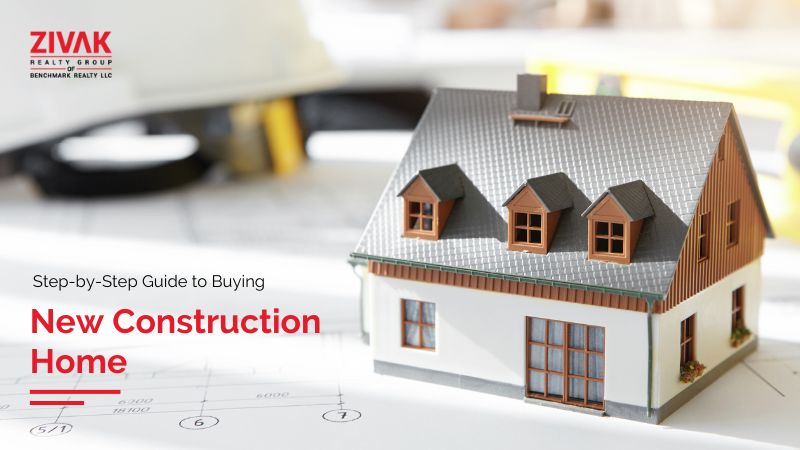 There are a lot of home-buying guidelines for people buying an existing home available on the internet. But what if you want to buy a new construction house? What do you require to know to make sure the house you're having built will fulfill your needs? There are multiple steps to look into starting from timelines to budgets, as well as ensuring that your house constructor is a person you can place your trust on. Well, worry not, we have got you covered! Here is an extensive guide to what you must do before buying a new construction home in Nashville.

1. Be sure to hire a real estate agent
The first and foremost thing to do is to hire a real estate agent. You must be thinking, why? Well, to make sure you miss no important information, the latest updates about the listings, to be aware of the market trends, and also to make sure there are no loopholes in the deal you are about to sign. To put it in simple words, the real estate agents will do all the leg work, arrange the papers and required documents, and inform and update you about every single detail about the construction company and builder to help you Buying a new construction home.
2. Shortlist a Reputable Builder
How do you choose the right builder? A little research will go a long way. Search for builders online and shortlist a few builders who have ample experience in the field of construction. Check out the quality of work they have completed to date. Also, do not miss the reviews from their past clients. Be sure the builder you shortlist has a state license and local court records to avoid any trouble in the future. Do not be in a rush to hire a builder and onboard them only when you are 100% sure. You can buy a house in the Nashville area or find Nashville TN homes for sale with the help of experienced Nashville TN real estate agents.
3. A Draft Detailed Budget
Followed by is the next important aspect, which is your financing! Pre-planning finances is always a big yes! When you have a proper plan as to what and where you are going to employ your finances, it gives you a clear picture. Plans help you to draft and implement your actions and deals more efficiently. Organizing your finances is, however, very important to be sure that you don't run out of funds or exceed your budget. Be very detailed and specific about the areas you are going to spend your money on and, accordingly, draft a plan for them.
4. Pick a Community that best suits you
Choosing the right community is as important as hiring the right builder. With the help of your real estate agent, you can begin your community search. Make certain that the community you choose has all of the modern amenities and is close to daily requirement zones. See the space, neighborhood, schools, office, grocery store, market, and other important variables. You surely do not want to live in an unfriendly neighborhood or a remote location.
5. Select a construction home Of Your Choice:
Buying a new construction home is an experience in itself, so every small to large detail must be considered. Look for space inside the house; construction; how far does the house need new construction, check the doors and windows; interior and exterior design; whether or not it aligns with your expectations. Check out the roof, leakage, piping system, electricity, garage, balcony, garden, and other things. Also, do not miss the kitchen and the bathrooms. And also choose the best Nashville-featured community to live in.
6. Do Not Miss the House inspection
Even if you are sure of the house and have explored every nook and corner, be sure to go for a house inspection! Why? Well, there is a great possibility that you might have missed a few apparent insignificant aspects. Even if the house is newly built,
go for a house inspection
! It will give you a detailed idea of the house, its specifics, and its value in the market. A house inspection might be important if you want to sell the house and want to know if you will get the value you are expecting.
7. Choose your standard options
Do not settle for anything less. Expose your options and be very sure before signing the deal. There are plenty of options that you can explore. Do not settle for the very first option. Check out the interior as well as exterior design to be sure that the carpet, color of walls, windows, washroom design, kitchen tiles, and spacing match your standards.
8. Choose your upgrades
Upgrade anything you find that is old and obsolete. Aligning with modern interiors and exteriors is a good way of increasing your home value. especially the kitchen, bathroom, and spacing of the house. Customization of the house should be done in a way that it should be cost-effective as well as
helps in adding value to your home
.
9. Draft a proper plan
Planning things out sort of will provide you with a proper picture of what you need to do and look at while Buying a new construction home. Sit with your real estate agent and build a strategy about every single detail of the house: the interiors, the exteriors, the budget, location, valuation, spacing, and every other aspect. In this way, you will know where you are heading and make sure that you don't exceed your budget.
10. Closing the deal
Finally, when you are done with all this, the next important day is the closing day. On this day, revise the paper, submit the amount, get clear of the mortgage rates, pay escrow closing costs, and other aspects. Pay attention to every clause and limb of the deal and only then sign and pay the closing amount. With this, the owner of the house is transferred to you, and you get your dream house. Before closing the deal, explore
Nashville's Top neighborhood
.
Final Words
With this, you are all set to buy your new construction home. However, to make sure you don't get into future disputes, hire the best real estate agent. To have access to premium real estate services, contact the team at Zivak Realty Group company. The company is a well-known real estate company in Nashville that has been rendering vigorous services to its clients.