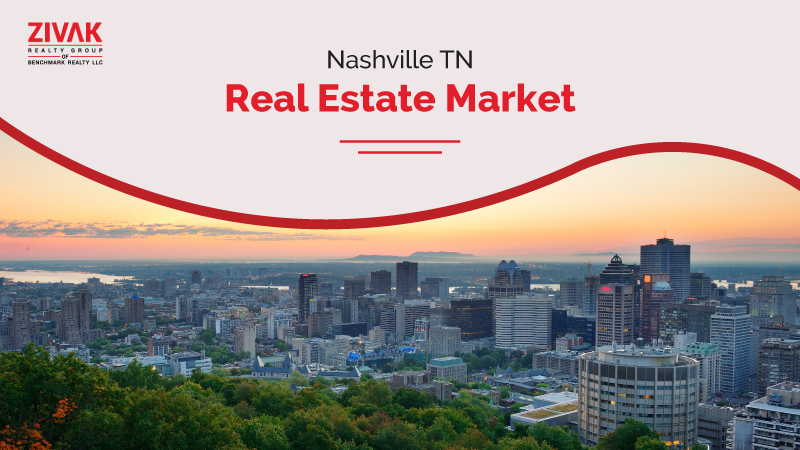 Over the years, Tennessee has been one of the most underrated states in America. But now, people are becoming aware of the state's strong economic performance. Due to the robust economic growth, many people around the country, particularly first-time homebuyers, are showing interest in investing in the real estate investment markets in Tennessee.
This article elaborates on why you should consider investing in Tennessee real estate in 2023
Tennessee Housing Market
The distribution of sales outcomes underscores the versatility of opportunities available to both buyers and sellers in the Tennessee housing market. With 27.0% of sales occurring above the list price and 49.9% below the list price, the market caters to a wide spectrum of strategies and preferences.
Take a look at the key aspects of the housing market in Tennessee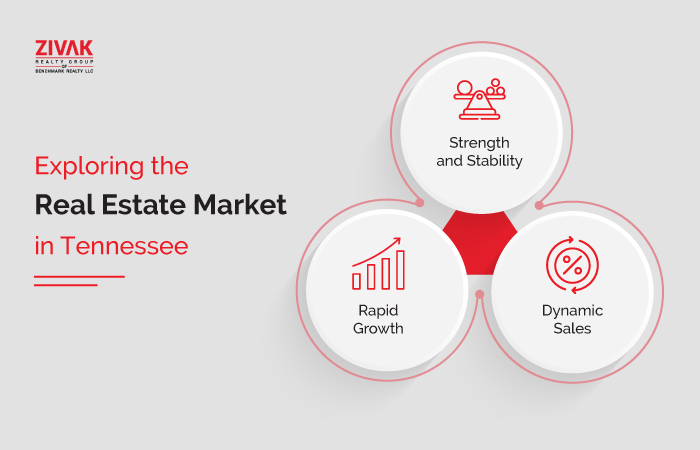 Strength and Stability: Over the year there has been a rise of 2.3%, in the average value of homes, which suggests that the housing market is robust and enduring. This upward trend reflects a desire for homes creating a sense of stability and promising chances for investment.
Rapid Growth: The Tennessee housing market's flexibility is evident, with homes typically moving into pending status within just 12 days as of July 31, 2023. This swift pace underscores the robust demand and rapid turnover of properties, creating a climate where both buyers and sellers must make prompt decisions.
Dynamic Sales: As of June 30, 2023, the median sale-to-list ratio in the market stands at an impressive 0.999, indicating that properties are typically selling very close to their listed prices. This balance reflects a fair and transparent marketplace, where negotiations are guided by realistic expectations.
Why Should You Invest in Tennessee Real Estate?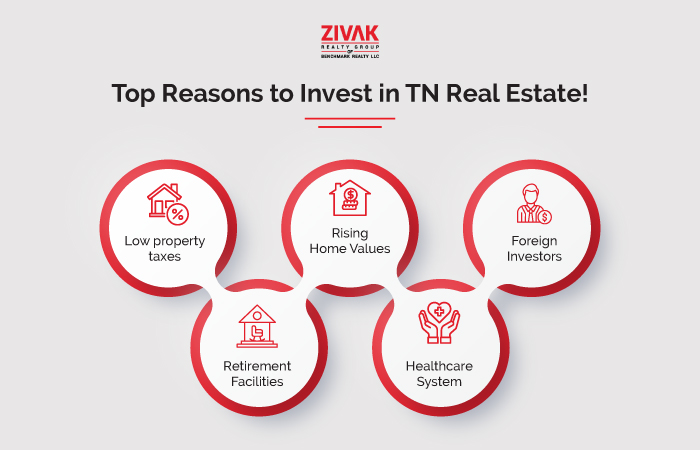 Tennessee boasts stunning natural scenery, even in charming small towns like Smyrna, TN. Additionally, it provides an opportunity to immerse yourself in Southern culture and savor their delicious cuisine.
While these aspects serve as enticing reasons for Nashville TN Property Search, let's dive into why you should consider investing in their real estate investment markets in Tennessee.
1. Low property taxes
Tennessee has some of the lowest property tax rates in the United States, about half the national average. Homeowners in Tennessee typically pay around $1,220 per year in property taxes, making it a notably affordable option you can compare to most other states.
2. Consistently rising home values
Tennessee's housing market has consistently witnessed an upward trend in property values since 2017, with rates frequently surpassing the 8% mark. Although the state's median home value remains below the national average, it presents a favorable opportunity for individuals interested in expanding their rental property portfolio. Seizing this opportunity to invest now holds the potential for substantial returns within the next 10-20 years.
3. Awesome retirement facilities
Tennessee's tax-friendly environment makes it an attractive destination for retirees. The state does not impose state income taxes, and retirement benefits, including Social Security, are not subject to taxation. Coupled with low property taxes, Tennessee offers an appealing retirement haven.
4. Better healthcare system
Tennessee has a robust healthcare system with numerous hospitals, making it an attractive option for families considering a move. In cities like Nashville, healthcare-related businesses contribute significantly to the economy, generating approximately $30 billion. Nashville is even recognized as one of the top cities in Tennessee for residential real estate investments, owing in part to its thriving healthcare industry.
5. Attracts foreign investors
Tennessee's real estate market has witnessed a surge in foreign investments, with over 900 foreign firms collectively investing more than $30 billion in the state's properties. Automotive giants like Volkswagen and Nissan have played a substantial role in fueling foreign direct investment (FDI) in Tennessee. The presence of numerous foreign-owned automotive suppliers further bolsters Tennessee's appeal to international investors.
Best
Real Estate Investment Markets in Tennessee
Choosing the right real estate market for your investment properties depends on your specific goals. What constitutes a successful vacation rental may not align with the criteria for a strong buy-and-hold property. Some Nashville Realtors prioritize property appreciation to mitigate annual capital gains taxes, while others prefer the stable income generated by cash-flow-focused properties.
Below, we've highlighted some of the most promising real estate investment markets in Tennessee suited to various strategies. However, you can also leverage our rental property calculator to assess individual properties.
1. Knoxville
Knoxville stands out as a hidden gem in the world of real estate investment right now. Here's why it's a top choice:
Thriving Growth:Knoxville is experiencing rapid population growth, making it a prime location for real estate investment. More people moving in means more opportunities for investors.
Strong Economy:The city boasts a robust and stable economy, providing a solid foundation for your investments.
Affordability:Living in Knoxville is more affordable compared to many other places in the country. This affordability can work in your favor as an investor.
Desirable Living:Knoxville consistently earns high marks as one of the best places to live in the United States, thanks to its scenic location in the Appalachian hills and reasonable cost of living.
If you prefer to buy properties and hold onto them for the long term, Knoxville's remarkable annual property value increase of 26% can significantly boost your wealth over time.
2. Memphis
Memphis is situated in the southwestern corner of Tennessee, which offers exceptional investment opportunities despite its distance from the picturesque Appalachian Mountains.
Memphis, known as the "Home of the Blues," has a population of over 650,000 and hosts nine Fortune 500 companies. Its combination of affordability and a robust rental market positions it as the prime market for investors seeking the highest return on investment (ROI) in Tennessee's real estate sector.
Beyond its thriving business landscape, Memphis has multiple professional sports teams, cultural gems such as Graceland, and the presence of the University of Memphis. These factors contribute significantly to the local economy by attracting revenue from visitors and outsiders.
With historically favorable rent-to-mortgage ratios and affordable options for real estate investment markets in Tennessee, Memphis emerges as the premier rental market in Tennessee for generating strong cash flow.
3. Nashville
When I think of Tennessee, Nashville is usually the city that comes to mind. It is known as the capital. Has a history of being a vibrant music hub. Lately, it has also become quite popular among tourists with its atmosphere and attractions.
Nashville is a vibrant city that attracts millions of visitors every year, making it an ideal market for those interested in short-term rentals. With its numerous universities, thriving music scene, and professional sports arenas, it's no wonder that Nashville remains an enticing destination for travelers.
Nashvilles' everlasting charm implies that individuals will keep coming to the city in the future, establishing its status as one of the locations for real estate investment in Tennessee. The impressive annual appreciation rate of 28.7% highlights the increase in population within the city.
4. Chattanooga
Located near Tennessee's southern border, Chattanooga is a city perched in the Appalachian hills, consistently drawing new residents. With a population just above 180,000, Chattanooga offers the economic opportunities of a larger city while maintaining the allure of a close-knit community.
Thanks to its wide appeal to residents from diverse backgrounds, there are various avenues for profitable real estate investment in Chattanooga. However, the most promising opportunities lie in the realm of student housing.
Chattanooga is home to both the University of Chattanooga and Chattanooga Community College, two esteemed public educational institutions. Together, they enroll nearly 20,000 students, all of whom require safe and affordable housing.
5. Johnson City
Johnson City, despite its modest population of just over 70,000, has been gaining recognition beyond its larger neighbor, Knoxville. It's earned its place as one of Tennessee's most diverse metropolitan economies and a top retirement destination nationwide.
With a median home value of $223,000, entering this market won't break the bank. The city's annual population growth rate of 1.1% and a remarkable property value appreciation rate of 22% year-over-year mean you'll likely have no trouble finding renters for your properties in the future.
Additionally, Johnson City may hold promise as one of the finest places to invest in land in Tennessee. While this approach to real estate investment can be more speculative, especially if you can't generate immediate income from the land, the potential lies in the city's continued growth. Over time, the land may appreciate, making it an investment avenue well worth exploring.
Factors to Consider When Buying a Home in Nashville, Tennessee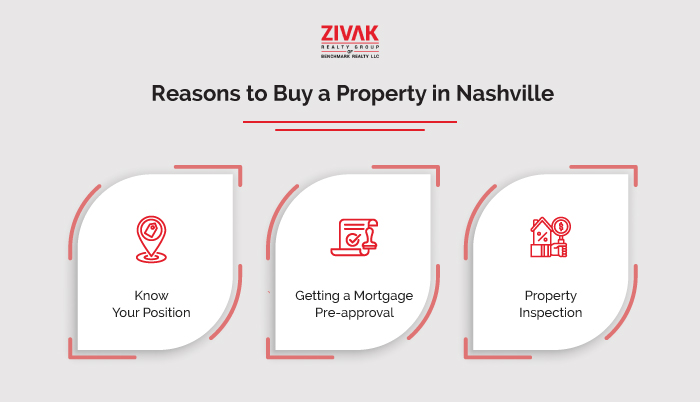 1. Know Your Position
Given below are some factors that you need to know about your position as a buyer:
Budget and Ongoing Income: Determine your financial boundaries and ensure your ongoing income aligns with your home-buying plans.
Needs and Preferences: Clearly define your needs and preferences for your future property, considering factors like size, the number of bedrooms, and proximity to essential facilities.
Mortgage Consideration:Assess whether you require a mortgage to finance your home purchase and, if so, explore your mortgage options.
Credit Score:Examine your credit score as it plays a pivotal role in securing a mortgage and influencing your overall home-buying journey.
2. Getting a Mortgage Pre-approval
Obtaining a mortgage pre-approval is a wise step to take, sparing you unnecessary concerns later in the process.
Having a mortgage pre-approval in hand gives you a significant advantage when making offers on different properties. Property sellers are more inclined to favor a buyer with a pre-approved mortgage, making it easier for you to secure your dream home.
3. Property Inspection
Every state requires specific inspections before property purchase, but the important criteria can differ from one state to another.
In Realtor Nashville TN, the law mandates that sellers must disclose any existing issues when selling a property. Nonetheless, as a buyer, it's highly advisable to engage a professional house inspector who can meticulously assess the property before you commit to any contracts.
Let's Wrap it Up
If you're considering investing in Tennessee's real estate market, you'll discover a lot of opportunities awaiting you. Whether you're in search of an undervalued market with investment potential or an emerging market poised for growth, the Volunteer State offers a diverse range of options to meet your investment goals.