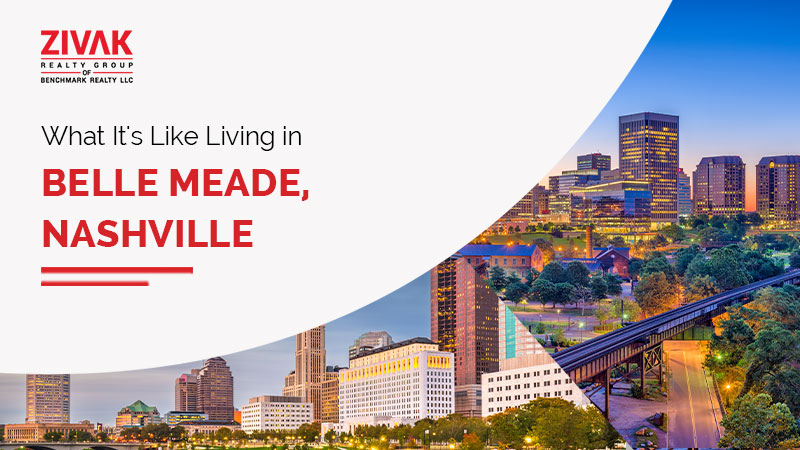 Planning on shifting to Belle Meade, but you're confused as to what the city has to offer? Well, worry not; we've got you covered! Let's start by knowing Belle Meade before moving there. Belle Meade is an affluent city located in Davidson County, Tennessee, United States. It is known for its beautiful mansions, horse farms, and high-end shopping and dining options. The city is named after Belle Meade Plantation, which was established in 1807 and is now a popular tourist attraction. Belle Meade has a population of approximately 2,900 residents and covers an area of 3.1 square miles. It is one of the wealthiest cities in Tennessee and has a median household income of over $200,000.
Table of Content
Know About The Housing Market of Belle Meade
Condition of Employment Opportunities
Educational Facilities – Schools in Belle Meade
Top Restaurants To Dine in
Healthcare Facilities
Climatic Condition
Quick Snapshot of Belle Meade
Location: Belle Meade is located in Davidson County, Tennessee, United States.
Population: Approximately 2,900 residents.
Size: Covers an area of 3.1 square miles.
Median Household Income: Over $200,000.
Schools: Home to some of the best schools in Tennessee, including Belle Meade Elementary School. Best Schools like Belle Meade Elementary School, West End Middle School, and Hillsboro High School are in Belle Meade, TN.
Recreation: Offers a range of recreational opportunities, including golf courses, parks, and equestrian facilities.
Attractions: Belle Meade Plantation is a popular tourist attraction.
Proximity to Nashville: Located just a few miles from downtown Nashville, which offers a range of cultural and entertainment options.
Belle Meade is a beautiful community
that offers a high standard of living, with plenty of amenities and opportunities for residents to enjoy.
Continue reading to know what it's like living in Belle Meade:
1) Housing Market Of Belle Meade
The Belle Meade real estate market is considered to be one of the most well-heeled and exclusive in the Nashville metropolitan area. Belle Meade is known for its large, historic homes on spacious lots, as well as newer, luxury homes that have been built in recent years.
According to Zillow, the median home value in Belle Meade is approximately $1.9 million, which is significantly higher than the median home value in Nashville as a whole. However, the housing market in Belle Meade has remained relatively stable in recent years, with a slow but steady increase in home values. The area is also known for its high-end real estate market, with many properties being listed and sold off-market through private networks. This makes it challenging for prospective buyers to find properties that are available for sale and requires working with experienced real estate agents who have access to these exclusive listings.
The housing market in Belle Meade is highly competitive, with limited inventory and high demand driving up prices. However, for those who can afford it, living in Belle Meade offers a high standard of living and access to some of the best schools, restaurants, and amenities in the area. So, when you decide on buying a house in the region, you must not forget to hire Belle Meade Real Estate Agents, who will help you find a suitable house.
2) Employment Opportunities When In Belle Meade
Belle Meade is a small, residential community, and most employment opportunities are found in
neighboring areas
. There are many employment opportunities in neighboring areas such as Nashville, which is only a short drive away. Nashville offers a diverse range of industries and job opportunities, including healthcare, finance, entertainment, and technology, among others. Some big companies like Amazon, Bridgestone Americas, Inc., HCA Healthcare, and others have their headquarters established in Nashville,TN. However, there are options for employment within Belle Meade itself, including the Belle Meade Country Club, Belle Meade City Hall, Belle Meade Police Department, Belle Meade Plantation, and many others that have been providing huge employment opportunities in the area. So, while there are some employment opportunities in Belle Meade itself, most residents commute to neighboring areas for work.
3) Top Schools In Belle Meade
Belle Meade is part of the
Metro Nashville Public Schools
(MNPS) district, which provides public education to students in Nashville and surrounding areas. These are some of the top schools with specialized educational facilities and professional faculty members to help the students build a bright future. Within MNPS, there are several schools that serve students in the Belle Meade area, including:
Julia Green Elementary School
Percy Priest Elementary School
Harpeth Hall School
Montgomery Bell Academy
Ensworth School
There are many other public and private schools in the Nashville area, including magnet schools and charter schools that offer specialized programs and curriculums. Students in Belle Meade also have access to several colleges and universities in the area, including Vanderbilt University, Belmont University, and Tennessee State University, among others.
4)  Famous Restaurants In And Around Belle Meade
One of the most unmissable places in Belle Meade is the famous restaurants located in and around the area. The region is famous for its authentic taste and delicacies that people from all over the world come to try. We all know Nashville, Tennessee, is famous for its hot chicken, but there are
top restaurants
serving quality dishes and providing excellent ambiance in and around Belle Meade too. Some of the famous restaurants are Loveless Cafe, famous for its chickens and hams; Arnold's Country Kitchen, serving classic Southern dishes, Prince's Hot Chicken, known for its spicy hot chicken; Martin's Bar-B-Que Joint, offering a variety of smoked meats, sandwiches, and sides; and many other such places. These places are excellent to hang out with your friends, partners, family, colleagues, and even yourself.
5) Healthcare Facilities
Belle Meade comes under the Nashville metropolitan area, and there are several healthcare facilities within a short distance from the area. These healthcare facilities provide a range of services to residents in Belle Meade and the surrounding areas, offering a range of medical services, including emergency care, cardiology, neurology, and oncology. The healthcare facilities in and around Belle Meade provide access to high-quality medical care for residents of the area.
Some of the healthcare facilities in and around Belle Meade include:
Saint Thomas West Hospital
Vanderbilt University Medical Center
TriStar Centennial Medical Center
Williamson Medical Center
6) Climatic Condition
Belle Meade is located in the southeastern region of the United States, and its climate is classified as humid subtropical. The summers are hot and humid, with average temperatures ranging from the mid-80s to the low 90s Fahrenheit (around 29 to 33 degrees Celsius) from June through August. The winter months are relatively mild, with average temperatures ranging from the mid-30s to the low-50s Fahrenheit (around 2 to 10 degrees Celsius) from December through February. Belle Meade receives ample rainfall throughout the year, with an average of around 50 inches (1270 millimeters) annually. The wettest months are typically March through May and November through December. Therefore, the climatic condition of the region is quite suitable!
To Sum Up,
The above-listed are some of the key features that one must be aware of when deciding whether or not to shift to Belle Meade! Belle Meade's proximity to Nashville, Tennessee., Franklin, and other big cities bags huge advantages for the residents of Belle Meade. Belle Meade, TN, home prices are also affordable, and houses are located in close proximity to daily essentials. Contact the team at Zivak Realty Group for access to top-notch real estate services.
The Experts of Zivak Realty Group Will Make Your
Home Buying and Selling Journey Easier and Hassle-Free.
Contact Us Today!